International student experience at UC
/
/
/
/
/
What you need to know about UC College
What you need to know about UC College
Are you ready for university?
As a future University of Canberra (UC) student, you might be wondering how to make sure you're ready for your degree.

Whether you need some support building vital skills or want to develop your English language level, UC College's pathway programs are here to help you prepare for your next big step.

Read on to find out more about pathway programs, some of their many great benefits and where UC College could take you.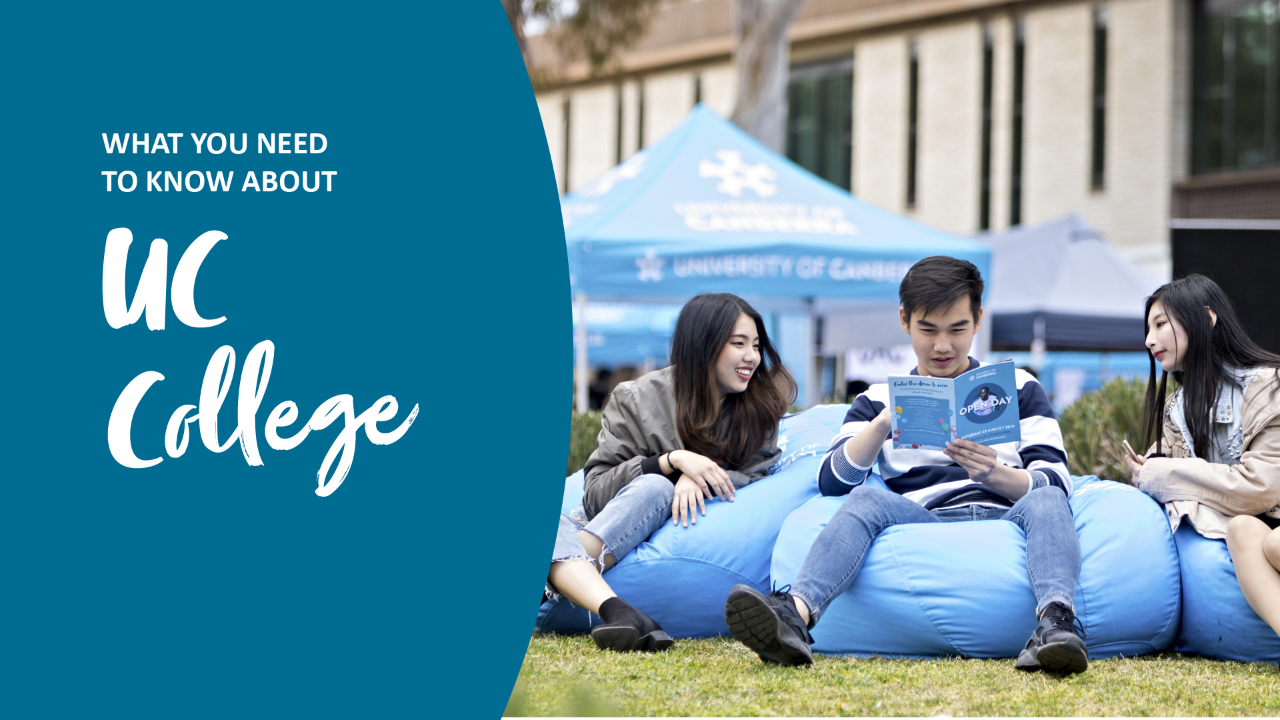 What are pathway programs?
Pathway programs prepare students for university study in various ways. These might include English language courses, bridging courses for specific degrees or specialised courses to develop study skills, like essay writing or IT.
Taking on a pathway program is the perfect way to make sure you're ready to start your university degree in Australia.
Introducing: UC College
UC College offers a range of pathway programs for both domestic and international students, which are designed to help you reach your academic goals and prepare you for your degree studies at UC.
Regardless of your background, where you are in your education journey or where you want to go, you'll be sure to find a course that suits you. UC College offers courses in many fields, such as business, IT, health, design and more!
Whether you need to expand your skill set to meet the eligibility criteria for your dream course or simply want to get a head start on your undergraduate degree, UC College is here to help!
What's more, if English isn't your first language and you'd like to improve your skills in reading, writing and speaking before you start university, you can even enrol in an English language course. These programs are offered through the UC College English Language Centre (UCCELC), located on UC's Bruce campus.
UCCELC has been offering English Language Intensive Courses for Overseas Students (ELICOS) since 1969, so you can rest easy knowing you'll be receiving the highest-quality education. At UCCELC, you can study either general English or academic English, depending on your specific needs and goals.
UCCELC also offers Special English Programs (SEP). These customised courses and study tours are designed for groups of professionals who want to learn English while visiting Australia.
The benefits of attending UC College
With UC College, you can gain the vital academic, professional and English skills you need to excel in your university degree and in your future career in your chosen field.
Feeling confident and competent before you start your course means you'll be able to focus on your studies right away. This makes UC College the perfect place to kick-start your degree.
Plus, UC College can be a great place to make new friends. You'll have the opportunity to meet other students, both domestic and international, who share your interests and build your network before your undergraduate course even starts!
Where UC College can take you
If you don't yet meet the entry requirements for your desired degree at UC, you might want to consider a higher education diploma from UC College.
These diplomas are a great introduction to your chosen field. Not only do they help to fill any gaps in your knowledge, but completing a diploma might also help you enrol in your ideal undergraduate course!
Many of UC College's diplomas provide direct entry into the second year of a UC bachelor's degree. Taking this route will give you advanced standing for the first year of your university studies.
What's more, UC College even has some amazing scholarships on offer for international students, and the process to apply is super simple! You'll be automatically considered for all available scholarships when you apply to your UC College course.
Ready to get a head-start on your degree? Visit the UC College website today to find out more.