International student experience at UC
/
/
/
/
/
Celebrating Teacher's Day! Studying Education at UC
Celebrating Teacher's Day! Studying Education at UC
It's time to celebrate teachers!
Each year on 10 September in China, educators are recognised and honoured for their hard work. Then, on 5 October, it's international World Teachers' Day, followed by Australia's World Teachers' Day on 27 October, where the festivities continue! Such a noble and hardworking profession deserves all the respect it is given.

Let's take you through studying Education at the University of Canberra (UC), and how you, too, can pursue a career in this rewarding field.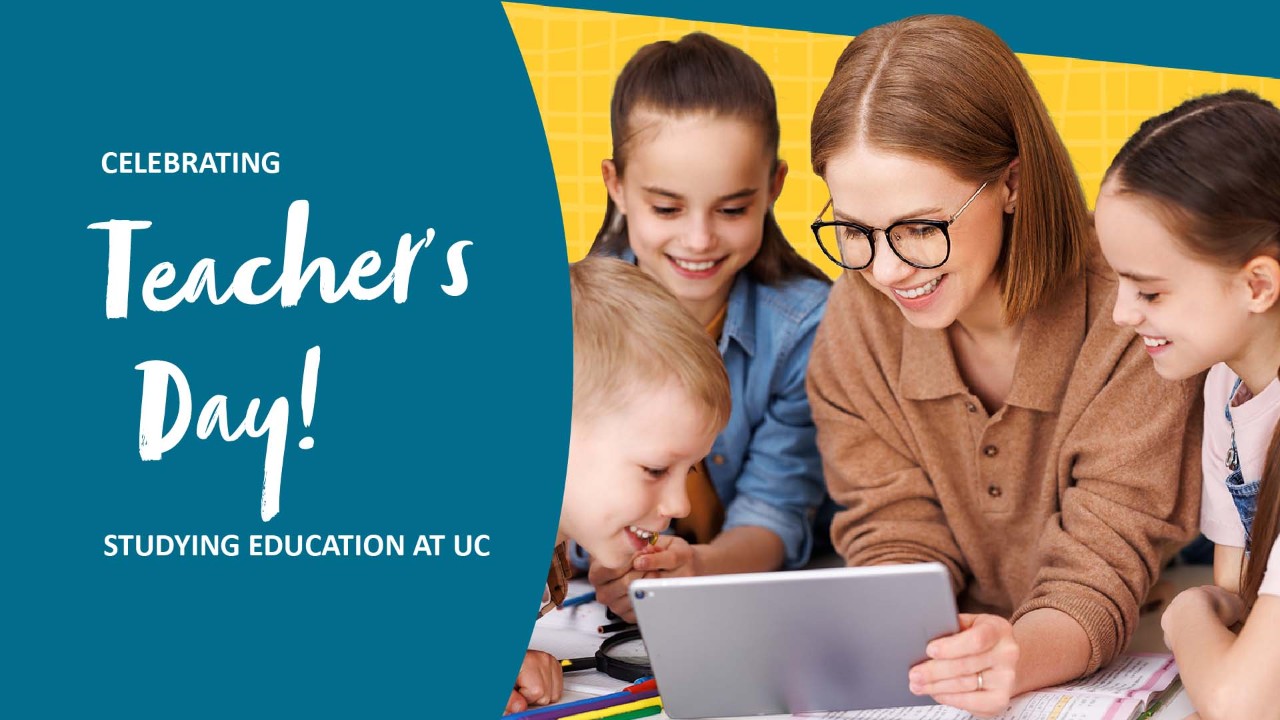 The future of teaching
As one of Australia's most in-demand industries, with a projected growth of 118,600 jobs in Australia over the next five years, teachers are needed now more than ever. In particular, opportunities to work in secondary schools; educating in specialist languages, and science, technology, engineering and mathematics (STEM) subjects; and teaching in rural, regional and remote areas are all in high demand.

Now is the perfect time to start on your Education career pathway to make the most of opportunities available, and UC is ready to help you reach your goals.

Studying Education at UC
UC pushes the boundaries of standard teacher education. In fact, we're one of Australia's top universities for employment and salaries in Education!

We're the only institution in Australia that offers learning through the Affiliated Schools Program - a strategy designed by the ACT Government to improve Education students' learning through professional experience opportunities.

There is an enormous range of undergraduate and postgraduate degrees available for international students at UC. From early childhood learning (one of Australia's largest employing occupations) and primary education, through to adult learning, such as learning Foreign Language Teaching, and research degrees in education.

Did you have a particular passion when you were in school? Why not teach it to the next generation of students? At UC, you can specialise in areas like Health and Physical Education, Science and Creative Arts.

Explore all of UC's Education courses to find the right fit for you, or have a chat with the UC team to discuss which degree will help you land your dream job.

Gaining professional experience
There's no better way to learn the intricacies of life as a teacher than getting into real classrooms and seeking how they work - and UC offers you that chance!
UC's Teacher Education courses are designed with your future in mind, and give you more contact with schools than any other course in the country. In Australia, you only require 80 hours of placement for teacher accreditation, but at UC, we know the more practical, hands-on experience you gain, the better. You'll have opportunities to plan, teach and reflect, while networking with professionals so you can graduate with invaluable industry contacts.

Your career in Education
Your qualification from UC is a great stepping stone to getting your Education career on track. Most UC Education courses are registered by the ACT Teacher Quality Institute (TQI) and recognised as a teaching qualification throughout Australia. With other courses, there are clear study pathways to allow you to transition to teaching.
Plus, as a UC graduate, you will benefit from lifelong career support.

Teachers educated in Australia are highly-sought after, as the country's educational standards are so high, so you'll be in a great place to start your global career after graduating.

If you plan on seeking opportunities to stay in Australia, you're in luck! Students who have studies in Canberra may have access to extra years on a Temporary Graduate visa (subclass 485) and a huge number of teaching roles appear on the Skilled Occupation List, which means they're in critical need around Australia.

To learn more about studying Education at UC, chat to the team now!