International student experience at UC
/
/
/
/
/
Your pathway to uni: Introducing the Graduate Certificate in Academic Foundations
Your pathway to uni: Introducing the Graduate Certificate in Academic Foundations
Do you have an undergraduate degree but don't yet meet the minimum requirements for a master's degree? The University of Canberra's (UC) Graduate Certificate in Academic Foundations (GCAF) could be your pathway to further studies.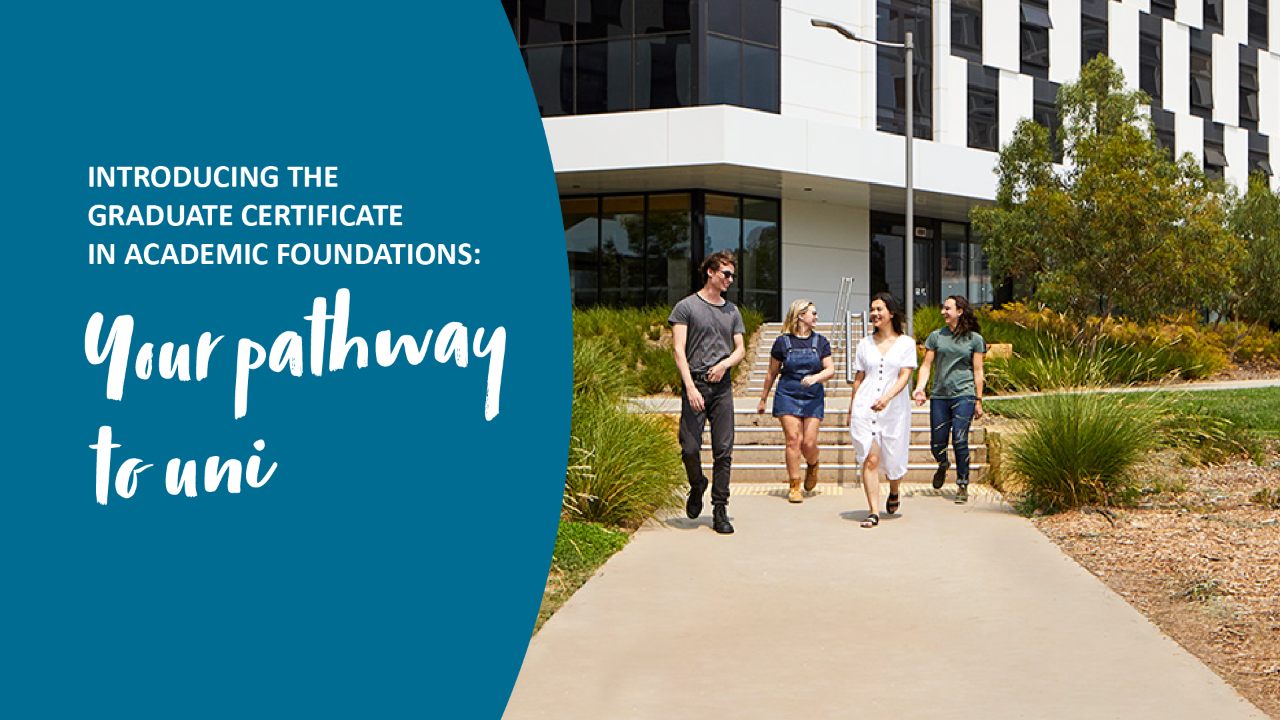 What is a pathway program?
A pathway program is a specialised program that prepares you for the degree you wish to study but don't yet meet the requirements for. Perhaps your English skills need improving, or you didn't achieve high enough grades to meet certain admissions criteria.
Either way, we've got you covered.
UC's pathway programs are specifically built to help bridge any gaps in your education or skill set and get you ready to succeed in your dream degree – they mean anyone can have access to the education they deserve.
Who is a pathway program for?
A pathway program is for dedicated students who need a bit of extra help to meet the entry and study requirements of the degree they wish to complete.
To be eligible for the GCAF, you'll need to have completed a three-year post-secondary degree (such as an undergraduate degree) or equivalent that is approved by the university.
You'll also need to have achieved an International English Language Testing System (IELTS) minimum score of 6.0 overall (with no single band score less than 6.0) or equivalent.
If your IELTS score is lower than 6.0, you'll need to complete an English language course to improve your skills.
Each pathway program will have different entry requirements.
What is the Graduate Certificate in Academic Foundations?
UC's GCAF is a specialised course for international students who wish to undertake a coursework master's degree. It is designed to develop your academic learning and research skills to help prepare you for postgraduate coursework at UC.
Over one semester (six months full-time), you'll complete four units:
Managing People
Introduction to Critical Thinking
Academic Writing and Research Skills
Intercultural Academic Communication
When you successfully complete the GCAF, you'll automatically qualify for acceptance into your chosen coursework master's degree at UC.
What other pathway programs does UC offer?
UC College is dedicated to making quality tertiary education accessible to everyone – including those who would not otherwise have access to direct entry. It prepares students for study at UC through a variety of pathway programs and courses.
UC offers English Language Intensive Courses for Overseas Students (ELICOS) at the UC College English Language Centre (UCCELC) on the Bruce campus in Canberra. ELICOS is a great option if you've completed your undergraduate degree but want to improve your English skills, or if you haven't yet achieved the minimum IELTS score of 6.0 to qualify for entry into the CGAF.
Another great pathway program offered by UC College is the International Foundation Studies program. This program is available to international students who want to start an undergraduate degree at UC but don't yet meet the entry requirements of their chosen course. International Foundation Studies will help you build all the skills you need, prepare you for university life, and address any entry requirements or prerequisites you need to start your degree.
UC College also offers special courses in Business, IT, Health, Design and many other areas. A UC College Diploma will give you extra study support in your chosen area, prepare you for university life and allow you to begin your undergraduate degree at UC with up to one year of course credit. Whatever you need, UC College is here to help!
Ready to start on your pathway to a master's degree?
Find out more about UC's Graduate Certificate in Academic Foundations now!