International student experience at UC
A career in IT
Looking to make an impact in the new digital age? A future in IT may be just what you're looking for. As advancements in technology continue to expand and job opportunities in Australia grow, the IT sector is your key to a multi-faceted, varied and rewarding career.
Whether you're looking for jobs in data analysis, cybersecurity, artificial intelligence, robotics or software support, the University of Canberra (UC) offers a range of undergraduate and postgraduate courses in the IT sector for those pursuing a career in the technology field.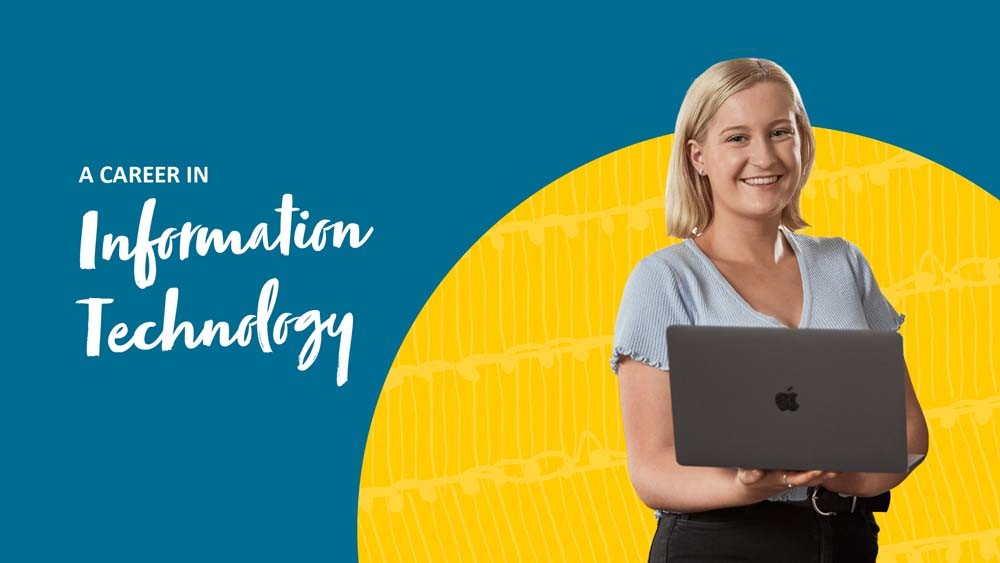 Why work in IT?
IT, or information technology, is a broad term that includes the use of computers and software to store and send information. If you've worked in a business environment, you would have heard the term IT used to refer to the operations of technology, such as mobile devices, computers, computer equipment, data and software.

The IT sector is continually growing in Australia, with lots of new jobs created each year. In 2021, there were 33,000 new jobs in the technology sector in the last three years. Jobs in STEM (Science, Technology, Engineering and Maths) also grew twice as fast as jobs in other Australian industries.

IT remains one of the highest-paid industries in Australia, with a median salary of roughly $99,999 a year, while entry-level positions pay roughly $77,000, and the most experienced workers make around $140,000. What's more, salaries for IT roles have grown by more than 20 per cent since the pandemic.

How to start your career in IT

Interested in starting a career in the IT field? We break down everything you need to know, including which courses are on offer, the skills and accreditations you'll need, and how studying IT at UC can set you up for a bright and successful future.

What to study

UC offers a range of undergraduate and postgraduate IT courses, including the Bachelor of Information Technology, the Graduate Certificate in Information Technology and many more. UC has been awarded a number of accolades, including ranking #1 for research in Australia for industry collaboration.

The Master of Information Technology is designed for students looking to expand their undergraduate studies and create a direct path to a senior management position.

Depending on your area of focus, this 1.5-year course allows students to specialise in artificial intelligence and machine learning, cloud computing, cybersecurity, data science, the Internet of Things and robotics, network technologies or project management.

UC also offers a Graduate Certificate in Academic Foundations, a pathway for international students interested in starting master's degrees, including the Master of IT.

Develop the necessary skills to thrive

Studying for a degree in technology will arm you with all the tools and skills to succeed in a career in IT.

Students undertaking studies at UC will learn how to operate in a professional IT environment, gain experience working alongside industry specialists and fine-tune their written communication skills to create management reports, user manuals and technical documentation and more.

The skills you gain during your studies will arm you with the confidence and know-how to pursue a successful career in the IT sector and open new pathways for career progression.

Work Integrated Learning

Work Integrated Learning (WIL) is a component of UC's Master of Information Technology course, allowing students to gain practical hands-on experience and build their networks through work placements.

UC works in collaboration with industry specialists in the IT field to provide knowledge and training opportunities, which ensures students gain the best experience possible.

Furthermore, all course content is reviewed by UC's Course Advisory Group, which means students are learning from qualified and respected industry experts in the IT sector.

A career in IT

A career in the IT sector is varied, rewarding and continually evolving with the development of new technologies.

Career opportunities include roles such as data analyst, systems administrator, artificial intelligence practitioner, robotics specialist, service desk manager, chief information officer, cybersecurity operations manager and many more.

While the specific roles and responsibilities for each position will vary depending on the job description, typical IT professionals design and manage computer systems, software, networks and servers, provide technical support and analyse systems.