International student experience at UC
/
/
/
/
/
A career in education
A career in education
Eager to share your passion and make a genuine impact on others? It's time to look at a future career in education.
One of the most in-demand industries, with high future growth, and a vast range of roles to choose from, working in the education sector is a rewarding and fulfilling career path.
Jobs in education can range from primary and secondary teachers, education aides, university lecturers and tutors, through to child carers, sports coaches, librarians, counsellors and many more. The main responsibility of those working in education is to foster and support the development of students.

The University of Canberra (UC) offers a wide range of undergraduate and postgraduate degrees to help those looking to begin a career in education.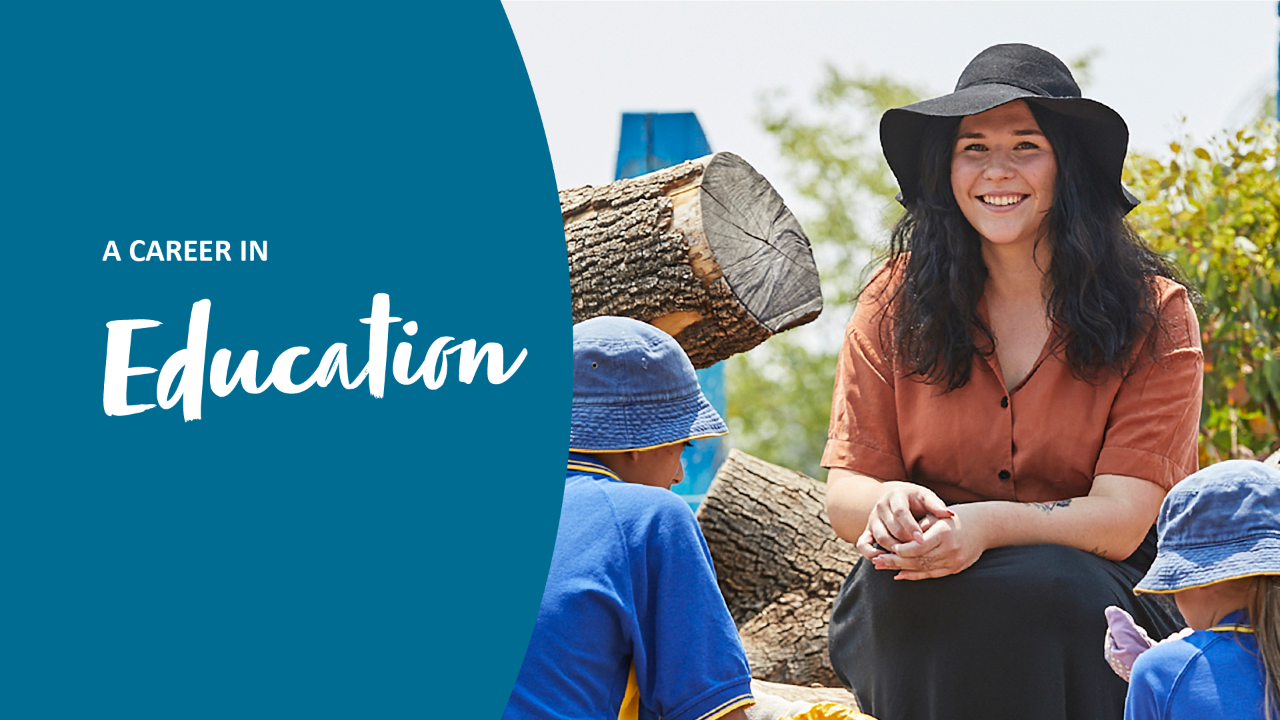 Why work in education?
Australia is facing an unprecedented teacher shortage. In fact, the Federal Government projects a shortfall of more than 4,000 high school teachers by 2025. This provides great opportunities for recent graduates as there is a need for teachers and educators across the country.
Furthermore, 8.3% of workers have their main job in the education and training sector, with slightly higher than average weekly earnings compared to other industries. The sector has good prospects, as it is projected to grow 13.4% between 2021 and 2026.

High-demand subject areas include mathematics, science, technological and applied studies (TAS), such as textiles and design or IT, as well as school counsellors and teachers who focus on special needs and inclusivity.

How to start your career in education
What to study
Deciding what to study will depend on your interests and goals[D1] , as well as your previous qualifications. If this is your first time studying at a university level, an undergraduate program is a great way to better understand the education industry and will provide you with a broad knowledge base. Postgraduate studies, on the other hand, are ideal for those looking to further their expertise in the field of education.
If you have undertaken other tertiary studies, these could help you meet the requirements for postgraduate study. Chat to the UC Future Student team to discuss your options, and the best path forward to help you meet your career goals.

UC caters to undergraduate and postgraduate students from early childhood learning through to adult education. Undergraduate courses include:

Postgraduate studies include:

Take a look through the course descriptions and list of career opportunities to get an idea of which course might best suit your interests.

Acquire and develop necessary skills to succeed

Studying a degree in education will teach you skills necessary to succeed in the workplace. You will learn how to work and communicate with children and adults, develop skills in research, problem-solving and time management, gain knowledge in scientific, literacy and numeracy, and obtain an understanding of student needs.
A deep interest in on-going professional learning will also help you succeed in a career in education.

Work Integrated Learning
In partnership with the ACT Government, UC has developed an Affiliated Schools Program – called the UC Difference – to improve student learning for pre-service and current teachers and to expand education research in school. This hands-on approach provides students from UC with the opportunity to enter real classrooms and develop practical experience before entering the workforce.
Students studying at UC will complete between 80 and 120 days of professional teaching experience through Work Integrated Learning. The course content is developed by education professionals and kept up-to-date to ensure every student is getting the most out of their learning.

Professional accreditation
Education courses offered by UC are registered by the ACT Teacher Quality Institute (TQI) and are recognised as a teaching qualification across the country, which means you can apply for education jobs across Australia.
Roles in education
There are a number of career opportunities for those pursuing a degree in education. Early childhood and primary educators can explore jobs as primary school teachers, early childhood specialists, early intervention teachers or educational leaders. Secondary education opportunities include secondary school teachers, student advisors, schools' policy advisors, guidance officers and more.
If you're eager to pursue postgraduate studies, you will be developing or expanding your expertise, meaning you can move into specialist, coordinator, or leadership positions. Foreign language teaching can mean a career as a teacher of English as a second language, a teacher of a language other than English, a community educator or even as an interpreter.

As you continue to build your experience in the education sector, you can begin to look into careers as a principal, head of department, curriculum developer or higher education researcher.