International student experience at UC
/
/
/
/
/
Introducing the Master of Medical Imaging
Introducing the Master of Medical Imaging
Have you completed an undergraduate degree and are considering a career change? Are you interested in medical diagnostic imaging and the fascinating world of the human body? If so, the University of Canberra's Master of Medical Imaging might be perfect for you!
This highly interactive and engaging course will prepare you to work as a diagnostic radiographer in public hospitals and private radiology practices in any state or territory in Australia and around the globe.
The course is highly career-focused and includes a range of specialties, including General Radiography, Mammography, Angiography, Magnetic Resonance Imaging (MRI), Computed Tomography (CT) and Ultrasound.
Here's what you need to know about the course.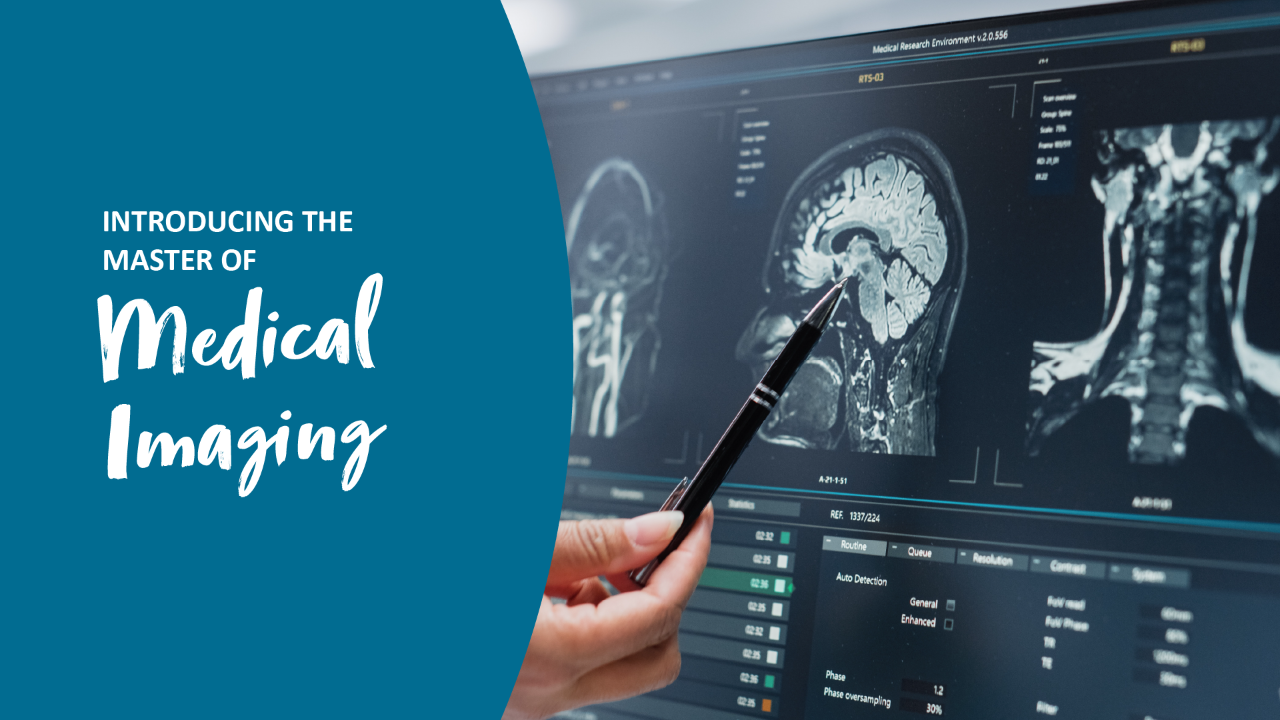 Career opportunities
UC's Master of Medical Imaging degree is recognised and respected across the world. If you complete this exciting and dynamic course, you'll have the opportunity to enjoy a successful career in a range of fascinating and innovative specialities.
Some of the careers that will be available to you include General Radiographer, Specialist Radiographer (e.g., CT, MRI), Mammographer, Angiographer, Sonographer and Vendor Application Specialist, in addition to a range of educator, researcher and manager roles.
The practical nature of the course will give you real-world experience of medical imaging work, making you a desirable applicant for any job in the field.
Work Integrated Learning
Our Master of Medical Imaging has Work Integrated Learning (WIL) at its core. WIL prepares you for your future career while you study, so you'll be ready to hit the ground running in any new job.
The degree facilitates hands-on experience with a broad range of medical imaging equipment. This practical approach ensures you will become confident using relevant, real-world technology before you begin your clinical placements.
Throughout the course, you will participate in a range of clinical placements and residencies to gain diverse on-the-job training. These WIL opportunities will allow you to network with industry experts and mentors and build your empathy and communication skills, in addition to your technical skills.
Professional accreditation
Our Master of Medical Imaging degree is accredited with the Australian Health Practitioner Regulation Agency (AHPRA) through the Medical Radiation Practice Accreditation Committee (MRPAC), which is the accreditation committee of the Medical Radiation Practice Board of Australia (MRPBA).
When you graduate, you will be able to register as a Diagnostic Radiographer with the MRPBA in a variety of fields. You will also be able to apply for a Statement of Compliance and membership with the Australian Society of Medical Imaging and Radiation Therapy (ASIMRT).
Course information
One of the most important features of the program is that it's an accelerated course – it can be completed in five semesters and winter terms full-time. Compared to other similar courses in Australia, you will graduate six months earlier with a significant competitive advantage.
Course content
By completing our Master of Medical Imaging, you will gain knowledge and skills in the following areas:
scientific principles and concepts of all medical imaging techniques
diagnostic radiographic instrumentation
protocols and methods associated with diagnostic and interventional radiographic examination procedures
anatomy, physiology, pathology, radiation protection, biology and dosimetry relevant to diagnostic radiography
normal and abnormal imaging appearances within current diagnostic radiographic procedures
the role of a diagnostic radiographer within a wider healthcare team
patient information management systems.
Course requirements
There are a few steps you will need to take and prerequisites to have when applying for the Master of Medical Imagine at UC. These include:
taking part in an interview
completing a bachelor's degree in any discipline and at least two bachelor-level units in Anatomy and Physiology (0.25 EFTSHU)
assumed knowledge in:

introductory psychology
introductory physics
introductory statistics (all at a bachelor level)

an IELTS score of 7.0 overall (with no single band score below 7.0).
If you require assistance with your English skills, UC College offers several English language courses. This includes the English Language Intensive Courses for Overseas Students (ELICOS) at the UC College English Language Centre (UCCELC), and Special English Programs (SEP), which are customised English courses and study tours for groups.
To gain entry into the Master of Medical Imaging, you will also need to:
undertake a National Police Check
obtain Working with Vulnerable People registration
provide your immunisation history
have qualifications in first aid/CPR.
If you think this is the course for you and would like any additional information, please contact us:
Phone: +61 2 6201 5342
email: international@canberra.edu.au