International student experience at UC
/
/
/
/
/
Your guide to: Studying built environment
Your guide to: Studying built environment
If you have a talent for design and an interest in building and construction, then a career in built environment might be for you. Working in this field can involve designing buildings, structures and urban environments, impacting how people interact with the spaces they inhabit. A qualification in built environment gives you a powerful head start in an evolving and exciting creative industry.
What to expect from a built environment degree
A built environment degree will prepare you for a career in the architecture and design or building and construction industry. Students will develop an advanced understanding of architecture or construction as a professional practice, as well as the various technical and compositional skills required for a career in these fields.
At the University of Canberra (UC), the industry-accredited Bachelor of the Built Environment (Architecture) are informed by their location in the planned city of Canberra. These courses give students the opportunity to engage in the local built environment and architecture industry with valuable work-integrated experiences while also considering the field on a global scale.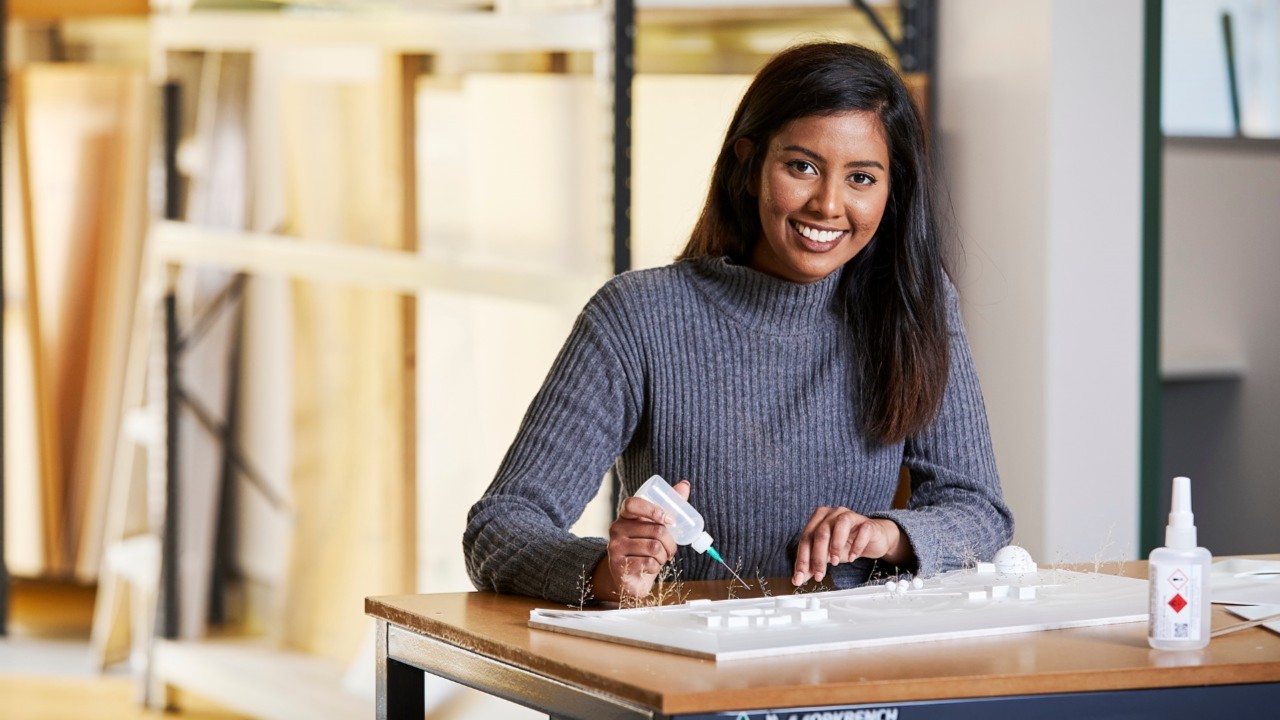 10 questions to ask before starting your built environment degree
1. What interests you most about the world?
If you often wonder how certain structures are put together or how a space could accommodate its inhabitants better, then you're probably on the right track for a career in this field.
There are many areas of architecture that you can specialise in, and thinking about your interests can help you figure out which specialties could be a good fit. For example, if you are passionate about sustainability, then you might like to focus on green architecture or biophilic design, which aims to bring elements of nature like trees and natural lighting to the indoors. Alternatively, if you're drawn to indoor spaces, then interior architecture may suit you best. You might also be more interested in the physical building process, and in this case, a career in construction management might be the one for you.
2. What is your personality type?
As careers in built environment usually involve creative thinking, problem solving, resourcefulness and a reasonable amount of drive, it's a good idea to consider whether these traits come naturally to you.
3. What is your preferred coursework style?
A built environment degree is usually suited to those who enjoy a mix of theoretical learning and hands-on approaches. This is because a degree in this field involves grasping a number of important technical and compositional skills, as well as the theories behind them.
Ranked #1 in the Australian Capital Territory for teaching quality and skill development, UC's built environment courses are taught through a combination of theoretical and practical approaches. Students learn the necessary skills in state-of-the-art facilities and put them to practice in industry-engaged learning experiences.
4. How long do you want to study for?
If you want to do an undergraduate degree in built environment, you can expect to be studying for around three years. Some built environment specialisations, such as architecture, require students to complete undergraduate and postgraduate qualifications before starting their careers. In that case, you should expect to add an additional two years for your master's course to your overall study time.
5. Can you meet the course's English language and academic requirements?
You should be aware of your course's academic and English language requirements before applying. If the requirements aren't realistic for you, then you may need to complete an additional English language course and look at alternative entry pathways, such as course transfers and bridging courses.
6. What is your dream job?
It's a good idea to make sure that the career outcomes of your course align with your future job expectations.
For example, UC's built environment courses can lead you to a career as an architect, building designer, construction engineer, project manager, built environment researcher, urban designer, policymaker, or architectural renderer, to name just a few.
When it comes to built environment degrees, UC are ranked #1 in Canberra for graduate full-time employment. If you need a little support working out the best path for you, reach out to the Careers UC team to help you plan your career.
7. Which companies do you want to work for?
Doing a little research on your dream companies will ensure that when internships and career opportunities come around, you will know where to apply and what they're looking for in a candidate.
8. How much do you want to earn?
A career in built environments can be a lucrative one, with the median salary for a registered architect in Australia being AU$99,398 per annum. Construction engineers can expect to earn AU$105,043 a year, and construction managers usually take home a salary of AU$130,000.
9. Where can you gain work experience?
At UC, students have the opportunity to engage with work-integrated learning through a range of experiences, including internships, case studies, field trips, faculty-led international tours and cross-disciplinary projects with local, national and international organisations.
10. What is your ideal learning environment?
Every university campus is different, and some campuses offer specialised on-campus facilities for their students. At UC, built environment students have access to a number of different design and workshop spaces through the state-of-the-art Workshop7, including the 3D Printing Lab, Robotics Lab, Laser Lab, Computer Lab, and the Composite Lab, as well as use of cutting-edge technologies like the Multicam CNC Router.