International student experience at UC
/
/
/
/
/
Study tips for new students
Study tips for new students
If you're an international student about to start at the University of Canberra (UC), you might be wondering what you need to do to get ready for your studies.
Now that you've accepted your offer, there are some important first steps to take. Follow these top study tips for new students to make sure you're well-prepared and ready to start strong in semester one!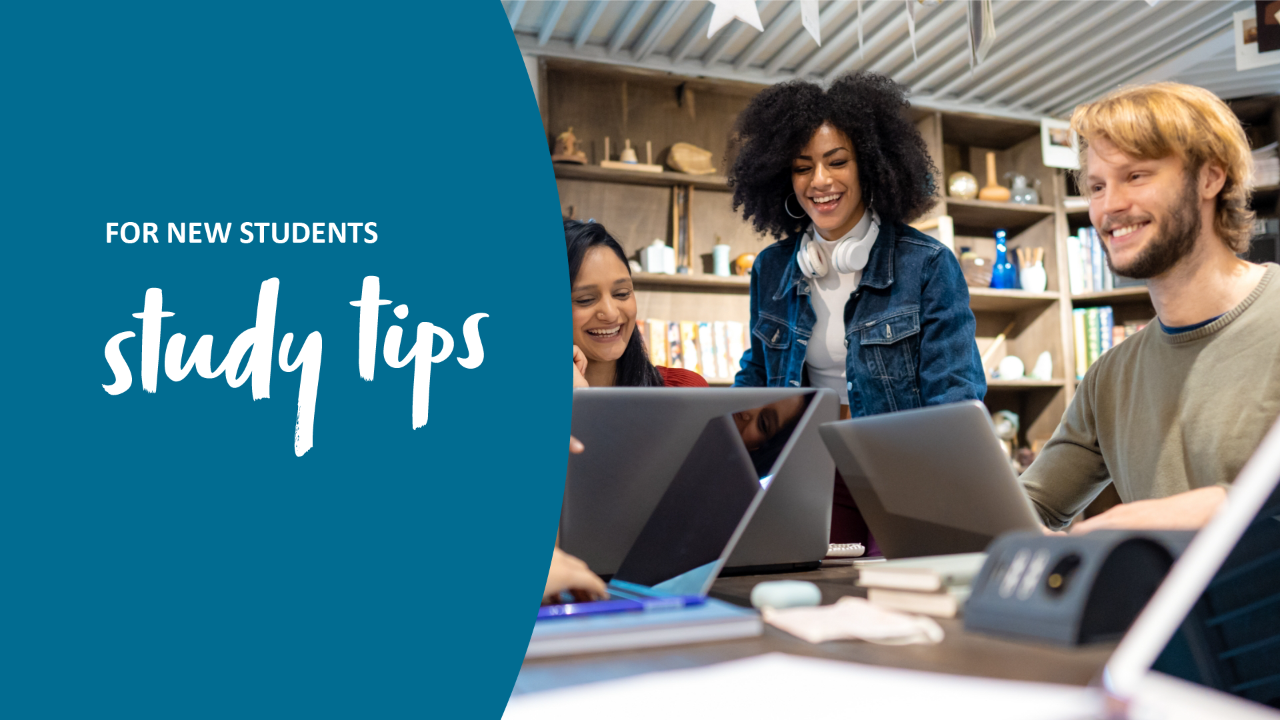 Get connected: Access UC's online services
UC has a number of online services you'll need to access throughout your studies.
One of the very first things you should do is set up your student account. Your username for this account will be your student ID with a 'u' in front, and you will have received a password by email when you accepted your UC offer. You can reset your password at any time.
You'll need your account details to access your student email, MyUC and UCLearn (Canvas).
MyUC is your student portal. Here, you can enrol in your units and majors, arrange your timetable using Allocate, check your course progress and find any forms you might require. You can even use MyUC to access your weekly schedule, unit outlines and support services.
UCLearn is UC's learning management system. Make sure you read through the UCLearn Guide, as this will introduce you to the system and show you how to find the learning and assessment information for your courses.
Through UCLearn, you can even access additional study support, including Studiosity, which offers 24/7 online support with feedback on assignment drafts and Connect Live study help sessions. There are also helpful learning modules on topics like academic integrity, which are policies that may change over time. For example, recent changes include the use of AI at UC. You need to be aware of these changes to ensure you don't breach UC's academic integrity policies and procedures.
Setting up your student account will also allow you to connect to the campus Wi-Fi, so you can access the internet, check your emails and study anywhere on campus.
Collect your student card
After you're all set up on MyUC and uploaded a photo to your account, you'll want to collect your new student ID card. You'll need your ID to access some facilities on campus and to borrow books from the library, but it's also necessary for you to get concession discounts on public transport and many other venues.
Keep an eye out for any student discounts you might see around Canberra, such as at cinemas or on websites like Student Edge and UNiDAYS. There are plenty of exclusive savings for students available!
Explore the UC campus
Before classes start, it's a good idea to orient yourself around the UC campus. If you have your timetable already, time yourself travelling between your classrooms and lecture theatres, keeping an eye out for any shortcuts you can take - you don't want to be late in your first week!
Download a copy of the UC campus maps to your phone and use the Bruce Campus Buildings Directory for photos of specific locations, along with detailed floor plans.
The Lost On Campus app can also be a handy resource - it's Australia's biggest campus mapping app and is updated monthly.
Study spaces
Thankfully, UC has plenty of awesome study areas on campus, which means you'll have no trouble finding the perfect place to revise or write your next assignment.
Make sure you check out all of UC's student spaces. Whether you're looking to work alone or collaborate with a group, or even if you have to use a particular technology, you're sure to find exactly what you're looking for.
For example, the Library offers spaces for individuals and groups with flexible furniture you can rearrange to fit your needs, as well as printing facilities and mobile phone charging stations. You can even book rooms for group work and presentation practice. Plus, a brand new section of Level C has just opened, with extra bookable group study tables. The Library is open 24 hours a day as a study space, you'll just need your ID to access the building after hours.
In addition to the Library, some of the most popular study spaces on campus include Building 1 Level C (above the Refectory) and the Foundation Lounge (Building 1 Level B).
Study support
Wondering what kind of help is on offer? Well, UC has a wide range of support services to assist you as you navigate your new life in Canberra.
UC's Study Skills is a fantastic resource for those who require a bit of academic assistance. With the Study Skills program, students can cultivate the abilities and confidence they need to succeed in their courses.
Through Study Skills, you can access orientation programs, drop-in help sessions, referrals for individual consultations, the Maths and Stats Help Centre, peer-assisted learning sessions, online study help and much more!
The Student Wellbeing team is a great first port of call if you need some guidance. They have specialised support staff, like international and wellbeing advisors, who can help you with issues ranging from accommodation to mental health. They can even provide resources to assist you in your studies!
The Student Wellbeing team also holds regular outreach and engagement programs. They can provide guidance on managing your study and courses and offer confidential advice, referrals and a counselling service. The team even organises fun, regular social events to connect students with their peers.
You can contact the Student Wellbeing team via email or drop in to see someone in person at Student Central, Building 1.
UC is dedicated to making sure your international student experience is the best it can be. To find out more about what's available, get in touch with the Student Wellbeing team today.