International student experience at UC
/
/
/
/
/
A career in health
A career in health
If you want to make a positive impact and have a real difference in people's lives, a career in health may be just what you've been looking for!
Whether you're exploring jobs as a nurse practitioner, physician, physical therapist or dentist, the work you do in your career can help make our world a better, brighter and healthier place.

Considered one of Australia's top universities for health education, the University of Canberra (UC) offers a number of degrees that will help you launch your rewarding career in health.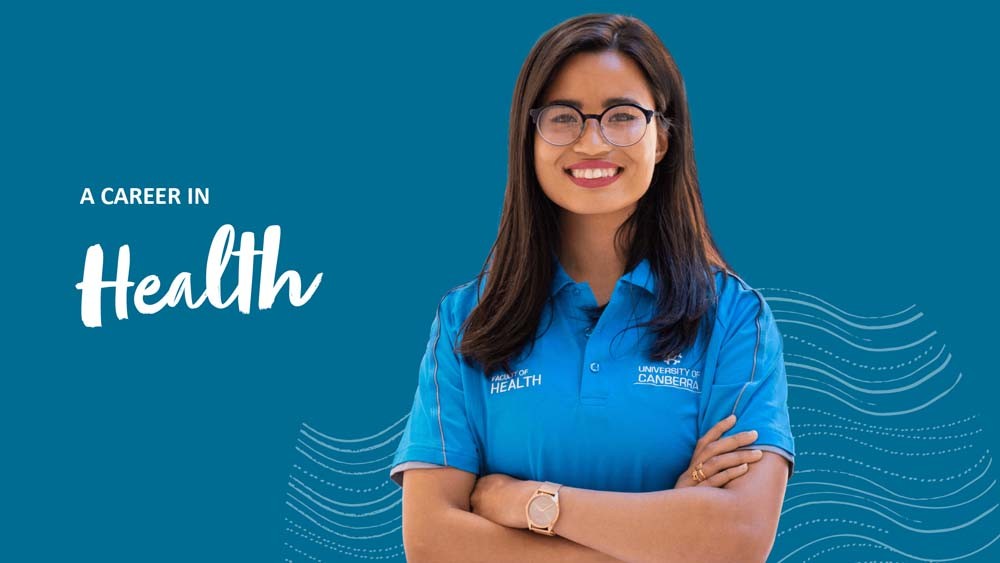 Career opportunities in the health sector
Career opportunities in health care and social assistance are expected to have the biggest employment growth of any industry from 2021 to 2026.

According to the 2021 census, 1.7 million people, or one in seven people, are currently working in the health care and social assistance industry, and the National Skills Commission predicts a 13.9 per cent job growth in the next five years. A typical salary for nurses in Australia is around $85,000.

These strong employment prospects mean increased job security for new graduates as more roles are created to meet Australia's healthcare demands.

Working in health

There are lots of career opportunities within the health sector, including roles for registered nurses, psychologists, nutritionists, pharmacists, optometrists, radiographers, physiotherapists and many more.

While the roles and responsibilities can vary between fields, health professionals work to study, research, train, diagnose, treat and help prevent illnesses or injuries in people of all ages and backgrounds.

How to start your career in health

Ready to start your career in the health industry? Let's take you through the necessary skills you will develop, the courses to study, the work placements you will undertake and the professional accreditations you'll need to become a successful health graduate.

What to study

UC has a wide range of undergraduate and postgraduate courses to suit any health interest. These include the Bachelor of Science in Psychology, the Bachelor of Human Nutrition, the Master of Public Health, the Master of Midwifery Practice and many more.

Nursing, in particular, is a great study option with incredible career prospects – estimates show there be a shortage of 100,000 nurses by 2025, and you can help fill that gap! UC's Bachelor of Nursing will give you the skills, experience and qualifications to be recognised as a nursing professional in over 160 countries around the world.

The Bachelor of Nursing is designed for students who are passionate about helping others. This hands-on course incorporates the latest interactive teaching and online practice methods to help you kick-start your future career.

Necessary skills

Throughout your studies as a nursing student at UC, you will obtain the skills and experience you need to help you succeed in your field. These include developing nursing practices such as primary health care, health promotion, mental health, rural and remote services and more.

You will also gain an understanding of how to provide safe, effective and sensitive nursing care, develop knowledge of the Aboriginal and Torres Strait Islander Health Plan and undertake professional practice to equip you with the skills you need to enter the workforce.

Work Integrated Learning

Work Integrated Learning (WIL) is a vital component of the Bachelor of Nursing at UC. As you undertake WIL, you'll gain invaluable hands-on experience to get a real-life taste of what a career as a registered nurse could look like.

Students have the opportunity to participate in a four-day observational placement in their first semester. Across this three-year degree, students will complete approximately 880 hours of clinical practice in a range of departments, including paediatrics, aged care, emergency departments (EDs) and intensive care units (ICUs).

These placements can take place at Canberra Hospital, Calvary Public Hospital, Goulburn Base Hospital, and other private healthcare clinics around ACT and New South Wales. Those interested in overseas work have opportunities for student exchange in countries like Tonga or Canada.

Professional accreditation

The Bachelor of Nursing at UC is professionally accredited by the Australian Nursing and Midwifery Accreditation Council (ANMAC) and the Nursing and Midwifery Board of Australia (NMBA).

Students who graduate are also eligible to apply for registration with the Australian Health Practitioner Regulation Agency (AHPRA).
UC is one of Australia's top universities for health education! Learn more here.