International student experience at UC
/
/
/
/
/
Your welcome to Canberra: What to do on arrival
Your welcome to Canberra: What to do on arrival
With your bag packed and plane ticket booked, it's time to start your international student adventure at UC! While this is an exciting time, it's good to understand what the first steps should be when you arrive.
Luckily, there are some simple steps to take to set yourself up for success. Read on to find out what to do when you get here so you can get on with enjoying your stay.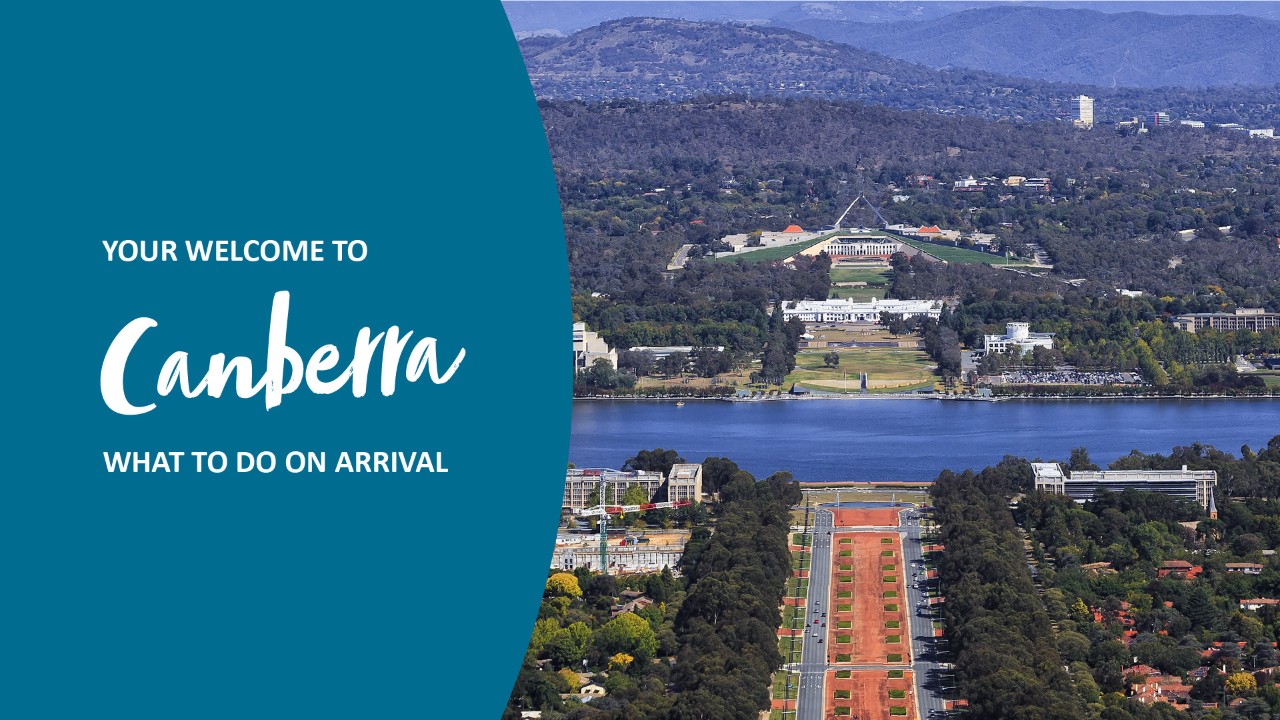 Step 1: Get connected
The first thing you'll want to do is get connected to the mobile network and the internet.
To get an Australian mobile number, you'll need to purchase a SIM card. You can visit a Telstra, Vodafone or Optus store to discuss your needs with a sales representative, or you can buy SIM cards from a number of carriers, like amaysim and Boost Mobile, at newsagents and supermarkets.
When choosing your plan, think about what you'll be using your mobile for. Look out for plans that include international calls, as well as plans with lots of mobile data so you can use the internet on the go.
Another important thing to do is to connect to the internet. If you're in a sharehouse or student housing, you'll likely already have internet available. If you're renting privately, you might need to contact an internet service provider to arrange a connection.
Canberra also has lots of free Wi-Fi, which is great for when you're out and about. UC Wi-Fi is available on campus, and in the city and surrounding suburbs, you can use the free public Wi-Fi, CBRfree.
Step 2: Open a bank account
When you get to Canberra, you'll want to get an Australian bank account for your daily expenses.
There are a lot of banks in Australia, so make sure you take the time to compare and find the best fit for you. Student accounts, like those offered by St. George, CommBank and ANZ, are often a good choice as they have lower fees.
Most banks will also allow you to open an account up to three months before you arrive in Australia, but you'll still have to visit in person once you get here. Ask your bank about the documents you'll need to bring to open your account, which might include:
Your passport
Proof of address
Proof of enrolment at your institution
Step 3: Get to know the public transport system
One of the most exciting things about moving to a new city is exploring your adopted home! Luckily, Transport Canberra has a great network which makes it easy to get around.
A MyWay card is a reloadable card that allows you to travel on the city's light rail and buses. You can pick up a MyWay card online, at a recharge agent or at the UCX Shop on the Bruce Campus.
UC students are also entitled to discounted fares on public transport. Simply show your UC student ID to a ticket agent to receive concession fares.
When you're ready to start exploring, use the Transport Canberra website to check out timetables and routes, or use their handy journey planner to find the best way to your destination.
Step 4: Set up your house
Lastly, it's time to make sure you have everything you need for your stay in Canberra.
Kmart is a great place to go for cheap appliances, like heaters and fans, as well as other home essentials, including bedding, cookware and stationery. It's also a good idea to find a local pharmacy or chemist where you can buy medicines, affordable cosmetics, skincare products and toiletries.
Finally, you'll want to stock up your kitchen with some groceries and other necessities. Supermarkets like Coles, Woolworths and ALDI are handy places where you can get everything from fresh produce to cleaning supplies.
If you're after imported goods, there are some great Asian grocery stores in Dickson, such as Mega Convenience Store, Sai Gon Asian Grocery and Deji Asian Supermarket. There's also one conveniently located on campus underneath the UniLodge @ UC - Cooper Lodge.
Remember, UC is here to support you with your move and throughout your time in Australia. If you have any questions or need some help or information, reach out to the Student Support Team.
Step 5: Prepare for your first day at uni!
Now that you're set up in Canberra, it's time to get excited for your first day at UC!
There are plenty of activities and events to welcome you to campus. As a new student, Canberra Orientation is one of the highlights on the UC calendar. It's an opportunity to meet fellow students, learn more about our community, and get information about your course.
Before classes commence, it's also a good idea to familiarise yourself with where your classes and lectures will be held, where shops and services are on campus, and where the Student Wellbeing and Support team are located (the go-to place for advice as an international student).
Take time to try out cafés on campus (time to find your new favourite coffee spot!) and explore the best outdoor spaces for when you want to study in the sunshine.
Now, you're ready to start as a UC student!