International student experience at UC
/
/
/
/
/
Essential Aussie Slang for International Students
Essential Aussie Slang for International Students
So, you've just landed in Australia, ready for the start of your studies at the University of Canberra (UC) - congratulations!
Now, how do you prepare for life 'Down Under'? To really get the most out of your study experience, one of the first things you'll want to do is familiarise yourself with Australian slang. 82 per cent of Aussies use slang daily in conversations with friends, so it's safe to say to say that it's a big part of the culture.
Australian slang words are quite informal and are often shortened versions of the original, such as 'arvo' for afternoon or 'brolly' for an umbrella. In fact, you may have already come across some of them. In 2013, the Aussie slang word 'selfie' went viral globally and became Oxford Dictionaries' word of the year!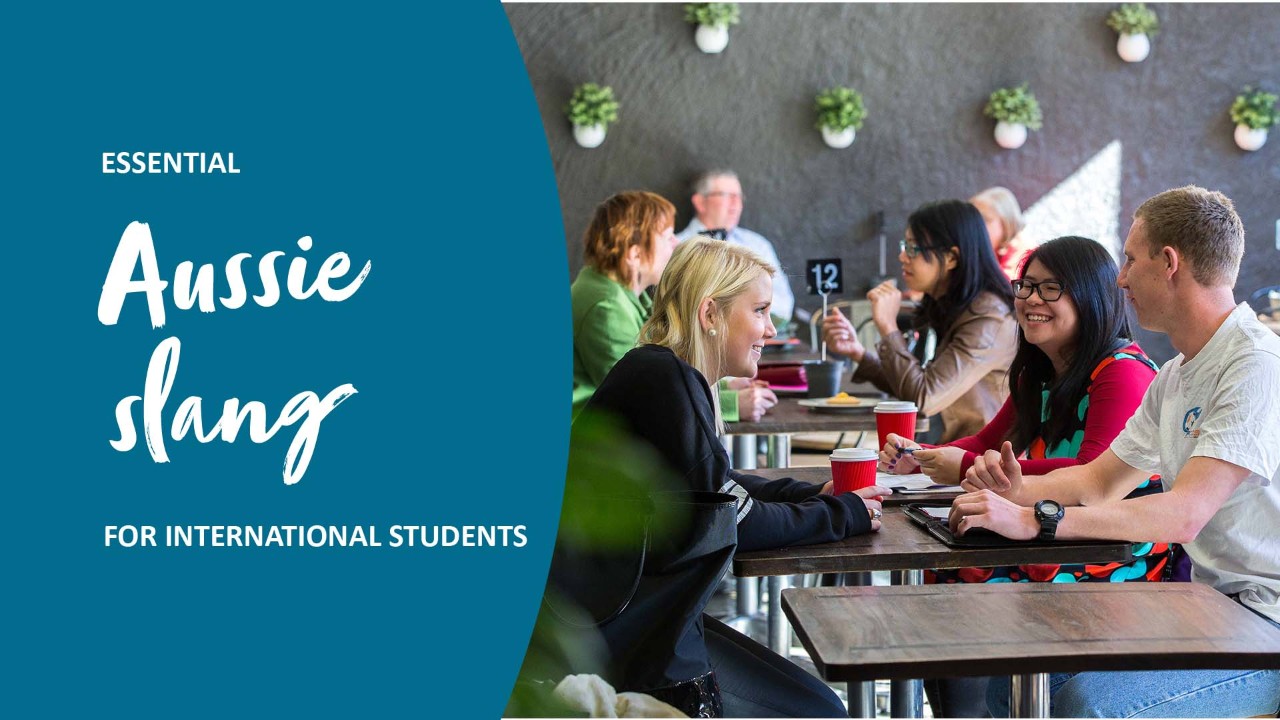 Australian slang is playful and fun, but it can be overwhelming if English is your second language. Some fluent English speakers that move to Australia can have trouble with the slang, too!
The best way to learn is to immerse yourself in the Australian way of life, so why not join one of UC's cultural, sporting and academic clubs and societies? There's also plenty of support available for international students. For instance, if you're struggling with understanding your assessment requirements or using academic language, you can join a Study Skills program or chat to an ASK (Academic Skills and Knowledge) Advisor.

For now, here's an introductory list of Australian slang you may encounter while at uni. You'll be chatting with your Aussie classmates in no time!

Canberra slang
Belco: Short for Belconnen, a district in north-west Canberra
Bridge to Bridge Walk: A popular walk around Lake Burley Griffin
Brindies: The Brindabella Range
Civic: Canberra's city centre
Coolo: The Cooleman Court shopping centre
EPIC: Exhibition Park - lots of events happen here
Lake G: Lake Ginninderra
Multi Culti: The nickname of Canberra's annual National Multicultural Festival
The Lake: There are a few lakes around Canberra, but The Lake refers to Lake Burley Griffin.
In class
Arvo: Afternoon
Biro: Pen
Breather: A quick break; 'let's take a five-minute breather'
Dob: To report someone by 'dobbing' them in
Dunny/loo: Toilet
Fair go: A fair chance
Have a squiz: To quickly look at something
Journo: Journalist
No drama/no worries/no wuckas: No problem
Reckon: To think/agree; 'yeah, I reckon so!'
Rubber: Eraser
Sickie: A sick day off work or class. If you 'pull/chuck a sickie', you're taking a day off when you're not actually sick
Uni: University
Wag: To skip class
Out to eat
ATM: Cash machine (stands for Automatic Teller Machine)
Avo: Avocado
Barbie: Barbecue
Bickie: Biscuit ('choccie bickie' is a chocolate biscuit!)
Brekky: Breakfast
Cuppa: Cup of tea
EFTPOS: Machine for taking card payments (stands for Electronic Funds Transfer at Point Of Sale)
Flat white: Coffee containing steamed milk
Lollies: Sweets
Maccas: McDonalds
Sanger: Sandwich
Servo: Service station
Snag: Sausage
Spud: Potato
Veggies: Vegetables
Veggo: Vegetarian
Chatting with friends
Bail: To cancel plans
Beauty: Great; often expressed as 'you beauty'
Bloody: Very; 'it's bloody hot today'
Bloody oath: Yes/of course
Buggered: Exhausted
Ceebs: Derives from the abbreviation "CBB", which stands for Can't Be Bothered
Chock-A-Block/chockers: Full/busy; 'the supermarket was choc-a-bloc/chockers'
Crook: Feeling sick. Also used to describe something dishonest or unsatisfactory.
Deadset: True
Defo/defs: Definitely
Derro: Derelict
Devo: Devastated
Flat out: Really busy; 'I'm quite flat out at the moment'
G'day: Hello
Give someone a bell/a buzz: Call someone on the phone
Going off: Full/busy; 'the club was going off. Also used to describe an angry person who's yelling a lot; 'he was going off'.
Good on ya/on ya: Good work
Heaps: A lot/very; 'thanks heaps'/'heaps good'
Iffy: Risky/unreasonable
Kiwi: A New Zealander. Also the name of a fruit and a bird.
Leg it: To walk/run
Loaded: Wealthy/rich
Mate: Friend (though it is often used between colleagues and even strangers!)
Ripper: Something/someone that is particularly good
She'll be right: Don't worry about it
Sick: Awesome; 'that's so sick!'
Stoked: Happy/satisfied
Struth: Short for 'that's the truth', an exclamation expressing agreement
Suss: Suspicious. To 'suss something out' means to look into something.
Woop Woop: Middle of nowhere
On the weekends
Bathers/cozzies/togs: Swimsuit
Bucks: Dollars
Budgie Smugglers: Speedos
Brolly: Umbrella
Chemist: Pharmacy
Daks: Trousers ('tracky daks' are sweatpants/tracksuit pants)
Esky: An insulated container that keeps food and drinks cold
Footy: (Football (AFL/Aussie Rules)
Mozzie: Mosquito
Rellie / Rello: Relatives
Runners: Trainers/sneakers
Straya: Australia
Sunnies: Sunglasses
Thongs: Flip Flops
True Blue: Authentically Australian
U-ey: To take a U-Turn, especially while driving