Libby Roberts
8 January 2022: The University of Canberra's Associate Professor Michael Frese and the Australian Museum's Dr Matthew McCurry are leading a large team to investigate a newly discovered fossil site discovered in central New South Wales.
Released today in the journal Science Advances, the team's paper reports on the incredible detailed preservation of fossils from McGraths Flat, which will give a better understanding on the effects of past climate changes. The fossils provide insights into a time when Australia's landscape changed, and widespread rainforests gave way to today's scrublands, grasslands and deserts.
Dr Michael Frese, a trained virologist from the Faculty of Science and Technology used his experience in microscopy to discover minute details in the fossils.
By scanning the iron-rich rocks from McGraths Flat using a high-resolution scanning electron microscope (SEM), he discovered numerous microfossils including pollen, spores, amoeba, and nematodes.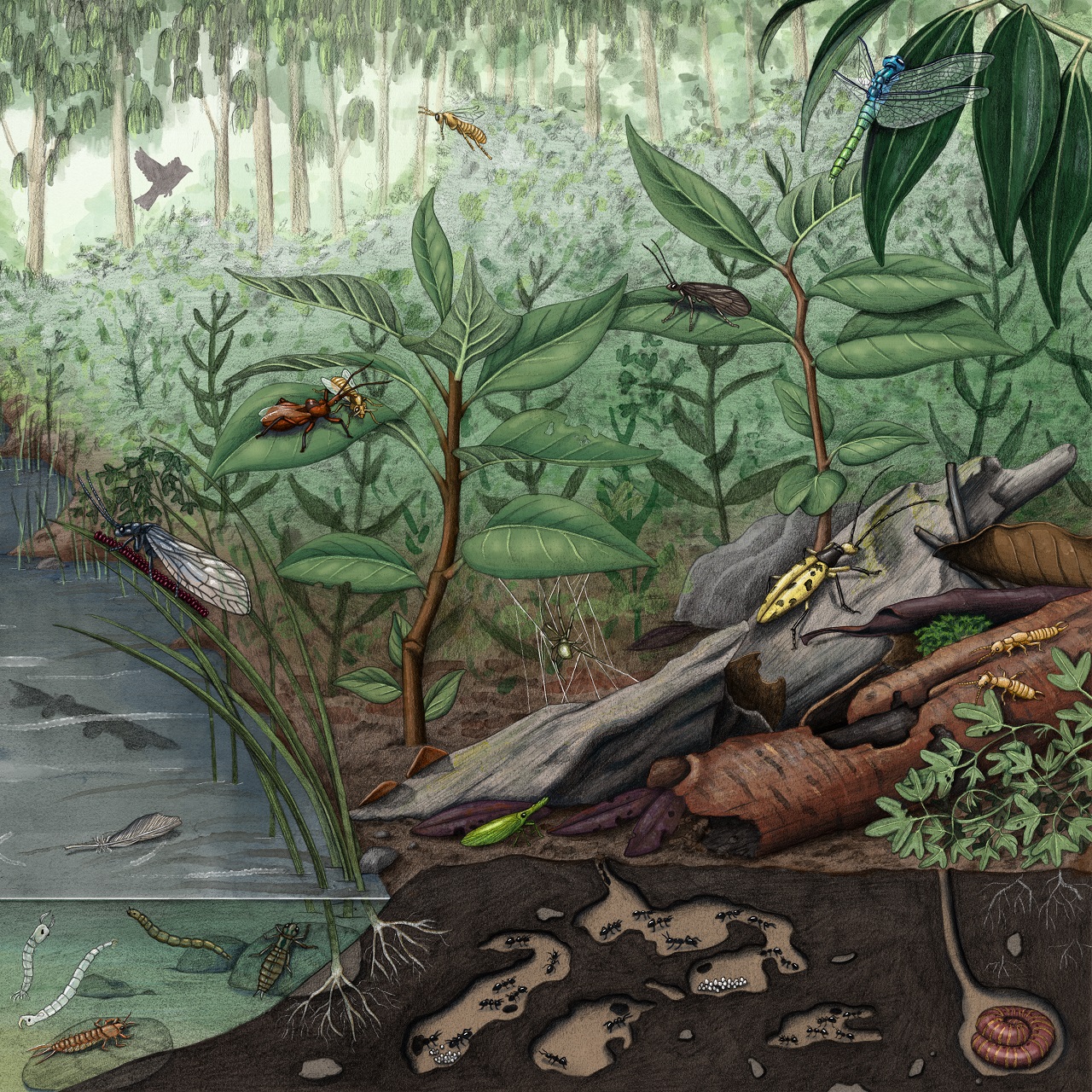 Dr Frese also reported parasites that lived in, or on larger plants, insects and fish. The findings help to paint a detailed picture of Australia during the Miocene epoch - between 23 and 25 million years ago).
"I found a beautifully preserved winged insect in the sediments of McGraths Flat. Juanita Rodriguez, a colleague who works at CSIRO's Australian National Insect Collection, identified that insect as a sawfly and we decided that I should use an electron microscope to image details of its legs and head," Dr Frese said
"After discovering that the head was covered with pollen, I sent images of the pollen to Mary Dettmann, an experienced palynologist, who was able to tell us which flower was visited by this sawfly before its untimely death at McGraths Flat! These findings are important as they suggest that sawflies might have been active pollinators in the Miocene."
Discovering the links between many of the plant and animal fossils found at the site wouldn't have been possible without Dr Frese's background in microscopy.
"I love imaging. I spent many hours in front of a microscope taking photos of hundreds of spores and pollen grains that can be found scattered throughout the sediment. Finding these microfossils is not only scientifically important as it is critical for determining the age of the deposit, it is also a deeply satisfying activity," he said.
Drs Frese and McCurry have also been able to reconstruct the colour pattern of birds and fish that once lived in the area, thanks to the discovery of melanosomes (small subcellular organelles that store melanin pigments).
"Interestingly, the colour itself is not preserved, but by comparing the size, shape and stacking pattern of the melanosomes in our fossils with melanosomes in extinct specimens, we can often reconstruct colour and/or colour patterns," said Dr Frese.
Dr Frese is able to produce the high-quality images because of the compact nature and high iron content of the rocks that makes it easy to use the SEM.
"Normally, samples need a coat of gold or platinum before they can be studied using high resolution scanning electron microscopy."
"But rocks from McGraths Flat can go straight into the microscope. This means that these highly unique fossils can be studied without changing them irreversibly. This is very important because it does not compromise subsequent studies."
Dr McCurry, Curator of Palaeontology at the Australian Museum, used his experience in the field to analyse how the site formed.
"The fossils at McGraths Flat are found in the iron mineral 'goethite', – not usually thought of as a source of exceptional fossils," he said.
"We think that the presence of goethite is key to why the fossils are so well preserved. Our analyses suggest that the fossils formed when iron-rich groundwaters drained into a billabong, and that a precipitation of iron quickly encased all organisms that were living in or fell into the water," Dr McCurry explained.
The team outline their findings in the paper as the first account of the site; the publication includes details of the geological context, paleoenvironmental setting, examples of preserved plants and animals, and an evaluation of the fidelity of preservation.