International student experience at UC
/
/
/
/
/
Arranging accommodation before you arrive in Canberra
Arranging accommodation before you arrive in Canberra
Deciding where you will live while studying is the first step to feeling prepared for the semester ahead. As an international student, this can seem daunting - particularly if you haven't even visited Canberra yet!
Luckily, as a University of Canberra (UC) student, plenty of different accommodation options are available- such as living on-campus, with flatmates, renting your own unit, or arranging a homestay.

Each has different benefits, prices, and ways to apply - so it's a good idea to decide which will suit you best and start planning early. There are people to help you choose the best option, and UC even offers an accommodation guarantee so you can have peace of mind before you arrive!

Read on to discover important things to consider, and how to apply before arriving in Canberra.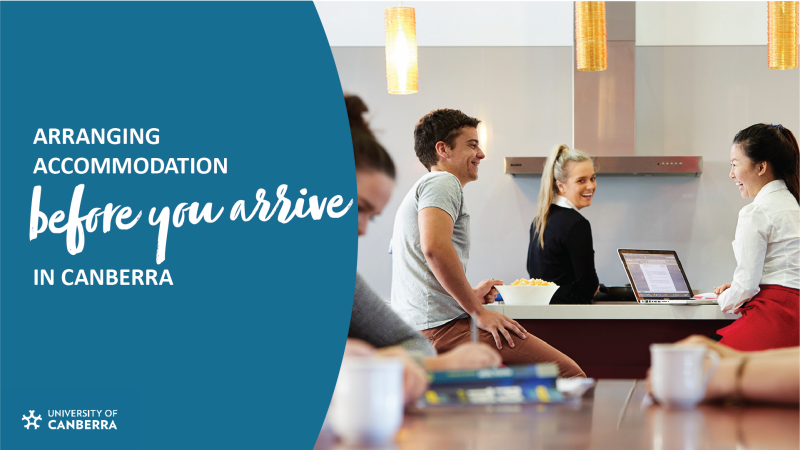 Understand UC's accommodation guarantee
If you're in your first year of study or are an international student, UC will guarantee a place in one of our campus buildings! You can apply months before you arrive, meaning your housing will be arranged well before you arrive in Canberra.

Learn more about the UC guarantee here.

Decide what type of accommodation will suit your lifestyle and budget

Studying overseas is about so more than your classes! Finding the right place to live can help you get the most out of your international student experience. You've got the freedom to decide what you want from your accommodation – either to meet new people, have your own space, or live close to the university.

1. Student housing

UC offers rooms across four different buildings, all within walking distance of campus.

Sometimes navigating a new city takes getting used to - but living on-campus means avoiding the commute and saving time. UC's location also means easy access to popular bars, shops and restaurants.

Another bonus of student housing is the option to meet new people. Communal spaces, student events, and group activities are great for making new connections and lifelong friends.

You can apply for a room in UC student housing before you arrive in Canberra. Each building has its own application process online. Read more about the different buildings, room options and range of facilities here.

2. Off-campus share house or flat

You can also find off-campus housing, where you'll live with others or alone.

An off-campus sharehouse can be an excellent way to secure affordable housing if you have three or four rooms and split the rent with others. People often advertise their spare rooms on Facebook groups or Flatmates.com.

Since you won't have arrived in Canberra yet, contacting people and asking for a virtual room tour and video call is a good idea. This way, you can get a better sense of the people you'll live with and what the room really looks like. You can message people via their online profile, ask for a number, and arrange a time to chat.

Another great housing option is the Canberra Student Housing Co-operative, or the Co-op. The Co-op was established by a group of students and operates a set of communal units. You can apply for an available space online or contact them through their Facebook page.

3. Homestay

The Australian Homestay Network has a tailored 'Start with Us' initiative for international students. This program matches you to a family near the university and provides a private room and meal plan. Host families are carefully selected to make sure you feel comfortable and will be excited to support you in Canberra.

You can read more about rooms, prices, and how to apply online.

Speak to a current student

Not sure where to start when it comes to arranging your accommodation from home? Other than contacting UC directly for support, you might consider chatting to a current student. UC's incredible student ambassadors are from all around the world, and they can tell you what life is really like in Canberra, including sharing tips and tricks on finding the perfect place to live before arriving.

Consider temporary accommodation

If you don't find the right place to live in advance, or would prefer to inspect in person, you might consider arranging temporary accommodation.

Temporary accommodation can be arranged through Airbnb or a local hostel. The price of an Airbnb room will depend on the time of year, but rooms are generally more expensive than other rentals. However, it's a suitable option in the short-term while you find your feet in a new city and look for something in person.

To find out more about the types of student housing on offer, or to apply for a place to stay, check out University of Canberra student accommodation now!