International student experience at UC
O-Week at UC
If you're about to start studying at the University of Canberra (UC), make sure you attend Orientation Week (O-Week)!
Not only is Orientation the best way to begin your transition to university life, but it can also be particularly helpful for international students, and it's loads of fun too!
Read on to find out everything you need to get the most out of your first week at UC.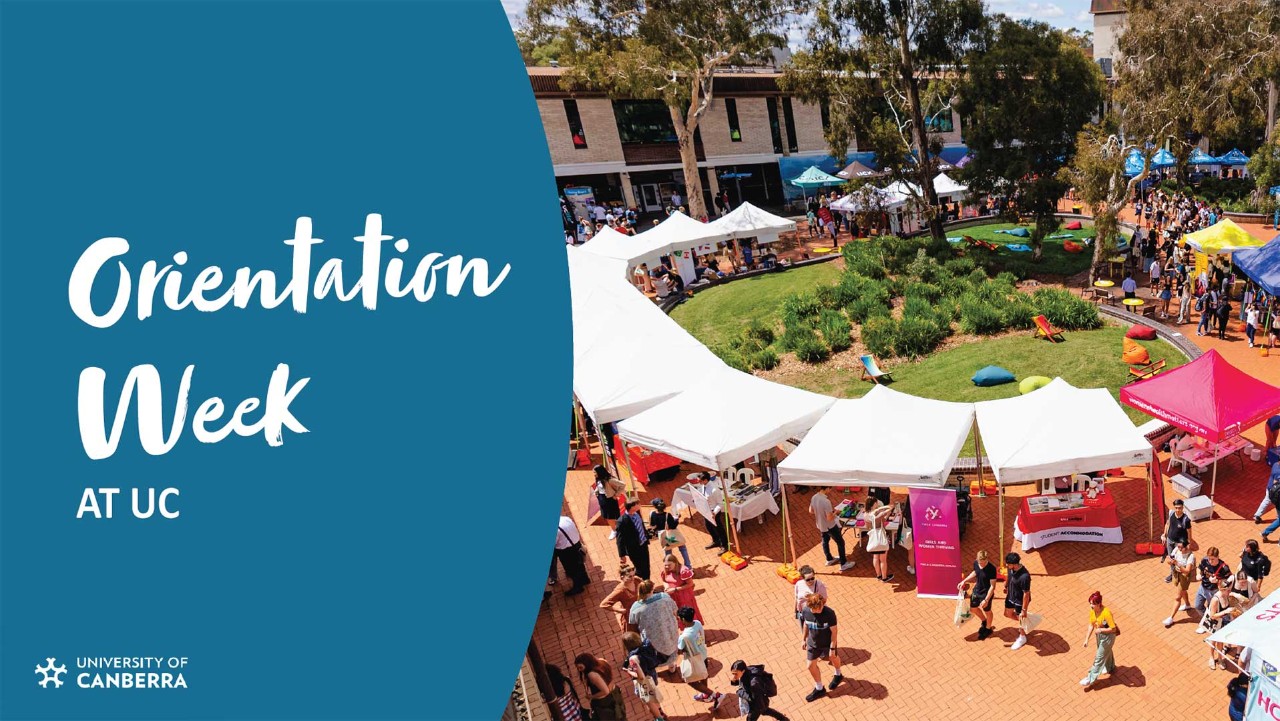 What is Orientation?
Orientation, often called O-Week in Australia, takes place the week before a new semester starts. It's an opportunity for new students to visit campus, meet new people, learn all about their course, and enjoy a wide range of activities.
O-Weeks usually involve a variety of free events organised by your educational institution. These might include lectures, talks, guided tours, social gatherings, meetups, games, market days, food and drink and live music.
Most commencing students attend O-Week events, so you'll be surrounded by other people who are also about to start studying.
What are the benefits of attending Orientation?
Making friends
Orientation is a great way to meet other students from Australia and around the world. Remember, you'll be meeting loads of like-minded people while you complete your degree, so making new friends before the semester starts is an excellent idea!
Also, make sure you keep an eye out for special events just for international students, like the International Student Meet and Greet. These can be lots of fun, and you might even meet others from your home country.
Understanding your way around
Use your O-Week to learn more about finding your way around campus and where everything is. Knowing your way around will make your first week so much easier and help you get your studies off to a strong start.
If you can, take the opportunity to go on a guided tour of your campus and make sure you ask lots of questions! In particular, locate your classrooms and lecture halls, useful services like the library and study areas and any support services you'd like to access. You should also use the time to find your new favourite study spot, the best coffee on campus, and places to grab a drink after class with your new friends.
Advice on your course
Different faculties use O-Week as a chance to introduce themselves to new students. Look out for events organised by your faculty and come along to meet the lecturers, tutors and other students you'll study with during your degree.
What's more, these events are a great opportunity to ask any questions you have about your course before you start, so you'll feel even more prepared for week one!
Free things!
In addition to all the fun of the events and activities, O-Week is a great place enjoy free giveaways!
Look out for stalls around your campus or market days where you can score some loot. Common items you'll find at Orientation include stationery, tote bags, stress balls and water bottles.
There's often free food and drinks offered throughout O-Week as well, so keep an eye out for free snacks.
Orientation at UC
Semester 2 Orientation at UC runs from 24 to 29 July. Make sure you register online for events ahead of time so you don't miss out!
During UC O-Week, you'll want to attend important informational events, like Welcome Fest, the International Essentials Info Session, a UC Campus Tour and a Navigating Study @ UC session.
Don't forget to check out the faculty-specific workshops and talks too. You'll even have the chance to attend some general workshops on really useful topics, like getting a casual job, communication, career advice, English for uni, and health, safety and wellbeing.
Also, don't miss Market Day, where you'll find information about UC and Canberra, plus plenty of free stuff! Additionally, be sure to register for lots of fun social events, such as Speed Friending, Sport & Snags and Musical Bingo.
Finally, jump on the Canberra Bus Tour to familiarise yourself with your new city.
You can even complete some of your UC Orientation online! Login to UC Learn today to access a range of valuable resources to help you in your transition to university.
Want more information about O-Week at UC? Reach out to the team at student.centre@canberra.edu.au or come visit the Student Centre in Building 1, Level B.