International student experience at UC
/
/
/
/
/
6 activities you can't miss this Canberra winter
6 activities you can't miss this Canberra winter
It might be getting colder, but that's no reason to stay at home this winter in Canberra. Grab your favourite beanie, put on a warm coat, and check out this list of fun activities you can't miss. From skiing to art to a drop of wine, there's something for everyone!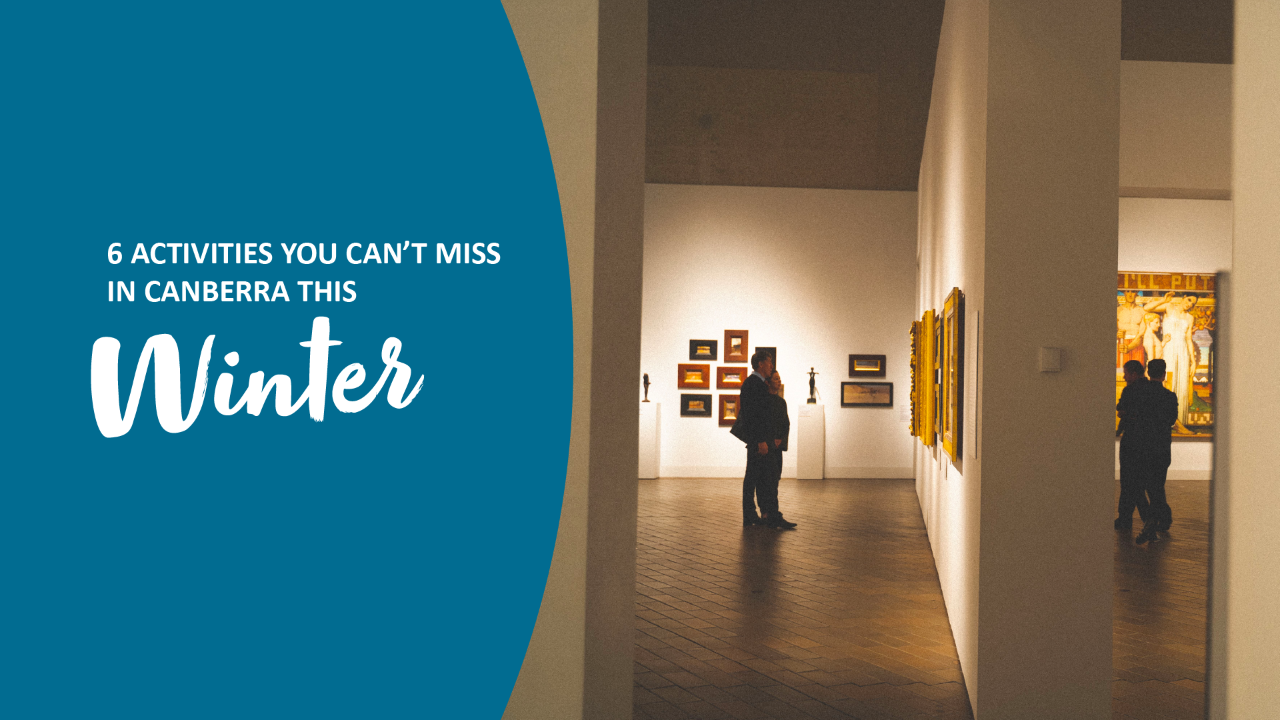 1. Visit the National Gallery of Australia
Canberra is home to the National Gallery of Australia, the country's largest art gallery. Its permanent collection showcases both Australian and contemporary global art, particularly from Europe, America, Asia and the Pacific. The gallery also holds the world's largest collection of Aboriginal and Torres Strait Islander art.
Check out the stunning sculpture garden or head to the street café or dining room if you need a hot snack or a coffee.
Throughout the year, you'll find an ever-changing list of special exhibitions from across the country and the globe. Check out Haegue Yang: Changing from from to from (from 27 May to 24 Sep 2023), an exhibition of immersive and engaging artworks, or Jonathan Jones: untitled (walam-wunga.galang) (until 23 July 2023), a celebration of the south-eastern cultural practice of collecting seeds and making bread.
2. Hit the slopes
One of the most popular and iconic Canberra winter activities has to be snowsports (usually skiing or snowboarding), and if you've never seen snow before, you're in for a real treat!
The Snowy Mountains – only a 2.5 hours' drive from Canberra – are great for both experienced skiers/snowboarders and absolute beginners. If you've never tried snowsports before, the best option is the Selwyn Snow Resort, with gentle terrain and more affordable rental equipment. There's no accommodation at Selwyn, so you'll have to make it a day trip with family or friends.
Thredbo is another brilliant option. It boasts spectacular views and plenty of accommodation options, and is home to the longest run in Australia, as well as the highest restaurant in Australia: Eagles Nest!
Perisher is the biggest resort and is best suited to more experienced snowsport enthusiasts. It has lots of runs, on-snow accommodation and plenty of pubs, cafés and restaurants where you can grab a feed after an active day.
3. Celebrate Christmas in July
One beloved Australian winter tradition is Christmas in July. Because Aussie summers can be scorching, many people like to celebrate a second Christmas in winter, when the weather's a little more like a Christmas in the Northern Hemisphere.
Head to the Christmas in July markets at the Queanbeyan Showground to find all the delights of a mid-year Christmas gathering, including more than 100 market stalls, delicious Christmas foods, a carols/karaoke competition and plenty more!
4. Explore the Australians & Hollywood Exhibition
With Australian cinema dominating the world stage (just check out the 2023 Oscar nominations for local talent!), now is the time to learn more about this exciting industry. The Canberra-exclusive Australians & Hollywood Exhibition at the National Film and Sound Archive of Australia celebrates iconic moments, people and stories in contemporary Australian cinema.
From concept art for Baz Luhrmann's Romeo + Juliet and on-set equipment from the 2021 epic Dune to insights from famous Aussies in film, there's so much to explore. The exhibition is open until October, so you have plenty of time to check it out.
5. Warm up with wine
Winter is the perfect time to warm up with a delicious glass of red wine. The Canberra District Wine Region is only about half an hour away from Canberra and is home to 140 vineyards and more than 40 different wineries.
Grab a couple of friends and head out for the day to visit cellar doors, meet winemakers and sample some of the region's yummy food. You can even pick somewhere for a cosy overnight stay.
6. Canberra Writers Festival
From 16 to 20 August, Canberra is hosting its annual Writers Festival. The festival brings a varied and popular lineup of authors from Canberra, Australia and overseas to inspire and engage audiences with the power of writing. It's sure to be a fascinating program this year; the theme is Power Passion Politics and the festival aims to explore important contemporary issues, reflect on the past and dream about the future.
This year, the festival will host more than 70 live events. The concession price for most events is $20–30, so make sure to have your Student ID handy. The world-class literary event will have something for everyone, whether you're a writer yourself or just enjoy reading and engaging with contemporary culture.