International student experience at UC
/
/
/
/
/
Your guide to: Studying technology
Your guide to: Studying technology
If you have an interest in computers, data and digital information systems, then a career in technology might be for you. The technology industry is a rapidly evolving field that influences almost every aspect of our daily lives. A technology degree puts you at the forefront of the digital revolution and gives you the chance to define its exciting future.
What to expect from a technology degree
A technology degree prepares you for a wide variety of careers in the global technology industry. By studying technology, you will gain an advanced understanding of computer science, networks, information systems, digital security and software development.

At the University of Canberra (UC), technology students can choose one of four specialisations and tailor their technology degree to their specific interests. This means that you can become an expert in everything from cloud computing and the Internet of Things (IoT) to cybersecurity, data science, artificial intelligence or robotics.
A technology degree often involves practical learning approaches and work-integrated experiences. This gives students the opportunity to develop their practical skills and leads to more job-ready graduates. For technology students at UC, your final year involves an industry project that gives you the chance to implement a real information and communication technology (ICT) or engineering solution for a local organisation.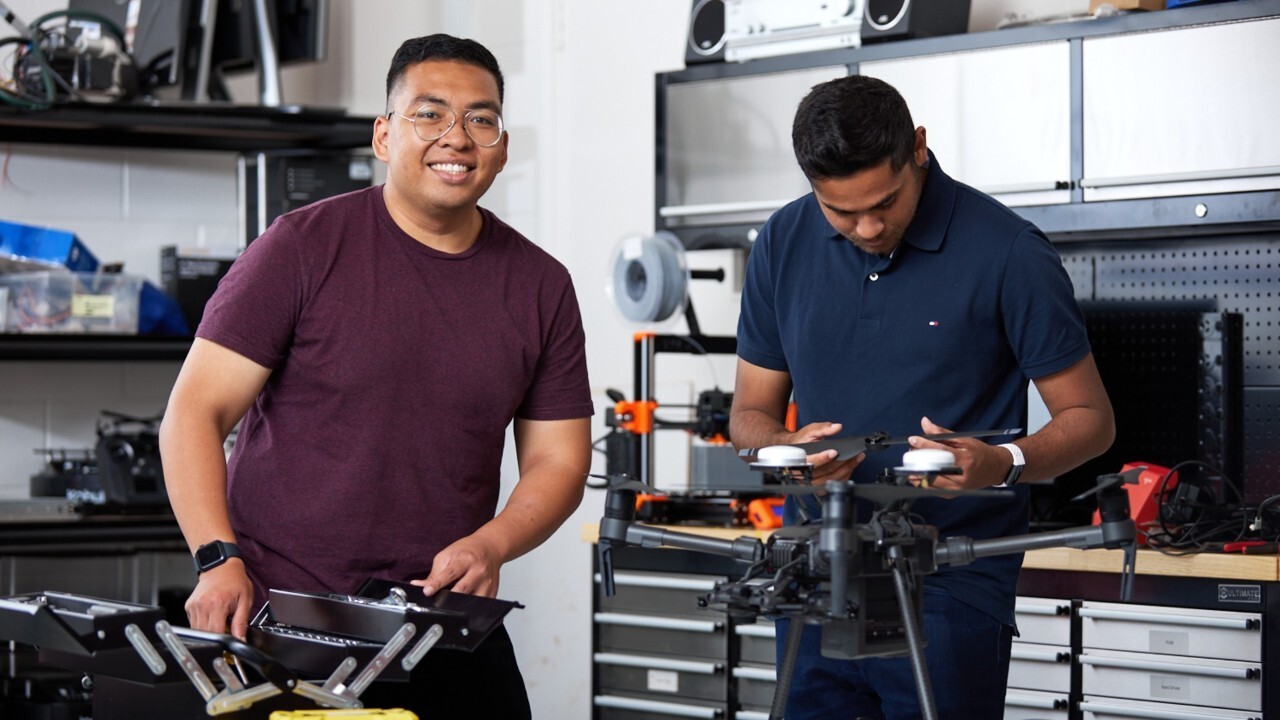 10 questions to ask before starting your technology degree
Before embarking on your technology degree journey, it's worth asking yourself these 10 questions to make sure that it's the right path for you.
1. What interests you most about the world?
This question may help direct you to a technology specialisation by figuring out what you're most interested in. Studying something that you're truly passionate about will help you maintain the motivation to keep going when things become challenging.
For example, if you were first drawn to technology through computer and video games, then you may have an interest in the data, coding and game development subjects taught in a Bachelor of Software Engineering. Alternatively, if you are interested in cybercrime and digital forensics then you may want to learn about the system administration, security and networking skills taught in a Bachelor of Information Technology. Meanwhile, students interested in the business side of things will likely be drawn to a Bachelor of Business Informatics.
2. What is your personality type?
Knowing your personality type will help you find the right occupation. Since technology professionals work in almost every industry and across a wide variety of roles, it can help to know which sectors suit you best.
Creatives will thrive in software development and design roles, while detail-oriented people will be good at handling data and code as information management specialists, database analysts and coders. Problem solvers will enjoy the challenges that come with being a cloud computing architect or big data architect, and leaders will likely be drawn to more managerial roles as an IT project manager or cybersecurity operations manager.
If you need a little support working out the best path for you, reach out to the Careers UC team to help you plan your career.
3. What is your preferred coursework style?
Everyone learns slightly differently and most people have a preferred coursework style. Some people enjoy learning concepts and theories, while others like a more practical learning approach.
UC's technology courses take a real world approach to learning and teach students a combination of theoretical knowledge and practical skills so that they can succeed in the fast paced field.
While most technology courses will offer a mix of these styles, it's important to know your preferences before you enrol.
4. How long do you want to study for?
Different courses and specialisations will take different lengths of time to complete. You might also want to factor in whether you're planning on doing a double degree of technology and another subject or a postgraduate degree such as a Masters of Information Technology Systems or Masters of Data Science, as this will extend your overall time at university.
5. What is an achievable selection rank?
It's a good idea to be aware of your course's selection criteria and entry rank. If you don't think achieving that ranking is realistic for you, then you can look at alternative entry pathways into the course, such as course transfers and bridging courses.
6. What is your dream job?
Your desired course should give you the qualifications and skills needed to achieve your dream role and it's important to check whether this is the case. Start by looking into the career outcomes of your course and make sure that you like the jobs that are listed. While doing so, you should also check the graduate outcomes of your course to make sure that you will be in a good position for securing a job after graduation.
When it comes to technology degrees, the UC undergraduate computing and information system degrees are ranked #7 in Australia for graduate employment and starting salaries, meaning that studying at UC put you in an excellent position to start your career.
7. Which companies do you want to work for?
Start researching companies in the technology industry and make a list of the companies that you would like to work for. That way, you can make sure that your course and specialisations are suited to those companies. This research will also prepare you for when internships and career opportunities come around; you will know where to apply and what they're looking for in a candidate.
8. How much do you want to earn?
Everyone has different financial expectations and it can be helpful to have an idea of your future salary. Working in the technology industry can be a lucrative career path, with the average information technology salary being between AU$59,000 and AU$122,000.
UC graduates are known for earning high starting salaries, with the median starting salary for undergraduates being AU$65,000 and $82,200 for postgraduates.
9. Where can you gain work experience?
Work experience is a great way to gain an understanding of your future workplace. UC students have undertaken work experience and internships at companies including Dialog Information Technology, Pursuit Technology, Australian Sports Commission, the Department of Defence's Chief Information Officer Group, Emanate Technology and Clearz Defence.
10. What is your ideal learning environment?
Every university campus is different and some campuses offer distinct on-campus facilities. At UC, technology students have access to a number of different laboratories, including the Innovation Laboratory, Internet of Things Laboratory and the Collaborative Robotics Laboratory.
A technology degree can open doors across a range of sectors and offer opportunities for every type of personality.