International student experience at UC
/
/
/
/
/
UC campus tour: Where to find help and support
UC campus tour: Where to find help and support
During your international study adventure, it's important to know where to turn for help. Whether you're feeling unwell, want study support or are looking for a little guidance, knowing where to go can make all the difference.
UC is here for you throughout university and beyond. Here we've gathered some of the key resources you can turn to while studying at UC.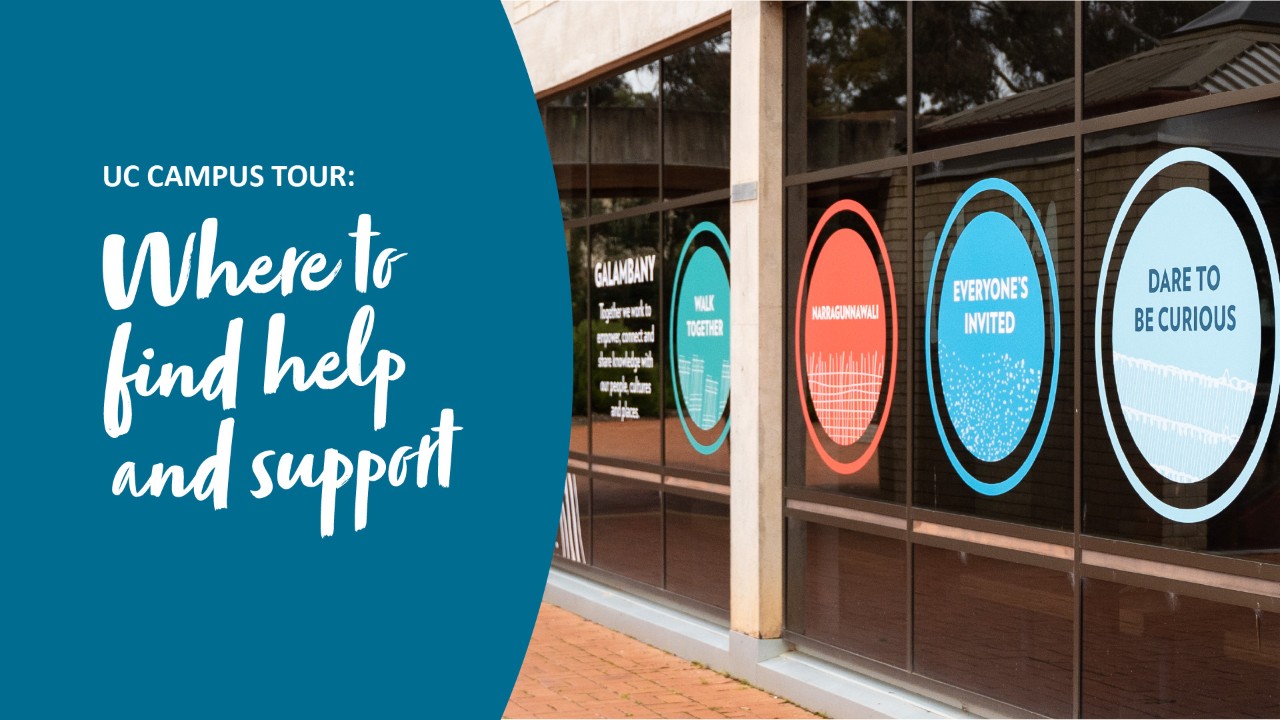 Where to get your student ID
One of the first things to do upon arriving in Canberra is getting your student ID card. Not only will you need this for exams and to access library services, but it can also help you get great discounts on all sorts of things, including public transport fares and movie tickets.
Once you're enrolled, you can request your student ID card online via your MyUC account. Simply head to the ID card section to upload your photo, and you'll receive an email notification when your card is ready to be collected.
Make sure you bring another form of ID, like a passport or driver's licence, with you when you collect your card.
Every student in Australia is required to have a USI. This is a special code that you'll need throughout your course, so ensure you've received yours before starting your studies.
Luckily, getting one is easy and can be done in just a few minutes. Have your passport on hand to confirm your identity, then visit the Australian Government USI website and enter your details to create your USI.
If you've studied in Australia before, or think you might already have a USI, try finding your USI before requesting a new one.
Where to find medical support
When you're living abroad, feeling unwell can be difficult. Fortunately, the Medical and Counselling Centre is located on the Bruce Campus, so it's easy to get to a doctor.
The centre offers other handy medical services too, including vaccinations and medical assessments. You can also get in touch with the centre's counselling service if you need someone to talk to about your mental health.
If you're a student with a disability or have an ongoing health condition, InclusionUC can provide information and additional support during your degree. For example, they can help arrange interpreters and assistive technologies or organise special considerations for exams.
Where to get help with your studies
If you're having trouble with your coursework, there are lots of places you can go for some additional guidance.
For international students, Student Wellbeing and Support is the first stop. This friendly team is always available to give you information and tailored advice.
There are also plenty of resources on hand to develop your study skills. If you need some help with your assignments, get in touch with the ASK Advisors, who can assist you in understanding your assignment tasks, planning and structuring your essays, or developing your research and referencing skills.
UCLearn is another great source of learning support. Here, you can enrol in a course in academic integrity or even access free online tutoring via Studiosity.
Where to get career help
One of the most important things to do with your time at university is to prepare yourself for your future career. UC offers lots of ways to build your knowledge and work experience, so you'll be well on your way to landing that dream job.
Many of UC's courses offer students the opportunity to undertake Work Integrated Learning (WIL). A WIL placement means you'll be able to undertake work with an industry partner in a real-world setting, allowing you to develop your practical skills and build your resume before graduation.
The Careers UC team is available to assist with creating a resume and preparing for interviews, as well as applying for graduate positions, internships, volunteer roles and placements.
If you're looking for part-time work while studying, the Careers UC team can also connect you with opportunities for short-term and casual roles on campus.