International student experience at UC
/
/
/
/
/
The 5 best spring events in Canberra
The 5 best spring events in Canberra
Spring is officially here and it's an exciting time to be in Canberra! As the weather starts to warm up and flowers begin to bloom, spring is the perfect time to get involved in one of the city's many community events.
Whether you love food, drinks, art or music, there are plenty of great local events on offer in the coming months. To help you make the most of the season, we've put together a list of the five best spring events in Canberra.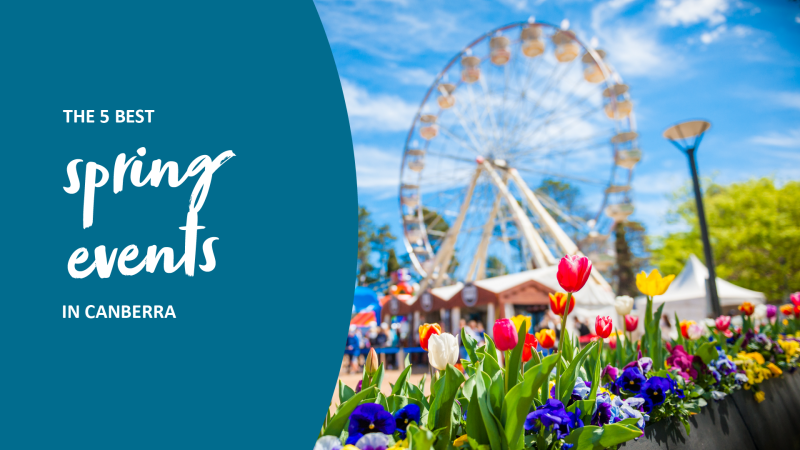 Haig Park Village Markets
Spring is the perfect time to enjoy outdoor markets in Canberra, so why not head to the Haig Park Village Markets for fresh food and drinks alongside live entertainment?
There is plenty to enjoy at these markets, including performances from local artists, fresh produce, pastries, artisan breads, and handmade products like jewellery and candles. The markets take place each Sunday, and are a great way to get involved in a local, multicultural experience, while enjoying some fresh spring air.
Where: Haig Park
When: Every Sunday
Time: 9am - 2pm
Price: Free
International Student Sport Day
Celebrate your return to campus with fellow international students at the International Student Sport Day!
Join in the event with fellow University of Canberra students, as well as international students from universities across the Australian Capital Territory and New South Wales. You'll have the chance to take part in some friendly competition with mini games of basketball, table tennis and badminton.
Where: University of Canberra, Building 4
When: 1 September
Time: 10am - 3pm
Price: Free
Botanica Spirits & Food Festival
Botanica Spirits & Food Festival is a brand-new event in Canberra offering ticket holders an opportunity to learn about botanicals - the products taken from plants - that are used to make some of Australia's favourite food and drinks. With over 20 vendors offering samples at the festival, you can enjoy spirits and food from a wide range of local Aussie suppliers.
You'll also be able to learn more about the art of spirits and food with Botanica Spirits & Food's live stage, where a full program of masterclasses and demonstrations will take place. As an attendee, you'll receive an event bag, which includes your very own tasting glass to use throughout the day, and to take home when the day is over.
Where: Australian National Botanic Gardens
When: 2 September - 3 September
Time: 9.30am - 5.30pm
Price: $89.00 - $125.00
Floriade
Floriade is Australia's biggest celebration of spring. The event comes complete with a diverse program that features beautiful floral displays, entertainment, cultural celebrations, food and wine, workshops, market traders, artistic displays and more.
This year's theme is Floral Wonderland, and the event will showcase the magical charm of over one million flowers. Plus, it's free, with no ticket required to attend - perfect for your student budget. Head to Commonwealth Park and celebrate all things spring!
Where: Commonwealth Park
When: 16 September - 15 October
Time: 9.30am - 5.30pm
Price: Free
Spilt Milk
Get ready to dance the day away at Spilt Milk! Held on Saturday 25 November, Spilt Milk is an annual music festival where you can enjoy live acts, food and art. This year, Spilt Milk is welcoming incredible international and Australian acts such as Post Malone, Dom Dolla, Latto, Tkay Maizda, Peach PRC, Ocean Alley, AITCH, Dermot Kennedy, David Kushner and more.
To get a little bit of a taste of the event, check out the Split Milk playlist on Spotify. You'll be ready to sing along with the crowd in no time!
Where: Exhibition Park
When: 25 November
Time: 11am
Price: $194.95 - $359.95