International student experience at UC
/
/
/
/
/
Maximising library resources as an international student
Maximising library resources as an international student
Did you know that the University of Canberra (UC) Library is one of the most useful facilities on offer to students?
At UC, the Library is much more than just a collection of books! It's a fantastic place to study, collaborate with other students and access assistance and resources of all kinds.
Read on to find out more about the help, services and facilities on offer at the UC Library and how you can use them to boost your studies.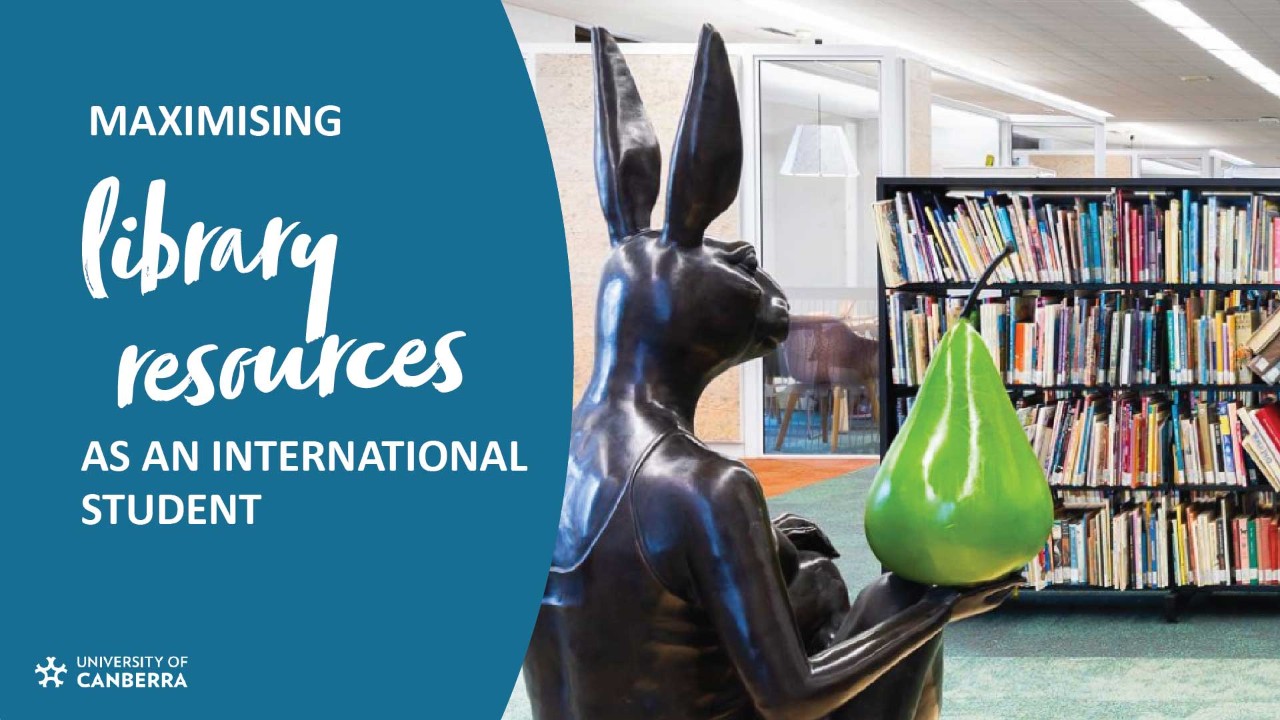 A quiet space to study whenever you need
Having a peaceful place to study is vital for succeeding in your degree. But, where you're living can sometimes be a little noisy, and it's easy to become distracted.
The Library is a great alternative to studying at home because it's open 24/7. It offers lots of open-plan study areas with computers, as well as places to charge your laptop and phone. The free Wi-Fi access means you'll never be stuck without the internet, too.

UC's Library also caters to a range of needs. There are moderate-noise study zones on Levels B and C, which are ideal for group revision sessions, while the silent study rooms on Levels B and D are perfect for when you can't be disturbed.

Group study areas
If you're working on a group assignment, it can be difficult to get everyone together in the same place. After all, who has a lounge room or kitchen table big enough to fit everyone, plus all of their books and computers?
Take the stress out of organising group work meetups by booking a group study room ahead of time.
These rooms, available on Level C of the UC Library, accommodate small to medium groups. They have all the facilities you might need as well, including Wi-Fi, lots of power points and flexible furniture that can be rearranged.
Study Skills sessions
If you're looking to enhance your study skill set, the Library hosts free sessions on a range of useful topics.
With Study Skills, you'll find sessions covering everything you need to know, from understanding the requirements of an assignment to essay writing, understanding feedback, locating research resources, referencing, avoiding plagiarism, time management, exam preparation and English language assistance.
Study Skills sessions are delivered on Level B of the Library and online.
Chat with a librarian
Want some individualised support? You should definitely check out the Chat with a Librarian service, held from 10.30am to 6.30pm on weekdays during the semester. You can access this service in person, by email or via phone.
UC's expert librarians can help you access the Library's resources. For example, they can show you how to find relevant sources for your research, give you referencing and citation assistance and explain how you can use the printing and borrowing services.
ASK Advisors
The Library is also home to the ASK Advisors. These advisors are UC students who are available to assist with all of your questions and issues.
For instance, an ASK Advisor can show you UC's range of online services, such as UCLearn (Canvas), MyUC and Mahara, and can get you connected to the Wi-Fi and your student email account.
They can even assist with printing, scanning and photocopying, purchasing credits, the self-check loan machines, searching the Library catalogue and locating items on the shelves.
They're a great resource for assignment support, too, and can help you understand your assessment tasks and give you general writing advice.
Online study tools
In addition to physical books, journals and newspaper articles, the Library allows you to access digital resources and online tools. This includes a huge variety of online databases where you can locate articles and publications on a wide range of topics.
Through UC Learn, you can also access Studiosity's online study support services, Writing Feedback and Connect Live.
With Writing Feedback, you can submit your draft and receive advice on improving your structure, writing style, grammar and referencing, all within just 24 hours! Alternatively, get in touch with Connect Live for assistance with study, writing and English language skills, as well as foundation-level guidance with your subjects.
Visit the UC Library page today to discover even more great support and resources.