International student experience at UC
/
/
/
/
/
It's exam season! Your guide to Stress Less Week and exam preparation
It's exam season! Your guide to Stress Less Week and exam preparation
Exam season is a busy time. But while you will need to work hard, you don't need to be overwhelmed!
Read on for our top tips on preparing for exams while keeping your stress under control.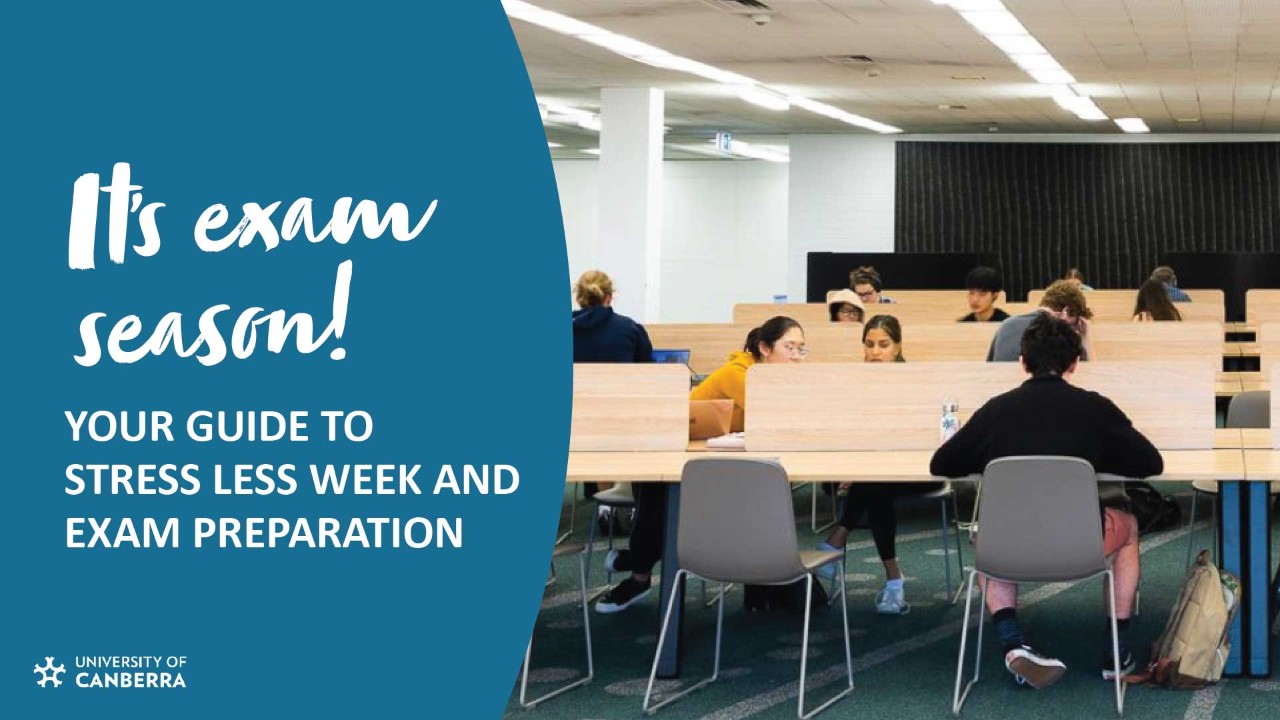 Stress Less Week
Every semester, the University of Canberra (UC) organises Stress Less Week to support students through their exams.
During Stress Less Week, you can get involved in a variety of fun and interesting activities to help you relax and unwind. With everything from yoga and meditation to trivia, games nights, free food and live music, there's sure to be something for you.
Make sure you take a break from your studies to unwind and attend some of these awesome events.
Organise a study schedule
Creating a study schedule is one of the most useful things you can do to prepare for exams.
To start, work out when each of your exams is, how much time you have between now and then, and which exams will require the most revision. Then, create a clear plan with distinct goals and block out a few hours each day or week to achieve them.
To keep yourself on track, you can set reminders on your phone or make use of online calendars. Alternatively, If you prefer to write things down, you could use a physical diary or wall planner instead.
Create your perfect study space
Having an ideal place to revise will help enormously with exam preparation.
If you plan to study at home, make sure you have access to a quiet, uncluttered room where you won't be disturbed. If possible, set up your study area with everything you'll need for the day, like stationery, healthy snacks and water, so you can work without interruption.
Having a comfy, supportive chair is very important, as well as making sure your screen is at eye level. Ensure you have enough light, including at night, to avoid eye strain.
You could even choose to study in the UC Library or in a cafe, particularly if you're struggling to be productive at home. Sometimes, a change of scenery can make all the difference!
Access campus academic support
Don't forget that UC is here for you throughout your exams. You can access lots of assistance through the Study Skills program and can also get individual advice and guidance from the ASK Advisors and drop-in sessions.
Additionally, Study Help on UC Learn contains lots of great online resources to boost your general study skills, such as time management, assignment writing and even exam preparation.
Learn your preferred way to revise
Not everybody learns the same way, and different methods suit different people. Before exams, spend some time figuring out how you study best so you can maximise your productivity and efficiency.
Popular ways to revise include reading and writing notes, creating flashcards and doing quizzes. You could also work with a group of other students who are studying the same subject. Together, you can talk through problems, discuss key ideas and quiz each other.
Your teachers may also provide exam preparation or learning materials from the semester for you to use in the lead-up to exams.
Prioritise your health
Looking after your health is essential and will help you to stay well and maximise your productivity throughout exam time.
First of all, ensure you get plenty of sleep every night. This will make studying easier and even improve your memory!
Drinking plenty of water and eating well will help you feel your best while you're revising. Resist the temptation to snack on junk foods, as these can lead to blood sugar crashes, and reach for healthy snacks like fruit and nuts instead.
Physical activity is important as well, as it can improve your mood and concentration. Try to squeeze in a little exercise every day, such as going for a gentle walk in the sun, playing sports, a yoga class or stretching at home.
Finally, if you're struggling with stress or feeling overwhelmed, consider trying meditation or mindfulness for a few minutes a day.
Remember, if you're feeling overwhelmed or just want to talk to someone, the Student Wellbeing team is here for you. You can contact them via email or drop in to see someone in person at Student Central, Building 1.