International student experience at UC
/
/
/
/
/
Finding your community in Canberra: Ha An's story
Finding your community in Canberra: Ha An's story
Each year, the University of Canberra (UC) welcomes hundreds of international students from all around the world. Each of these students brings their own unique background, story and life experience as they navigate their studies and develop a great network of new friends!
One of these students is Ha An Nguyen. Ha An is a first-year international student from Vietnam, currently pursuing a Bachelor of Communication and Media (Corporate and Public Communication).

We spoke to Ha An to hear about her experience at UC so far, how she's finding life as an international student and her advice for others considering studying abroad in Canberra.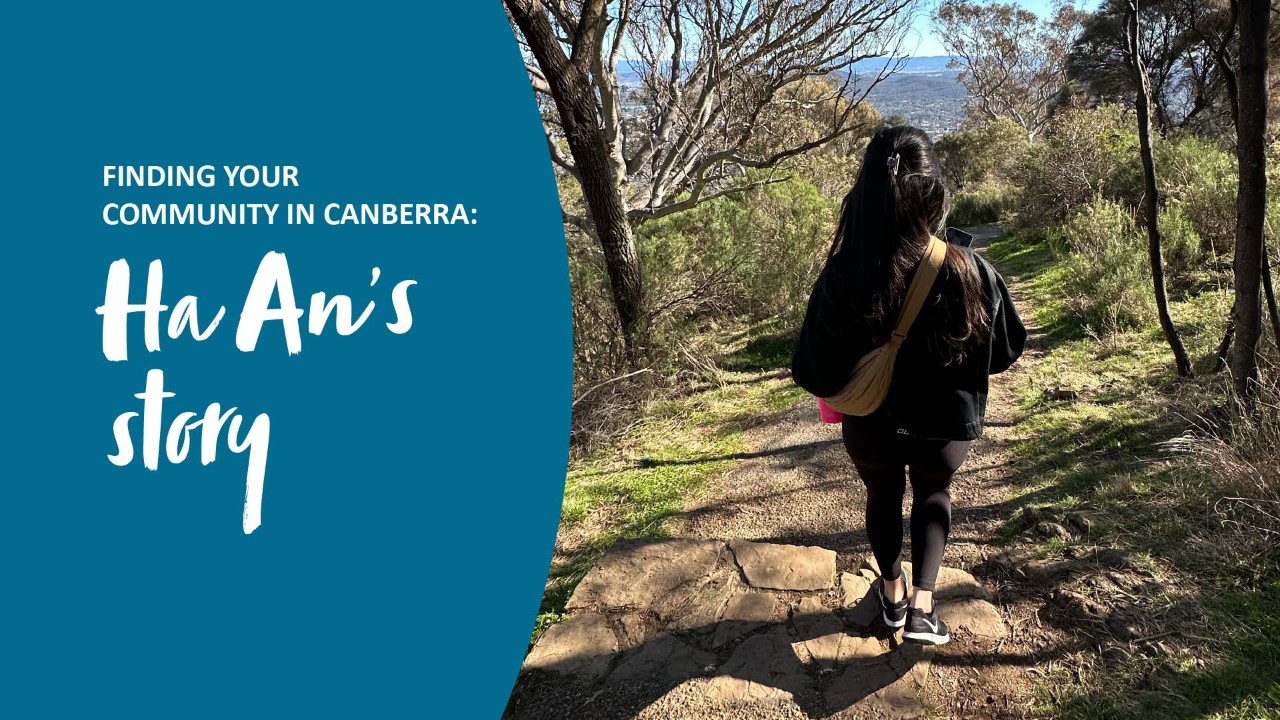 Community and connection
Known for its multiculturalism, Canberra has a packed calendar of exciting events and festivals throughout the year, allowing people from all walks of life to come together and celebrate.
Ha An says that she's found it easy to feel part of a community at UC.

"UC is a friendly environment for everyone," she adds. "This helps create a sense of belonging in some way. UC also has a social club for students from my country, Vietnam. It has been a huge help for me to socialise with those that share similar experiences."
Plus, as a smaller city with a large student population, Ha An says there are lots of opportunities for young people to meet and connect.

"This has helped me form close connections and further expand my network."

Once she settled in, Ha An says she felt less shy, particularly during her classes, and started to recognise more familiar and friendly faces.

"I started to enjoy meeting new people, especially during tutorials in UC. UC is big on group discussions and assignments. I am grateful for them as they are good conversation starters."

High-quality teaching
Ranked in the top 300 universities worldwide, UC continues to prove its success as a high-quality university on an international scale.
Globally, UC is in the top five universities for reducing inequalities. It also ranks highly for graduate full-time employment and teaching quality and is at the cutting edge of sustainability research.

For Ha An, choosing a university that offered a quality education was important.

"UC appealed to me with its outstanding employability rate and practical teaching style. This is very important for an experience-based industry like communication."

Smaller classes have not only allowed Ha An to meet and connect with others but have also helped her to learn better and succeed academically.

"In terms of the learning experience, the tutors are very supportive, particularly during 1-on-1 consultation," she says. "I've never hesitated to reach out to them. They are always willing to answer my questions and explain in simple words."

A major city with a relaxed atmosphere
After months of research to find her ideal study destination, Ha An found she was drawn to Canberra's unique lifestyle.
As a capital city, it offers the benefit of being a vibrant social hub while remaining a uniquely relaxed environment, surrounded by beautiful views and green open spaces.

"Although I do enjoy the busy and hectic lifestyle of big cities, I decided to opt for Canberra because of its unique tranquil atmosphere that is hard to find in other major cities."

Finding work as an international student
To help build her resume and support her student budget while living in Canberra, Ha An was able to find casual work at UC through Careers UC.
"In Semester 1, we had staff from UC Careers visit us and introduce themselves…I immediately knew CareerHub would become handy," she explains.

Fortunately, Ha An's current role directly relates to her studies, so she is gaining skills that will support her in meeting her career goals.

"My casual job at UC is highly relevant to the degree I'm studying. It's related to social media and so far, has been a great practice for me to apply knowledge learnt in class to real life application," she shares. "This role has and is still teaching me a lot, which I am really grateful for."

Campus support
Taking the leap to study internationally can feel both thrilling and challenging. However, having plenty of support along the way can make it easier to embrace this exciting chapter and enjoy all its benefits.
Ha An says she is grateful for the help she's received from university staff and academics and for the opportunities they have provided her. "I have had support in almost every encounter or association I have with UC," she explains.

UC offers its international students a wide range of academic and employment support. This includes opportunities for work-integrated learning, as well as access to a careers team, drop-in mentoring sessions and heaps of additional study programs.

In addition, UC is committed to student wellbeing and provides on-site health services such as the UC Medical Centre, Health Hub and student counselling.

"If I were to recommend one service for students, it would be Careers UC," Ha An advises. "Careers UC is a great place for UC students. I was fortunate enough to secure a casual employment role thanks to this service!"
Ready to kick-start your own international student adventure? Visit the UC website today!