International student experience at UC
/
/
/
/
/
Finding the perfect study and life balance in Canberra: Nicole's story
Finding the perfect study and life balance in Canberra: Nicole's story
Nicole Frances Cadores, an enthusiastic international student from Manila, Philippines, has found her ideal study destination at the University of Canberra (UC), embracing new challenges and opportunities while pursuing her Masters in Marketing Management.
From finding the perfect balance between work and study in Canberra to making the most of the many opportunities on offer at the university, Nicole's journey is the epitome of personal growth and academic success.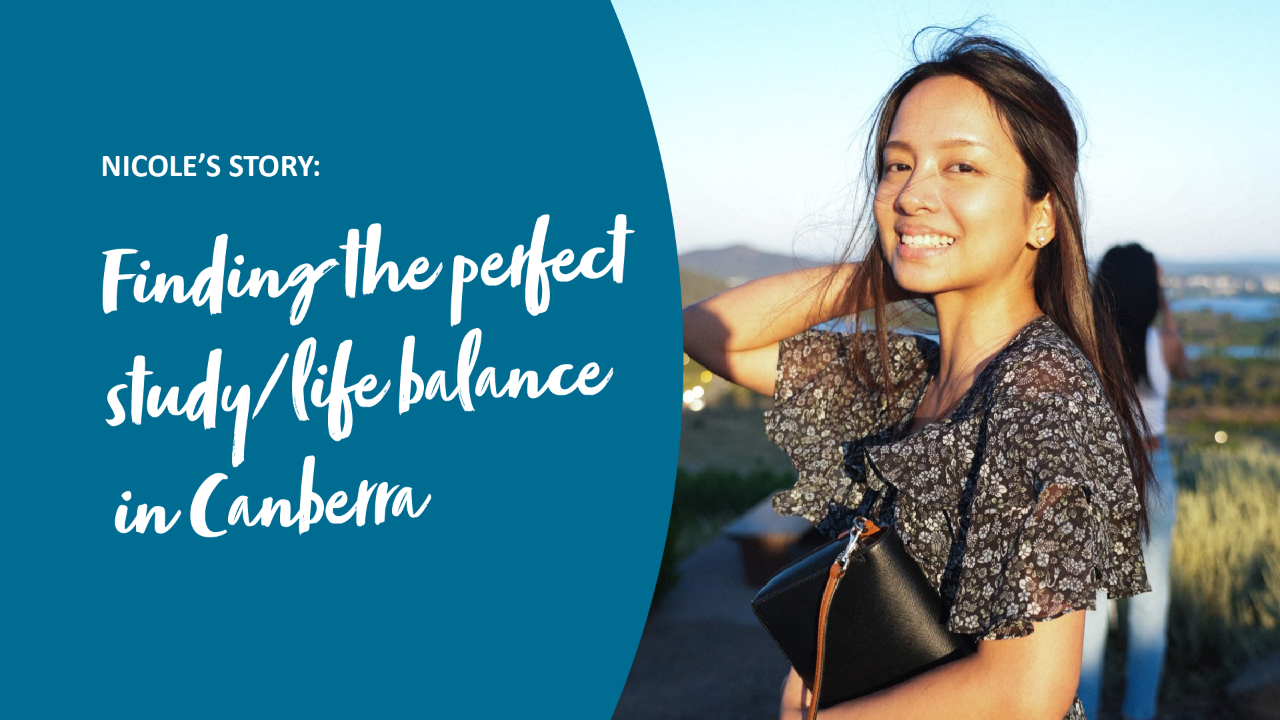 Canberra: The perfect balance of work and study
Nicole discovered that Canberra's relaxed lifestyle offers an ideal balance for her work and study commitments, setting it apart from other Australian cities.

"Canberra offers an unhurried lifestyle that I prefer," she explains. "The capital definitely provides that balance to the work and study grind."

In her search for a university that values hands-on learning, Nicole found the perfect fit in UC, renowned for its top-ranking Business and Management School and the practical curriculum in her chosen field of marketing.

"UC's curriculum is more known for being practical than theory-based, which works better for marketing," she shares.

A warm welcome and support from UC

From the moment she arrived, Nicole has been impressed by UC's commitment to supporting international students. From practical assistance with moving abroad and settling in, to academic and personal support, the university is dedicated to ensuring that every international student feels welcomed and valued.

Nicole highlights the English language course, which helped her prepare for academic success by providing crucial guidance on academic writing, communication styles, and university life expectations. She also often joins UC's online Masterclass Series, which offers a wealth of additional courses. It allows students to tailor their learning experience by enrolling in courses that align with their personal interests and professional goals. This fosters a sense of intellectual curiosity and contributes to a well-rounded education.

Nicole also takes advantage of the array of events every week that contribute to the rich tapestry of cultural exchange and understanding of the UC community.

"The line-up of events every week is a great opportunity to socialise, make new friends, and decompress from what can be a hectic week in university, and life in general," she shares.

Top-notch teaching and engaging learning experiences

Nicole is full of praise for the quality of lecturers and the innovative hybrid method of delivery used at UC. The combination of recorded lectures and live tutorials and workshops provides a dynamic and engaging learning experience.

"Most lectures are now recorded and uploaded online which I find really helpful, students can revisit these lectures any time. Then there are live tutorials/workshops that build upon the lecture topics where we engage in thought-provoking conversations in class," she explains.

While Nicole hasn't yet embarked on any work placements, she eagerly anticipates the fantastic opportunities awaiting her through UC's strong connections with various industries.

She credits her course for helping her evolve from a theory-based learner to a confident, practice-based professional, saying, "My course specifically facilitates the practical application effectively, which has been helping me be a better professional and hopefully a marketing professional soon."

Advice for future international students

Nicole encourages fellow international students to embrace every opportunity, both academically and personally, during their time in Australia. She emphasises that learning extends far beyond the university walls and that exploring Australia and engaging in new experiences can lead to personal growth and lifelong memories.

"Life as an international student can be challenging, but at the end of the day, it's all about what you make of it," she says. "Cherish every opportunity, build lasting friendships, and explore what life in Australia has to offer while you can!"