International student experience at UC
Why UC?
If you're thinking about studying in Australia, it's important to carefully explore your options.
When choosing an educational institution or university, you'll want to consider its academic reputation and unique strengths and facilities, as well as the specific details of the course you want to do.
Additionally, it's helpful to research your destination city, including its culture and history, nightlife, cost of living and safety.
The University of Canberra (UC) offers international students a world-class education and all the benefits of living in the lovely city of Canberra – Australia's capital city! –making it an excellent choice for your overseas study adventure!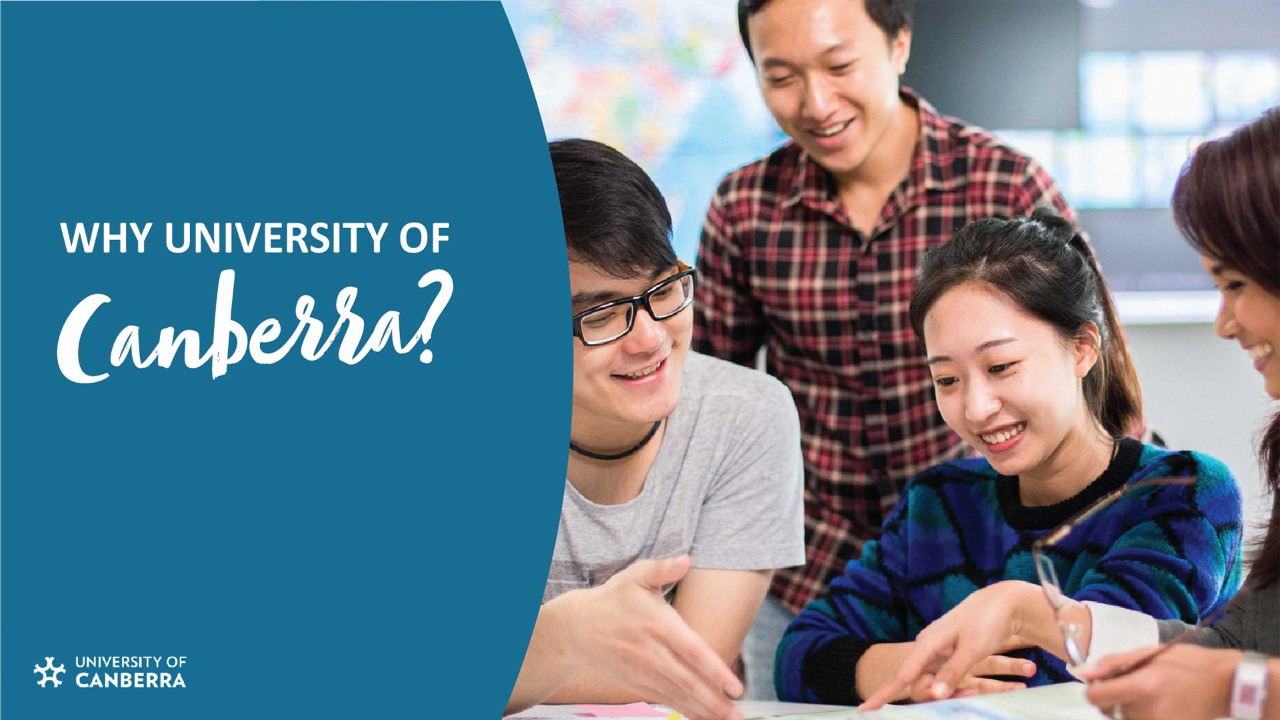 High-quality education
Despite being founded only 30 years ago, UC has already proven its success on a global scale.
UC is ranked in the top 300 universities worldwide, according to the Times Higher Education global rankings. UC is committed to providing equal educational access to all and is in the top five universities in the world for reducing inequalities.
Within Australia, UC is ranked #1 in Canberra for both graduate full-time employment and teaching quality, according to the Good Universities Guide.
UC is also home to research institutions like the Institute for Applied Ecology, which conducts cutting-edge research into the environment, natural resource management and sustainable development.
The university's strong focus on Work Integrated Learning means students gain hands-on industry experience and build their networks throughout their degree. This means UC graduates are well-equipped for successful careers in their chosen fields.
An international university
As a multicultural and international university, UC's diverse learning community is connected globally through partnerships and networks on all scales.
Not only does UC welcome international students from all over the globe, but it provides opportunities for study abroad. This means many Australian students have travelled overseas themselves and are familiar with other cultures.
What's more, UC aims to include international perspectives and examples in its curriculums and courses. The university is committed to facilitating an inclusive and respectful learning environment and providing opportunities for international and Australian students to work together.
Canberra city
UC is located in the heart of Canberra, Australia's capital city. Canberra is famous for being a green city, as it's filled with excellent parks and surrounded by stunning natural beauty.
This multicultural city also boasts a thriving cultural and arts scene and a packed calendar of events and festivals throughout the year.
What's more, as the home of the National Gallery of Australia, National Museum of Australia and Parliament House, there are plenty of amazing things here to see and do.
With so much on offer, it's no wonder Canberra was named the best city in the world to live!
Lifestyle
Canberra is a great place to live as a student because it's safe, laid-back and affordable.
The cost of living in Canberra is much cheaper than in nearby Sydney. Even better, ACT residents have the second-highest weekly income in the country, and the unemployment rate is only 3 per cent, which is lower than the national average.
The city even has great facilities for students! It boasts one of the largest free public Wi-Fi networks in Australia. Plus, thanks to the extensive network of bike paths all over the city, it's super easy to get around on a budget!
A base for travel
Located in the centre of the east coast of Australia, Canberra is the perfect base to use to visit the rest of the country.
Canberra is less than three hours' drive from Sydney, Australia's biggest city. Sydney is home to the Opera House, Harbour Bridge and many other famous tourist attractions, as well as a thriving nightlife and restaurant scene.
Canberra is also just over an hour by plane from Melbourne, which is home to a unique and funky arts scene and many great things to do and see.
You'll even find lots of smaller cities and towns nearby, where you can see breath-taking natural landscapes and experience a taste of authentic Australian life.
Ready to start your international student adventure in Canberra? Visit the UC website to find out more and enrol today!