International student experience at UC
/
/
/
/
/
Global ambitions: Studying business informatics as an international student at UC
Global ambitions: Studying business informatics as an international student at UC
Meet Endlys D. Mende, a devoted international student from Davao Del Norte Province in the southern Philippines, pursuing a Bachelor of Business Informatics at the University of Canberra (UC).
Already holding a Bachelor's Degree in Public Administration, Endlys' passion for growth and expanding her business knowledge motivated her to study in Australia. As a married mother of two children aged seven and nine, she epitomises determination, skilfully juggling her academic pursuits and family life.

UC's comprehensive support has been vital in facilitating a smooth transition for Endlys, emphasising the importance of providing comprehensive support to international students, particularly those with families.

Delve into Endlys' inspiring journey as an international student in the world of business informatics.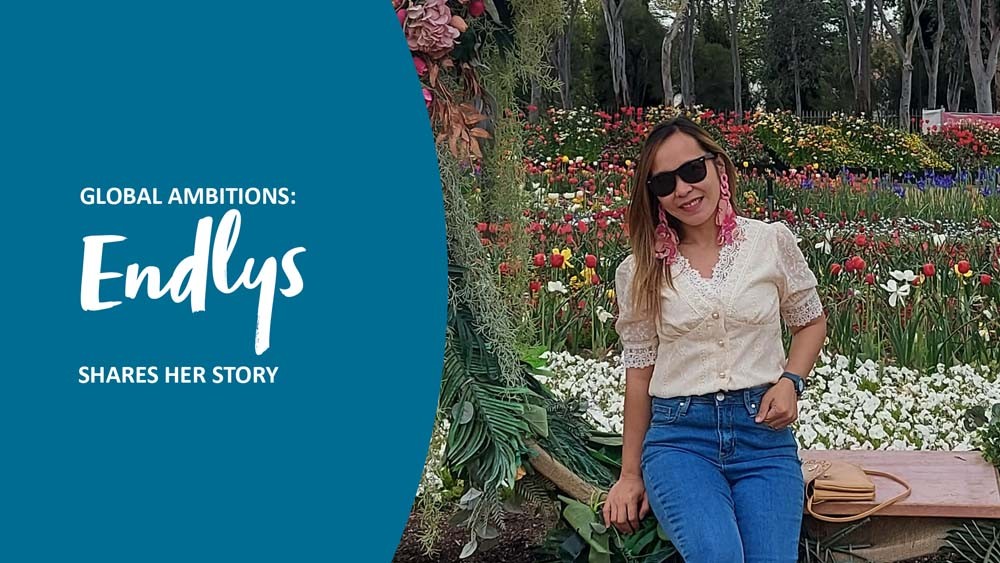 Why choose UC?
Endlys chose to study Business Informatics at UC because of the world-class education and practical learning approach it offers, making it an ideal destination for international students.

As Australia's capital city, Canberra provides a vibrant campus community with easy access to cultural, social, and recreational activities, while boasting a multicultural atmosphere, excellent public transport, and a lower cost of living compared to other major Australian cities.

The combination of UC's esteemed education facilities, and Canberra's safe, welcoming atmosphere with numerous opportunities to connect with local businesses and government organisations made UC the perfect choice for Endlys.

UC's comprehensive support services

UC has been a supportive community for Endlys, providing her with the resources and services she needs to succeed and have a smooth transition.

"Even on day one, I received a lot of information about the campus and study tools, and the activities for all the students are great," shares Endlys.

UC's dedicated faculty and staff are committed to providing personalised assistance, making themselves readily available to address any concerns or challenges. Plus, the university's user-friendly online Portal helps international students manage their coursework, access study materials, and stay up-to-date with important announcements, allowing them to navigate their academic journey with ease.

"The teachers and tutors are really helpful towards students and the student's Online Portal makes my study easier," says Endlys.

The Bachelor of Business Informatics program

Endlys is captivated by the "systems and workflows" in her Business Informatics course, which she considers the program's highlight. The comprehensive curriculum uniquely blends business and technology skills, offering a versatile education focused on business processes, information systems, and data analytics.

Emphasising experiential learning, the course ensures students like Endlys engage with real-world projects and work-integrated opportunities, ultimately preparing them to excel in the dynamic digital economy and meet the challenges in Business Informatics. She is confident that the program will provide her with crucial technical knowledge and skills for her career.

Gaining real-world experience: Work Integrated Learning at UC

Endlys eagerly anticipates the work-integrated learning (WIL) aspect of her business informatics program, as it offers invaluable hands-on experience and fosters professional relationships.

Excited to apply her skills in internships and cadetships with organisations like PwC, Fujitsu Australia, and Birdsnest, Endlys will also tackle a group project in her final year, addressing a real-world IT issue. Confident that UC's emphasis on practical learning and real-world experience will lead to a successful career, Endlys looks forward to seizing these valuable opportunities.

Future-proofing her career: Endlys' plans after graduation

Endlys envisions a bright future in the IT sector, focusing on business informatics. As she progresses in her studies at UC, she is inspired by the success stories of fellow international students and graduates who have experienced exceptional demand for their skills, particularly in the government sector due to Canberra's location.

The course, known for having one of the best graduate outcomes in Australia, allows Endlys to future-proof her career by offering specialisation options in Cloud Computing and the Internet of Things, Cybersecurity and System Administration or Data Science. Confident that her UC education will equip her with the skills and knowledge to excel in her chosen field, Endlys will leverage her unique blend of business and technology expertise to drive innovation and efficiency in organisations around the world.

Advice to aspiring international students

Endlys's advice to fellow international students is to have a clear vision and goal and stick to them.

"There will be times that you will doubt yourself. Be reminded that help, any kind of help is just around the corner if you ask. All the hardships and sacrifices will be worth it when you reach your goal," Endlys shares. "Australia is among the best countries to study, with diverse cultures and exemplary education opportunities."