International student experience at UC
/
/
/
/
/
Setting up your new home in Canberra
Setting up your new home in Canberra
So, you're moving to Australia to start your exciting study journey at the University of Canberra (UC)!
While the idea of moving overseas can be daunting to some, luckily, as a UC student, you can rest easy knowing you have a guaranteed place in student accommodation throughout the duration of your degree, thanks to UC's accommodation guarantee. Or, you have the option of finding a private rental and living with new friends in the community.
Now that your accommodation is sorted, it's time to make your place your own! Read on to find out how to set up your new home in Canberra.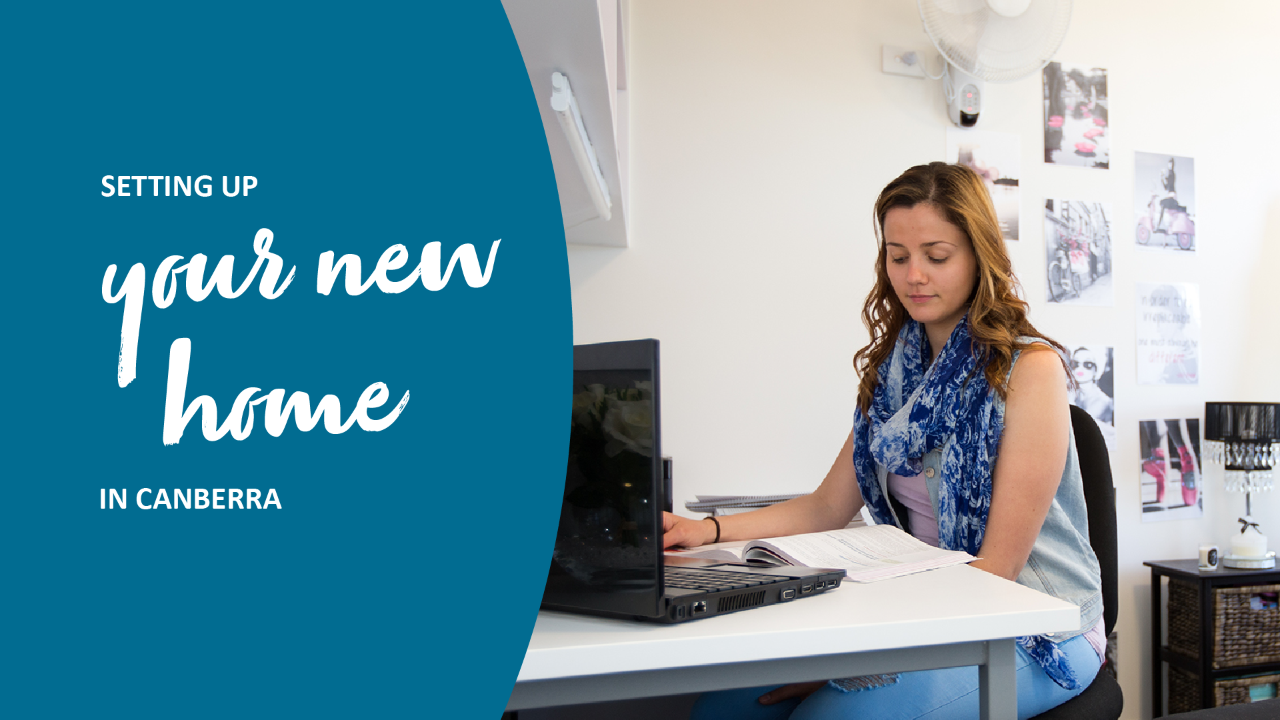 Budgeting for your new home
One of the first things you should do is to work out a weekly or monthly budget, so you can stay on top of your finances.
When you rent privately, you'll typically have to set aside some money for bills, such as electricity, gas and water, in addition to your rent. If you're living in student accommodation, your bills will likely be included in the price of your room.
You'll also need to work out how much you'll be spending on groceries. Grocery stores like Coles, Woolworths and Aldi are great choices for your general weekly shop, as they tend to stock a wide range of goods. International supermarkets often have imported items you can't find in bigger stores! The UC Supermarket underneath Cooper Lodge, for example, sells a great range of international snacks.
UC students are also able to access the UCX Food Pantry where free food supplies are available.
Other ongoing costs include your mobile phone bill and public transport fares, so make sure you add those to your budget too.
Once you've accounted for all your essential expenses, you can work out how much you have left over. Don't forget to use some of this money for fun, like outings or meals out with your new friends!
Get connected
If you're living in student accommodation or leasing a room in a flat, your utilities will probably already be connected when you move in. However, if you're renting privately, you may have to connect the utilities yourself.
Luckily, this is relatively easy to do. If you're unsure, you can ask your real estate agent to explain how to do this when you move in.
As a student in Canberra, you'll need access to the internet at home for research, study and assignments. While you're on campus, you can use the free UC Wi-Fi. If you're in student accommodation, Wi-Fi access will usually be included in your accommodation fees.
You'll have to contact an internet provider yourself to set up your access if you're renting privately. Some common providers include Optus, Telstra, Belong, Aussie Broadband, The Signal Co, TPG and iiNet.
Furnishing your home and stocking your shelves
With student accommodation and even some private rentals, your room may come already furnished.
However, if you're in a private rental, you may have to find your own furnishings. Ensure you secure key items like a bed, desk, fridge and a bookshelf. Depending on your space, you might want to buy other furniture, like a couch or a table and chairs.
If you're buying new homewares, stores like IKEA and Kmart are affordable options. Or, look into brands like Koala or Eva for mattresses, beds and select furniture.
You can often find free or cheap furniture on websites like Gumtree and Facebook Marketplace or at second-hand stores like St Vincent de Paul (Vinnies) or the Salvation Army (Salvos). Second-hand stores are also great places to pick up smaller household items, like kettles and saucepans!
Other electrical appliances, such as heaters or portable fans, can be purchased from stores such as Kmart, JB Hi-Fi and The Good Guys. However, note that these can use up a lot of electricity, so keep an eye on your usage.
Stocking your pantry is another vital step in the process of setting up your new home. Think about what foods you like to cook and make a list of the herbs, spices and staples you'll need most often, like olive oil, pasta, rice, salt and pepper.
Once you do a big shop and load up on pantry staples, your weekly grocery shopping will mostly include perishable items, like fresh fruit, vegetables, meat and dairy products.
It's also a good idea to stock up on some over-the-counter medication (meaning you don't need a prescription) such as cold and flu relief, to be prepared for days you're feeling under the weather. These can be purchased from supermarkets or pharmacies. You may also want to pick up a simple first aid kid with bandaids and basic bandages for those 'just-in-case' situations.
A taste of home in Canberra
Once you have all the practical aspects of living sorted out, it's important to make sure that your house feels like home!
Some easy ways to make your space your own include adding cosy lighting and indoor or outdoor plants. You could even buy new bed linen in your favourite colour or hang up a poster or three. Second-hand shops are also a great place to find cheap home decor and lamps.
Time to start enjoying your new home!