International student experience at UC
/
/
/
/
/
Accommodation at UC: What you need to know
Accommodation at UC: What you need to know
When you're planning your studies in Canberra, it's important to arrange your accommodation early. But with so many accommodation types to choose from, how do you know which one best suits your needs?
Exploring your accommodation options in a new country can easily become overwhelming. That's why we've put together this ultimate guide to accommodation at the University of Canberra (UC).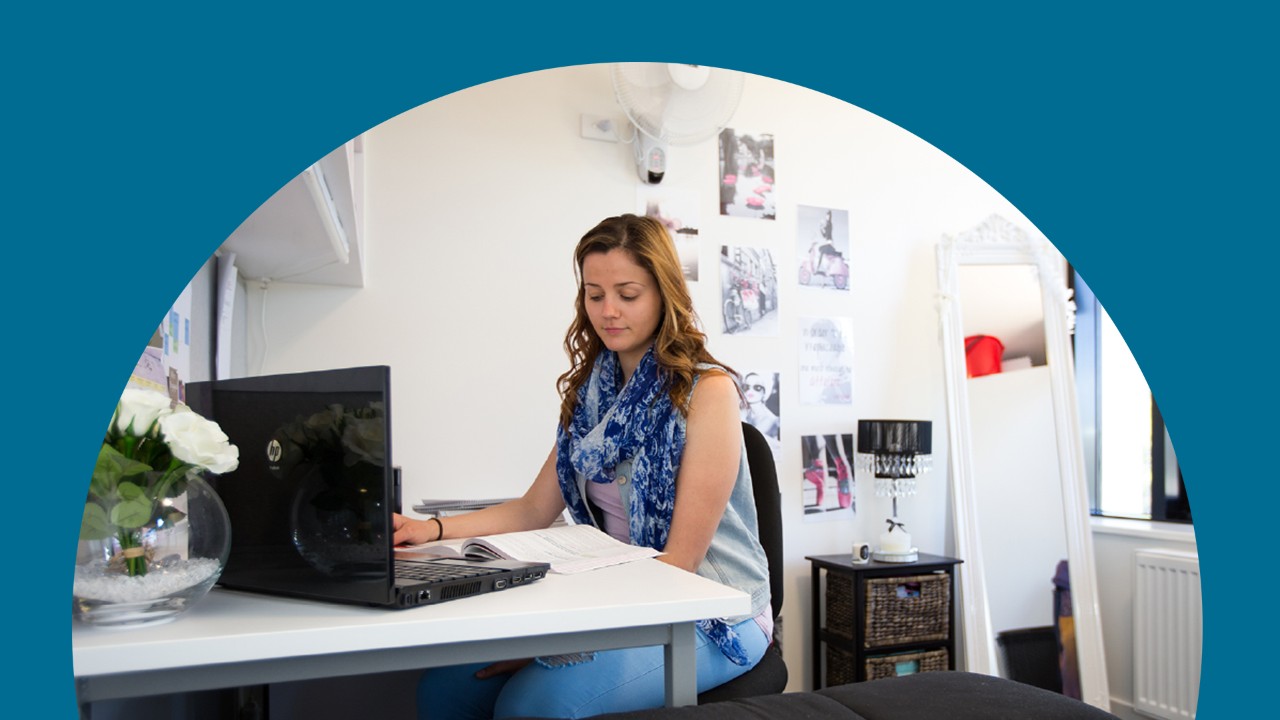 Types of accommodation at UC
Student housing – stay close to university
One option to consider is student housing. It's a wonderful way to meet new people, and is incredibly convenient - living on or near your campus means you don't need to rely on public transport to get between classes and home.
At UC, students can choose from four student housing buildings. UC Lodge, Cooper Lodge and Campus West are all located on the Bruce campus, while Weeden Lodge is just a short walk away. Being so close to campus, you'll be able to fully immerse yourself in the student lifestyle and make the most of UC events.
There are plenty of room types available to suit your preferences and budget too. You can choose to share with a few fellow students, with just one other person, or opt to live on your own. Utilities are included in the price, so you don't need to worry about bills. Plus, student housing comes with amazing facilities, which might include cinemas, games rooms, libraries, and shared barbeques. This means you can have fun and enjoy student life while easing into your academics.
Choose your space with a private rental
You might also consider living in a private rental property. This is a good choice if you want to live in the local community or gain more independence.
You can find private accommodation online on sites like Domain, realestate.com.au, Gumtree or AllHomes. Private rental prices can fluctuate, with the average weekly rental costing around A$560 for a one-bedroom unit, so you'll need to ensure this is within your budget.
Another thing to keep in mind is that furnished private rentals are rare in Australia, so you may need to buy your own furniture, appliances and homewares.
Rent a room in a share house
If you still want the experience of living in the community but don't want to pay for a single-bedroom property, a share house might be for you. Share houses are places where you pay for your own room in a flat or house and share the common areas with others.
This can be a great option for students because it is cheaper than renting a place by yourself. The more people you can share a property with, the lower the cost, as you can split bills. Occasionally, you can even find furnished rooms for rent, which will save you from having to purchase your own bedroom furniture.
Websites such as Flatmates.com.au can be a great way to find new people to live with, or existing households looking for a new housemate. Or you can apply for a room in the Canberra Student Housing Cooperative.
Try a homestay
If you're keen to get a truly Australian experience during your time in Canberra, a homestay is a good choice. Homestays are where you are hosted by a local family and are a fantastic way to settle into life in Canberra.
Homestay Network helps international students find placements with families. They carefully screen and select their hosts to meet their standards, so you can be sure you'll be staying with someone great.
Your homestay family will provide you with a private bedroom, and they will likely supply some of your meals as well. You can apply for homestay directly through the Homestay Network website.
UC's accommodation guarantee
If you're worried about finding accommodation in a new country, UC has got you covered. For international students, the UC accommodation guarantee means you're guaranteed a place in student housing, so you don't need to worry about missing out.
The guarantee covers a few residence types and price points, including room shares, private studios and units. You can sign up easily by ticking the accommodation guarantee option when you accept your study offer.
Questions to ask yourself before choosing accommodation
If you're still not sure which accommodation type is right for you, it can be helpful to take some time to think about your ideal living situation.
Some questions to ask yourself are:
● Do I want to live alone or with others?
● Do I want to live on campus or away from campus?
● What is my budget?
● Which amenities are a want, and which are a need? (For example, is having an on-site laundry or being able to cook for yourself a necessity?)
● How long do I plan on living in Canberra?
Whatever your answers are, you'll be sure to find an option that suits you best, so you can get on with enjoying your international study experience at UC