International student experience at UC
/
/
/
/
/
You've graduated! What's next?
You've graduated! What's next?
Getting to the end of your academic journey is an exciting achievement, but it can also feel a little scary. With such a big chapter of your life complete, you might feel slightly overwhelmed, incredibly excited by reaching your academic goals, or maybe even a sense of relief!
As a University of Canberra (UC) graduate, you have no need to worry about your next steps. Your time at university has prepared you with the qualifications, skills and attributes you need to succeed after studying. Let's take a look at the next steps you should take after graduating from UC.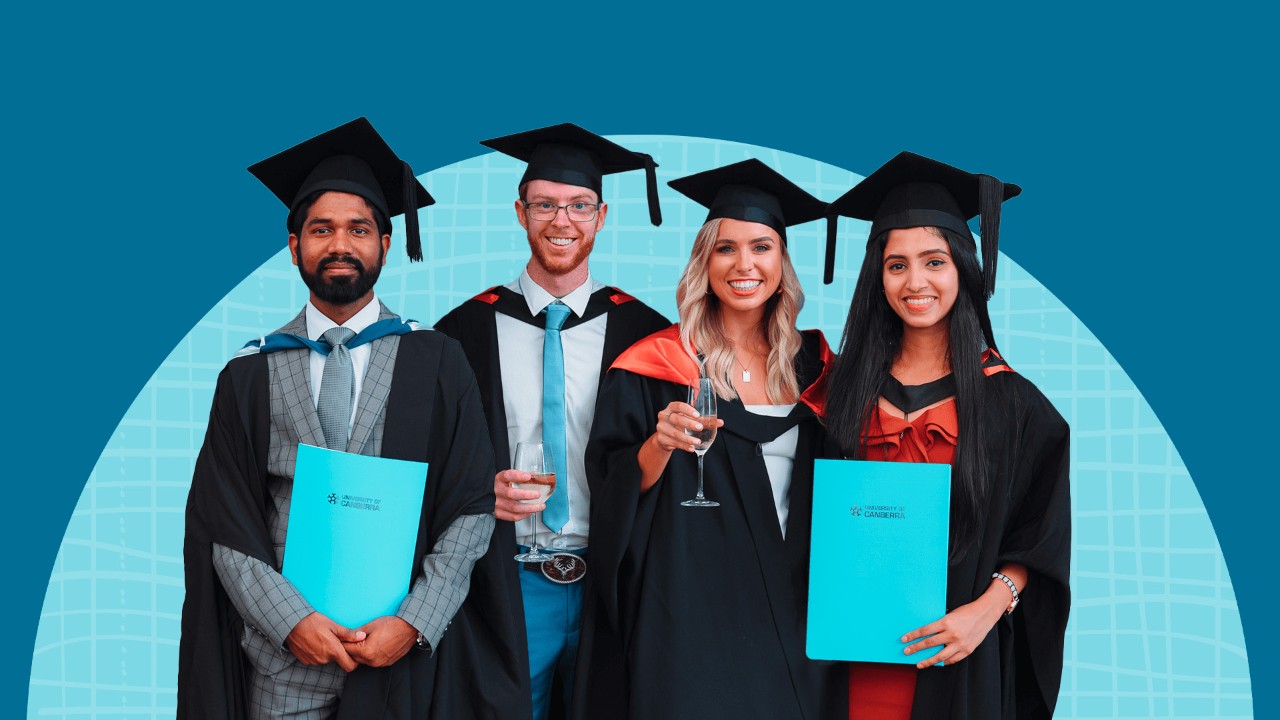 Apply for your next visa
Did you know that students who have studied in regional areas of Australia could be eligible for migration incentives?
Canberra is classified as a regional city, so international students who have studied at UC may be able to access an additional year in Australia on a post-study work visa, priority processing of your regional visa, and access to the Regional Occupations List, with more jobs compared to non-regional lists. This means you can gain valuable work experience in Australia after university, continue build your professional network, make more lifelong friends, explore a range of exciting careers, or simply enjoy the Canberran way of life!
Consult the team at Careers UC
If you aren't sure what to do after graduating, the team at Careers UC should be your first stop. They can help you define your goals and can even help you find an internship or graduate position.
Careers UC also holds great workshops and career events, helping you better prepare for the workplace. The best part? These services are available for you to access for up to a full year after you graduate.
Develop your resume
One of the most important things to do after graduating is to continue developing and growing your resume. This might include adding internships, Work Integrated Learning experience and relevant part-time jobs to your resume, as these can all help you stand out to employers.
You should also adjust the formatting and presentation of your resume to make it as clear and easy-to-read as possible. If you don't know where to start, visit Careers UC and take advantage of the resume development service.
Start your job hunt
With a degree from UC under your belt, there's nothing stopping you from applying for a great role in your field. You can start looking for jobs on SEEK, Indeed, or LinkedIn, as well as on industry-specific job boards.
Canberra has one of the lowest unemployment rates in Australia, a testament to the booming job market and vacancies available. This means that there are plenty of great career opportunities for you to take advantage of.
UC is also ranked #1 in Canberra for full-time graduate employment, so you can apply for your dream job with confidence.
Build your network
A solid professional network can give you access to many opportunities. As a graduate of UC, you will already have a good network of peers, teachers and work experience colleagues. Still, it's well worth taking some time to expand your network into the community.
You can start by attending networking events, like those hosted by UC and in your local community. You can find all of UC's upcoming networking events on our events page. The ACT Government website lists a range of organisations that offer networking sessions to help you build connections.
Look for an internship
An internship or work experience placement can be a great stepping stone to a full-time position. These placements also give you a chance to learn new skills and gain a better understanding of your future industry, all while putting your knowledge to the test in a real workplace environment.
You can start looking for internships and work experience placements on LinkedIn, SEEK and through Careers UC.
Explore your global career options
Whether you're missing home or excited to experience life in a new country again, you might be considering exploring career options outside of Australia.
With a qualification from UC, you now have the credentials, skills and knowledge to start working anywhere in the world. From high-flying jobs in Hong Kong to artsy roles in Amsterdam, or even meaningful careers in remote communities, with your UC degree, the world is truly your oyster.