International student experience at UC
/
/
/
/
/
Turning a degree into a career: Jose Ortega Jr
Turning a degree into a career: Jose Ortega Jr
Meet Jose Ortega Jr.
After graduating from the University of Canberra (UC) in 2006, Jose remained in the city, building his career across various organisations, before joining UC again in 2021, this time, as a professional.
With first-hand experience studying and working in the nation's capital, Jose is able to explore the role UC played in his vocation. He also shares his advice for getting job-ready, and how he connects to his Filipino roots and community in a brand-new city.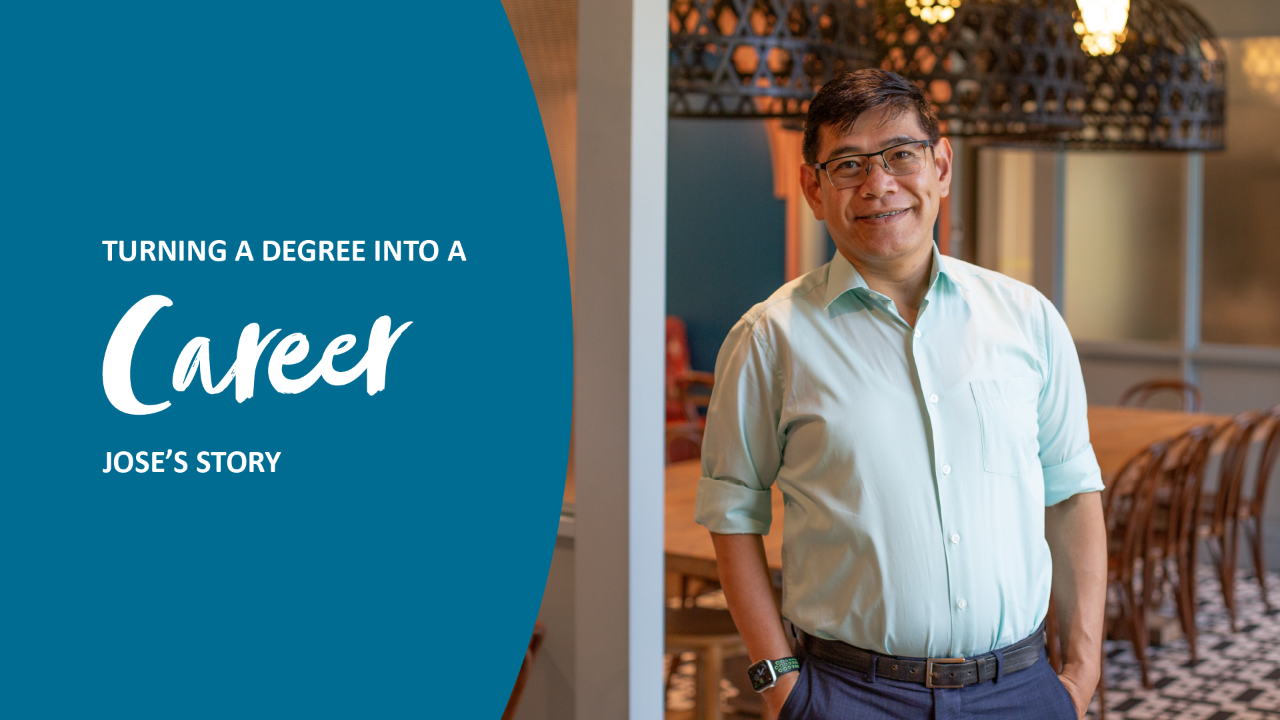 Taking a leap
Originally from the Philippines, Jose decided to pack his bags and head to Australia's capital, Canberra. He studied a Master of Professional Accounting at UC in 2003 and graduated in 2006.
While completing his studies, Jose secured a role through UC Careers as a casual staff member. Twenty years later, Jose was able to continue his career as a Program Manager with the Strategic Program Office at UC.
"I chose to study at UC to further my postgraduate studies and experience living in a different climate, [as well as] its affordable tuition fees and cost of living during study," he says.
"UC was very quick and efficient with communication. I lived at 'ressies' [student housing], worked at UC as a casual staff member and studied at the same time. It was very convenient for me."
Studying in the nation's capital
Canberra's relaxed lifestyle and the friendly locals are what drew Jose to the city.
"It's city living without the stress of being a city. There's basically no traffic rush [which means] less time spent on the road," he says.
When you're not studying, Jose recommends checking out all of the festivals Canberra has to offer throughout the year.
"There's music festivals, the National Multicultural Festival where you can try delicious foods from all over the world, Floriade, Summernats, the Canberra Balloon Spectacular, Enlighten Festival and much more!" he explains.
UC is ranked 17th globally in the Times Higher Education Young University Rankings 2022, number one in the world for reducing inequalities, and number one in Canberra for teaching quality and full-time employment. But while these are important attributes, Jose recognises there's more to UC than Canberra's leisurely way of life and world-class education.
"UC has a lot of events and social clubs that are open to all students," he shares. "It is a very accepting university and provides a lot of support to students, from writing essays, researching, sports and more."
Jose adds that UC also looks after its students and alumni: "It's a friendly university with students from different backgrounds, religions and cultures.
The importance of community
During his studies, Jose worked in the disabilities office at the university and was a highly active volunteer during every Orientation Week. His duties included helping new students enrol in their courses and adjusting to university life.
"This included tours around Canberra, museums and specialised stores such as Asian or Indian shops, and Jamison marketplace," Jose explains.
Having arrived at UC two decades ago, Jose continues to stay in touch with his Filipino roots and the friends he made at university.
"I met a lot of friends from UC that I am still in touch with after nearly 20 years," Jose says. "We catch up regularly for lunch or dinner and on long weekends."
The road to success
Receiving a university degree is one thing. But Jose acknowledges the role UC played in kick starting his career, through his studies, his employment in Canberra, and with UC.
"When I was studying at UC, my lecturers provided practical lessons and exercises that helped me prepare in my career, including working in groups and teams from different cultures," he says.
He adds that he received a lot of advice and assistance from Careers UC, which helps prepare students starting their careers.
"You get all the support you need to enter the professional workforce," he says. "UC also offers short courses for professionals for continuing education and career development."
As for the future? Jose shows no signs of hanging up his learning hat. "I'll continue to enhance and share my skills and knowledge and improve my career leading to retirement," he says.