International student experience at UC
/
/
/
/
/
Top tips for international students adapting to the Australian lifestyle
Top tips for international students adapting to the Australian lifestyle
Moving to a new country is exciting, but it can also be a daunting experience. Settling into life in Australia may take some time, so we've put together a list of handy tips and tricks to get you into the swing of Aussie life in no time.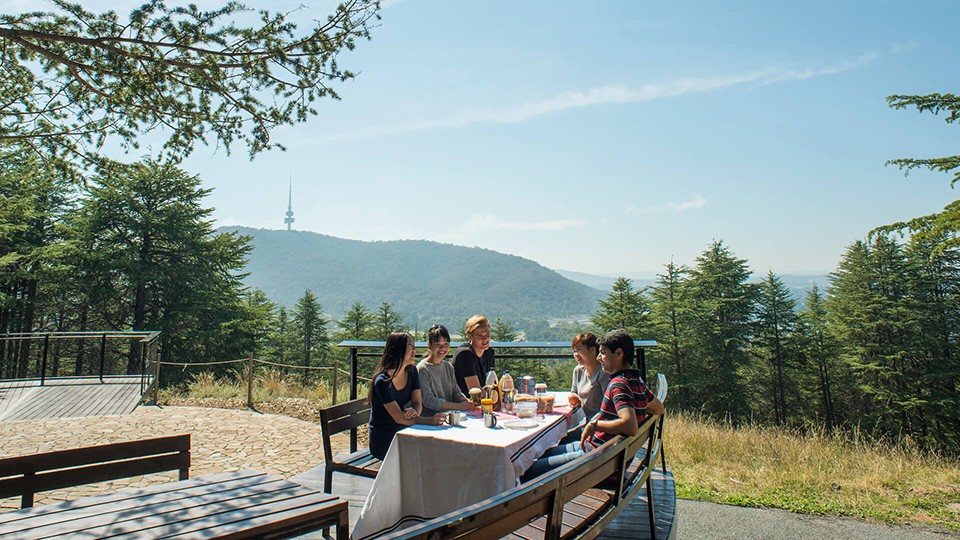 Learn the slang
While Australians speak English, some of our Aussie slang can take a bit of getting used to. To familiarise yourself with the way we speak Down Under, tune in to famous Aussie soap operas like Home and Away, watch classic movies like The Dish or The Castle, or pop in a podcast like Aussie English. And, if you need a little help making sure that your writing for assignments sounds right, resources like the Study Skills hub have what you need to get your written English on-point.
Meet new people
One thing we Aussies pride ourselves on is friendliness. Most people are open to a chat, and it's pretty easy to make friends here. Next time you're at a university event, find someone to say g'day to. You'll be surprised how quickly you'll make a new friend to grab a coffee or explore the campus with.
Explore the city
Canberra is a great city to live and study in. Familiarise yourself with your local library or the study areas on campus. These will be handy when you need a quiet place to do some reading or finish an assignment, especially if you live with housemates. If you want to see more of the city but don't want to walk, grab a bike from one of the many Share A Bike stations and cycle along Canberra's extensive network of cycleways.
Familiarise yourself with the landscape
Australia is big. In fact, it can be hard to fathom just how big Australia really is. To get a sense of its vastness, watch some Australian themed documentaries or a road trip movie like Priscilla, Queen of the Desert.
Learn about the dangers
We won't lie - there are some creepy critters local to Australia. A handy chart for recognising dangerous spiders is always a good idea to have in the home, although you're unlikely to come across things like a funnel web spider in the city.
However, even in a big city, two of Australia's most dangerous elements will be right around the corner - the sun and the water. Make sure you always swim between the flags at any beach you might visit along the coast and be sun safe. Slip on a shirt, slop on sunscreen and slap on a hat. It's the perfect combination for keeping you safe in Australia's harsh sun. The Australian Capital Territory has a State Emergency Service, which provides alerts and guidance about emergencies like floods and bushfires. It's a good idea to know their details and follow updates on social media.
Get behind your local sports club
Australians love sports. Both rugby union and league are popular here, as is Australian rules football and cricket. If you're a sports fan, getting out to a game can be great fun, even more so if you can bring a group of mates together. Sporting events are usually inexpensive and attract a diverse crowd.
Your new local rugby league team is the Canberra Raiders. If you're more interested in rugby union, you'll want to support the ACT Brumbies.
Join a club
The University of Canberra offers many clubs and societies students can join. These provide an opportunity to connect with others who share similar interests and passions. Whether it's politics, sports, gardening, religion, or writing, there's bound to be a club you can join.
And, if you can't find one that takes your fancy, you can always start your own!
View the experience as an adventure
Above all else, remember that your time studying in Australia is an adventure! Whether you stay in Australia, move back home, or your journey takes you elsewhere, you'll look back at the early days of living in Australia fondly, remembering trying to figure out what on earth a 'budgie smuggler' is and whether now you're here, you should invest in a pair of trackie daks.
Enjoy Australia's laid back culture and remember that there's a lot to love about Canberra and Australia. Studying here is an experience you're not likely to forget. Still, if you're feeling some culture shock, you can find out what services are available to you as an international student by contacting the International Student Support Service.
Canberra is a great place to make friends for life and enjoy Australia's beautiful natural scenery.