International student experience at UC
/
/
/
/
/
The impact of a scholarship
The impact of a scholarship
Scholarships can take a significant amount of financial pressure off international students. For this reason, the University of Canberra (UC) offers a number of scholarship opportunities to international students who have performed well academically. These scholarships can reduce your total tuition fee by 10 to 25 per cent, making it much easier to support yourself while studying abroad.
To find out just how much of a difference this financial support can make to an international student's experience in Australia, we spoke to Jerry Tran. Jerry is a UC alumnus who was awarded not one, but two scholarships during his studies at UC.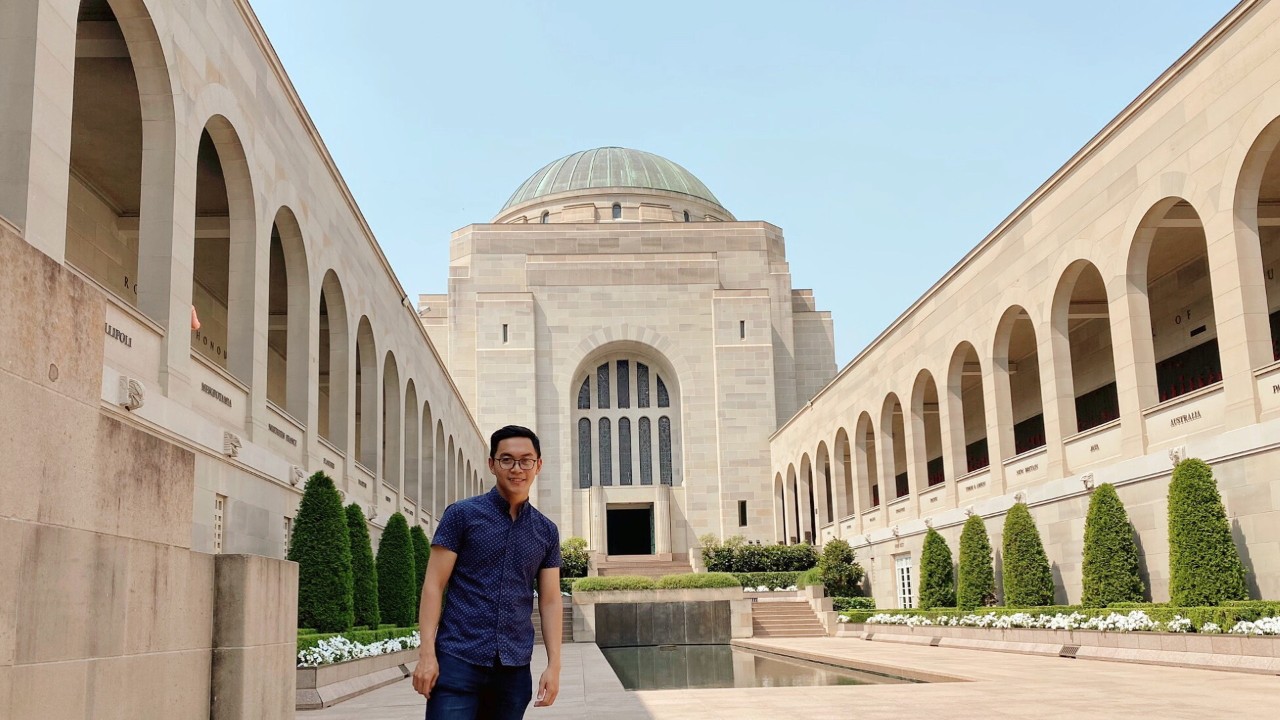 Choosing UC
Jerry was born in Vietnam and moved to Canberra in 2020 to study a Master of Information Technology and Systems at UC. When choosing a university to complete his master's, it was UC's great reputation and work-integrated learning programs that made it stand out from other institutions.
"The University of Canberra is one of the top universities in Australia and it's famous for its practical programs. This meant that I could improve my theoretical knowledge and research, as well as my technical and soft skills in the workplace," Jerry explains.
Along with UC's highly renowned courses, Canberra's peaceful lifestyle appealed to Jerry.
"I wanted to stay in Canberra as it's a great city to live and study. It's not too big and not too small, and you can enjoy life with different cultures."
Applying for scholarships
At UC, a student's eligibility for a scholarship is automatically assessed when they apply for their course. This makes the process easier for students like Jerry, who want to apply for multiple scholarships.
"The UC website is very informative, so I could research the scholarships very easily online," says Jerry. "As the UC International Merit Scholarship is just based on your GPA score, it wasn't difficult to apply for.
"The Chief Minister's University of Canberra Scholarship is a little more challenging because you need to answer two questions, which are about your achievements and the skills that you can bring to Canberra."
The impact of a scholarship
Jerry was awarded a UC International Merit Scholarship and a Chief Minister's University of Canberra International Scholarship. Receiving these meant Jerry could feel more financially secure during his studies.
"The two scholarships saved me a significant amount that I could use to spend on both my study materials and everyday living costs in Canberra," says Jerry. "It was an amazing experience to get a kickstart in a new country where you can learn and grow to achieve your qualification."
For Jerry, receiving these scholarships didn't only provide financial security, but also gave him a sense of pride in his academic achievements.
"The scholarships not only supported me financially, but also made me so proud as not many students can get them every year," says Jerry. "This helped me become more confident in my studies and future career.
"The Chief Minister's University of Canberra International Scholarship was really an honour as there are only five places every year. I was so proud that my achievements in the past and my plan to contribute to Canberra in the future helped me get this scholarship. "
Advice for international students applying for scholarships
Jerry understands the financial pressure that many international students face, and he advises other students to research scholarship opportunities and their requirements as much as possible.
"The UC website is very informative in that you can search for a variety of scholarships, from international to local, master's or bachelor's degrees, and you can search for their requirements," he says.
"My advice is to be well prepared for these requirements as well as ask your friends and even the university representative in your country about the information.
"At the University of Canberra, you can always seek help everywhere – they are always ready to support you in your education journey."