International student experience at UC
/
/
/
/
/
The 5 best autumn events in Canberra
The 5 best autumn events in Canberra
Summer may be coming to an end, but that's no reason to shelter indoors just yet! Canberra is an absolutely brilliant place to be during autumn – the city is alive with music, art and culture.
Even though Canberra's iconic Enlighten Festival has recently finished, there's so much more to see, do, eat, and explore!

To help you soak up as much sunshine as possible before winter arrives, we've put together a list of the five best autumn events in Australia's capital. You'll enjoy getting out of the house, meeting new people and becoming a part of Canberra's thriving community.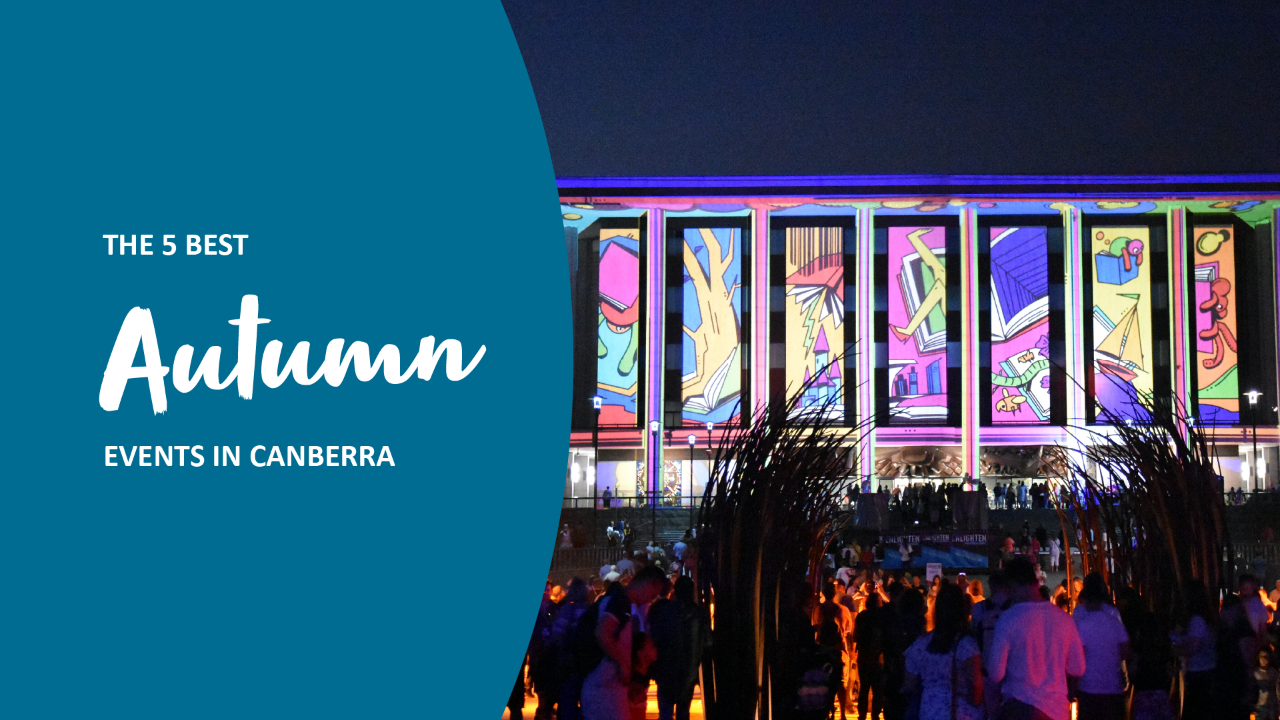 Did you know laughter is good for the soul? Over several weeks, check out the Canberra Comedy Festival to see some of the best local, national and international comedic talent! There might even be performers from your home country.

This year is the 10th anniversary of the festival, so it's bound to be an extra-special experience.

Each evening, there's multiple shows on, so grab some friends and make an evening out of it. Dinner, drinks, a few comedy performances – and a really good laugh!

Where: Various venues, Canberra (Ngunnawal Country)
When: 16–26 March 2023
Time: Evenings
Price: Prices vary (some events free)
There's nothing better than a long weekend full of listening to music with friends[D2] . The National Folk Festival has been running since the 1960s. It's a meeting place for the community to perform, share and develop traditions, with an incredible line up [D3] of musicians from around the world.
Join artists, instrument makers and vendors of various kinds in this glorious celebration of all things folk music.

Come just for the day or splash out on a 5-day pass to really immerse yourself in the atmosphere.

Where: EPIC, Canberra (Ngunnawal Country)
When: 6–10 April 2023 (Easter Long Weekend)
Time: All day
Price: $32–315 (concession)
Every year, the Canberra International Music Festival hosts world-class musicians from all over the world to showcase the best of global contemporary music.
The theme for this year's festival is 'The Child Within' – find your inner child through the power and magic of music.

Pick just one event or select a whole bunch and take advantage of this gathering of musical artists.

Where: Fitters' Workshop and various venues, Canberra (Ngunnawal Country)
When: 27 April – Sunday 7 May 2023
Time: All day
Price: Prices vary (events range from free, to a full festival pass of $1,350)
This Canberra-exclusive exhibition at the National Film and Sound Archive of Australia celebrates iconic moments in contemporary Australian cinema and its people and stories.
You'll have the chance to see beloved film moments, rare behind-the-scenes footage and costumes and props from iconic movies such as Moulin Rouge!, Mad Max: Fury Road and recent Oscar-nominee, ELVIS.

The exhibition is running for several months, so you'll have plenty of time to check it out.

Where: National Film and Sound Archive of Australia, Acton, Canberra (Ngunnawal Country)
When: Until October 2023
Time: 10am – 4pm daily (and until 8pm on Fridays)
|Price: $11.50 (concession)
The National Gallery in Canberra is Australia's biggest and - in our opinion! - best art gallery. It has an impressive permanent collection showcasing Australian art and contemporary global art, particularly from Europe, America, Asia and the Pacific. The gallery also holds the world's largest collection of Aboriginal and Torres Strait Islander art.
There's also a stunning sculpture garden to explore, as well as a street café and a dining room if you need a snack or a coffee.

Throughout the year, you'll find rotating special exhibitions from all across the country and the globe.

Where: Parkes Place, Parkes, Canberra (Ngunnawal Country)
When: Year-round
Time: 10am – 5pm daily
Price: Free (entry fees apply to some major exhibitions)
Some upcoming exhibitions include:

Jonathan Jones: untitled (walam-wunga.galang)
4 March – 23 July 2023
This important exhibition celebrates the south-east cultural practice of collecting seeds, grinding them and making bread to feed families. It highlights invaluable Aboriginal stories.
Haegue Yang: Changing From From to From
27 May – 24 September 2023
These immersive multimedia environments combine diverse materials and cultural traditions. The works refer to science, art history and political events, and make fascinating connections between mass production, ancient traditions and natural phenomena.