International student experience at UC
/
/
/
/
/
Studying between China and Australia: Evelyn's Story
Studying between China and Australia: Evelyn's Story
Plenty of students dream of attending more than one university without the time commitment of completing multiple degrees. For Evelyn, that dream became a reality.
She commenced her Bachelor of Design (Visual Communication Design) and completed the first two years of her degree in her home country of China at the Henan University of Engineering. In her final two years, she worked towards finishing her degree in Australia at the University of Canberra (UC).
Studying abroad is a dream Evelyn has had since high school - and given its many cooperation projects with China, Australia seemed like the perfect destination to do it.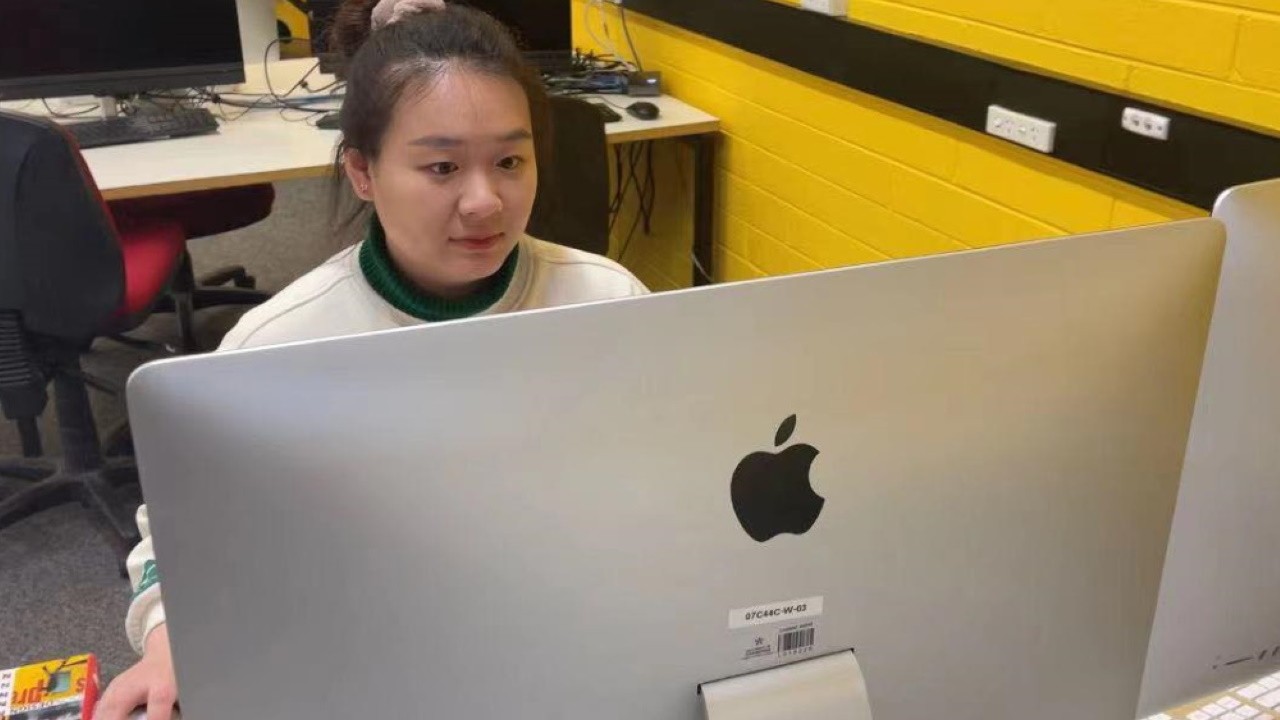 From China to Australia
While still in China, students undertaking the journey to Australia had the opportunity to chat with a representative from UC. This gave Evelyn valuable insight into the kinds of things she should bring with her and what to expect in Australia.
While COVID-19 temporarily threw Evelyn's travel plans into disarray, she was finally able to arrive in Australia in March 2022.
Learning English abroad
Knowing she would be spending two years in Canberra was plenty of motivation for Evelyn to learn English. Evelyn and her friends watched English-language movies to help improve their skills. While they sometimes had to watch a movie twice or even three times to fully understand it, it was a fun way to engage with the language.
Evelyn's films of choice were Disney movies. Not only did they help with vocabulary, she shares, but she was also able to get a feel for the tone of the English language.
To learn more everyday words, Evelyn watched Good Luck Charlie, a children's show. It helped her discover vocabulary for daily life without any overwhelming content to understand.
Above all, immersing herself in an English-speaking environment has hugely helped Evelyn's language skills. She quickly picked up the vocabulary specific to the design world from talking with teachers and her peers.
Embracing a new culture
When Evelyn arrived in Australia, there was more to adjust to beyond university - there were also several cultural differences.
One thing Evelyn had to get used to was carrying cash or a bank card with her. She explains that she paid for everything in China using WeChat, a Chinese online messaging system. More than once, Evelyn left her wallet at home and found herself without a way to pay for things. Additionally, like so many international students before her, she initially found the Australian currency confusing.
While some elements of Australian culture were puzzling, others fascinated Evelyn, particularly the small customs and everyday tasks that are second nature to Australian residents. For example, it took Evelyn a few rides before tapping on and off on the bus came naturally to her. In China, only one tap is necessary on public transport.
Support for international students
One thing Evelyn appreciates about her Canberran study experience is the relaxed and informal nature of teacher-student relationships. It's much easier, she explains, to chat with teachers and lecturers in Australia.
Evelyn appreciates the accessibility of her teachers, sharing that it has been helpful for her in her studies. She has found it beneficial to talk through design ideas and concepts with her teachers whenever she needs to.
As an international student, Evelyn has felt very supported by the University, both by the institution itself and by individual teachers.
According to Evelyn, the UC Student Centre is an excellent place for international students to direct any concerns or questions. No matter their situation, international students are sure to get the support they need.
"When international students need help, they can ask the student centre," explains Evelyn. "The student centre can help with their problems."
The Student Centre is open from 10am to 4pm Monday to Friday or you can contact the support team at student.centre@canberra.edu.au.
What the future holds
With the end of her bachelor's degree in sight, Evelyn has begun to make plans for the future. Ideally, these will centre around obtaining a master's degree, preferably in Australia.
The excellent support offered by the University of Canberra makes the experience of new international students fun and worthwhile. Like others, Evelyn appreciates the helping hand she's received throughout her time in Australia.