International student experience at UC
/
/
/
/
/
Canberra's two-year post-study visa explained
Canberra's two-year post-study visa explained
So, graduation is around the corner and your international study experience is coming to an end. But that doesn't mean the adventure has to stop!
Your degree from the University of Canberra (UC) will open up a wide world of possibilities, including the chance to stay in Australia after you finish your studies. Studying in Canberra also means you could benefit from the additional visa advantages of living in a regional city.
What's more, UC has been named #1 in the ACT for both graduate employment and starting salaries. This means you can look forward to plenty of opportunities to launch your career and land your dream job!
Read on to find out everything you need to know about Canberra's two-year post-study visa, so you can stay on and continue enjoying everything this amazing city has to offer.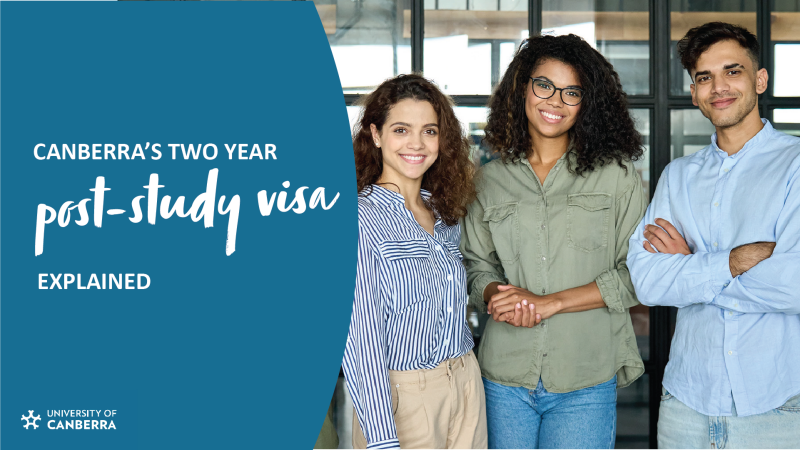 What is the subclass 485 visa?
Once your student visa has ended, you'll be eligible to apply for the subclass 485 visa, also known as the Temporary Graduate visa.
This subclass includes several different options, and the stream you're eligible for will depend on your circumstances. The Post-Study Work stream is a great choice, granting you an additional two to four years based on your qualification.
But that's not all! Because Canberra is classified as a regional area, you'll even be able to apply for the Second Post-Study Work stream. This means you could be able to stay an additional one or two years after your first Temporary Graduate visa is over.
All up, this means you could be eligible to stay in Australia for up to six years after you complete your studies, which makes this an exciting option for those who want to keep the adventure going!

Who is the subclass 485 visa for?
In general, the Temporary Graduate visa is designed for all international students who wish to extend their time in Australia after they finish their studies. However, there are some additional requirements you must meet.
Applicants must be under 50 years of age and must hold a qualification from a CRICOS-registered course provider, like UC. You'll also need to meet other criteria, including proof of health insurance and English language requirements.
What's more, you'll need to have held a visa in the past to apply for any of the subclass 485 streams. For instance, if you're applying for the Post-Study Work stream, you must have held a student visa in the last six months.
For the Second Post-Study Work stream, you'll need to have a current subclass 485 visa and be able to show that you have been living and working in a designated regional area, like Canberra.
It's important to make sure you're aware of all of the requirements, so take some time to research the eligibility criteria for each stream before you apply.
What can international graduates do with the subclass 485 visa?
In addition to giving you more time to enjoy Canberra's fantastic lifestyle, the subclass 485 visa offers lots of opportunities for international students.
In particular, the Temporary Graduate visa grants you the right to work full-time. This makes it a great option for those wanting to launch or grow their career in Australia.
Even better, working in Canberra means you'll have plenty of employment prospects. The city isn't just home to a huge variety of businesses, industries and sectors, but also boasts the highest average wage and lowest unemployment rates across the country.
You can even bring your loved ones along! Members of your family unit, which include spouses and children, can be included in your application for the subclass 485 visa, meaning they can join you in Australia for the duration of your stay.
To find out more about the subclass 485 visa, including how to apply, visit the Department of Home Affairs website.