International student experience at UC
/
/
/
/
/
8 ways to make new friends as an international student
8 ways to make new friends as an international student
So, you have landed in Canberra and arrived at your new accommodation. Chances are, when you arrive, everyone around you is a stranger. But it won't stay that way! Studying abroad can reward you with the chance to meet new people who will make your overseas experience more fulfilling. Here are 8 tips to help you make new friends at the University of Canberra.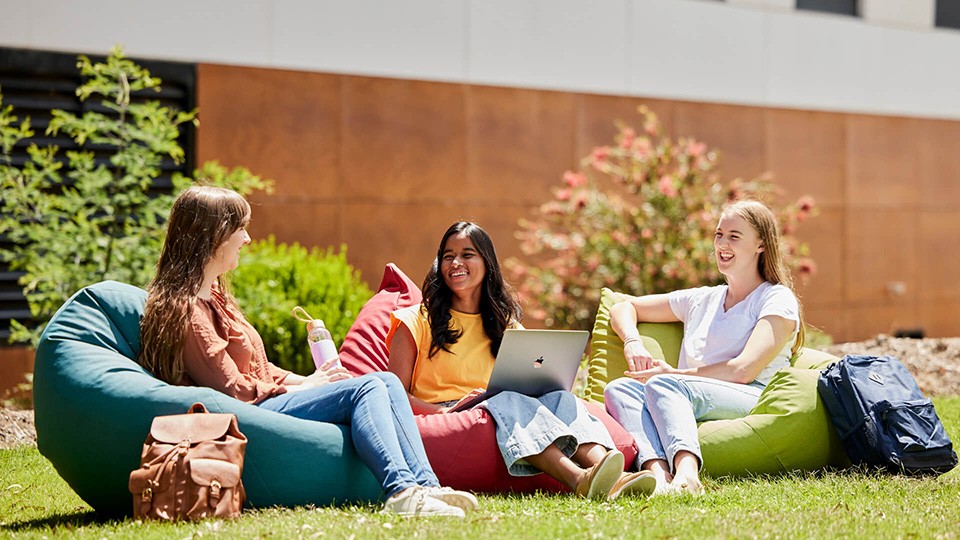 Attend O-Week
Take advantage of the first few weeks of university as much as possible. Orientation week, known at UC as O-Week, is the best time to get to know other students who are just as new as you are on campus. You might be feeling shy or nervous, but there are great ice breaker activities planned to make it easy meeting new people. Hop on a bus tour, join a student meet and greet, or try out the 'Speed Dating' activity. A lot of people will be experiencing their first day of uni and will be open to meeting a friendly face!
Have an open mind
Although it can feel daunting when you are new to a place, don't let that stop you from being open to new things and experiences. Instead of staying cocooned in your room, go out and explore what's happening around you. When it comes to connecting with people, you may have a particular type or personality predetermined. But university is full of all different kinds of people and you shouldn't let anything stop you from befriending anyone before getting to know them. Take a chance and be the first to say 'Hi' or ask 'How's your day been?' - you might unexpectedly make a new friend for life.
Join a club or society
There are plenty of clubs at UC that you can join! Check out clubs that are up and running and see what sparks your interest. Not only will this add to your university experience, but by attending the events they regularly organise, you will discover like-minded people along the way. It may also be worth joining a club, association, or society of your nationality - this way you can make new friends from your home country.
Sport is an integral part of Australian culture. UC has five sport clubs - football, netball, rugby, table tennis, and volleyball. Choose a sport you love and you will be well on your way to finding people who are just as passionate as you are.
Discover events around you
Canberra is well known for its year round festivals and events. Check out what's happening in your area and you'll find that it's a fantastic way to meet locals. Australia is also very multicultural which means you could meet someone from home at a cultural event! Attending special events organised at UC is also a good way to network and make friends. This could be anything from a workshop, seminar, study session, or something fun like trivia night or on-campus movie nights.
Volunteer when time permits
The benefits of volunteering are plenty - from learning new skills to improving your communication and teamwork abilities. But, there is nothing quite like doing something for a good cause and meeting someone with similar values along the way. For instance, you could meet someone at an animal shelter and share your love for animals.
Join the UC Student Mentor Program
To help make your first semester at UC easier, we've developed the UC Thrive Student Mentor Program. Once you've accepted your offer to UC, you can join the program, where you'll be matched with a Student Mentor studying the same or a similar degree. They'll be on hand to support you at UC, answering your questions and helping you make connections.
Use social media
Meeting new people in person may not be everyone's cup of tea. Don't hesitate to use social media to explore events around you, clubs in your local area, and groups where people share an interest or passion. You'll find that there are plenty of opportunities to socialise through these channels.
Cast your net wide
It's great if you establish a group of amazing friends at university. But you should try and make a few friendship circles in different areas of your student life, such as people from your class, in the clubs you join and in your accommodation. This means you'll always have someone to call if you need company, and guarantees you'll never have a dull moment!