Using smartphones & Fitbits to reduce the risk of repeat heart attacks
/
/
/
/
/
Using smartphones & Fitbits to reduce the risk of repeat heart attacks
One third of all heart attacks in Australia are repeat events, they are more likely to result in death and are costly. Cardiac rehabilitation participants who have experienced a cardiac event are encouraged to meet the physical activity guidelines to help prevent repeat heart attacks. Yet, our research has found that their physical activity levels are low and sitting time is high, both during and after cardiac rehabilitation.
Evidence suggests that cardiac rehabilitation participants are interested in support via mobile phones, and they have potential to reduce hospital readmissions. However, few studies have targeted sitting time (sedentary behaviour) through smartphone apps for people with coronary heart disease or investigated the effect on healthcare utilisation.
Associate Professor Nicole Freene and her research team from the Health Research Institute have partnered with Onmi, an SME based in the Netherlands, who specialise in data analysis for behaviour change. Together they have developed and evaluated the feasibility of a behavioural smartphone app (Vire) and online behaviour change program (ToDo-CR) to decrease sitting time in cardiac rehabilitation participants. The ToDo-CR program uses personalised analytics to interpret important behavioural aspects (physical activity, situational context and social opportunity). The approach is unique in that it integrates 'real time' information in space (geographical location) and Fitbit physical activity data for generating and suggesting context specific actionable micro behaviours (Do's), based on national physical activity and cardiac rehabilitation guidelines.
In 2020, the research team commenced a larger scale study to test the behavioural smartphone app (Vire) and 6-month online behaviour change program (ToDo-CR) aiming to reduce hospital admissions and sitting time in cardiac rehabilitation patients. This multi-centre randomised controlled trial was conducted within the Canberra area over 2-years, recruiting 120 participants from three cardiac rehabilitation centres (Canberra Hospital, Calvary Public Hospital Bruce, National Capital Private Hospital). Participants were randomised to either cardiac rehabilitation plus the 6-month Vire app and ToDo-CR program (intervention) or usual care cardiac rehabilitation (control). Participants were assessed on admission to cardiac rehabilitation, and at 6 and at 12 months for non-elective re-admission to hospital and device-measured sedentary behaviour. Other outcome measures included body mass index, waist circumference, blood pressure, 6-minute walk test distance, quality of life, and anxiety and depression levels. Intervention and hospital admission costs were also collected, and the cost benefit of using the Vire app and ToDo-CR program compared to usual care were calculated. Additionally, intervention participants were interviewed to investigate barriers and enablers to using the app for reducing sedentary behaviour as an adjunct to cardiac rehabilitation and what would help improve the implementation of future smartphone apps in this group.
Results from the ToDo-CR study will inform future research in this area, potentially leading to a decrease in hospital admissions and morbidity in cardiac rehabilitation attendees, and a decrease in sitting time.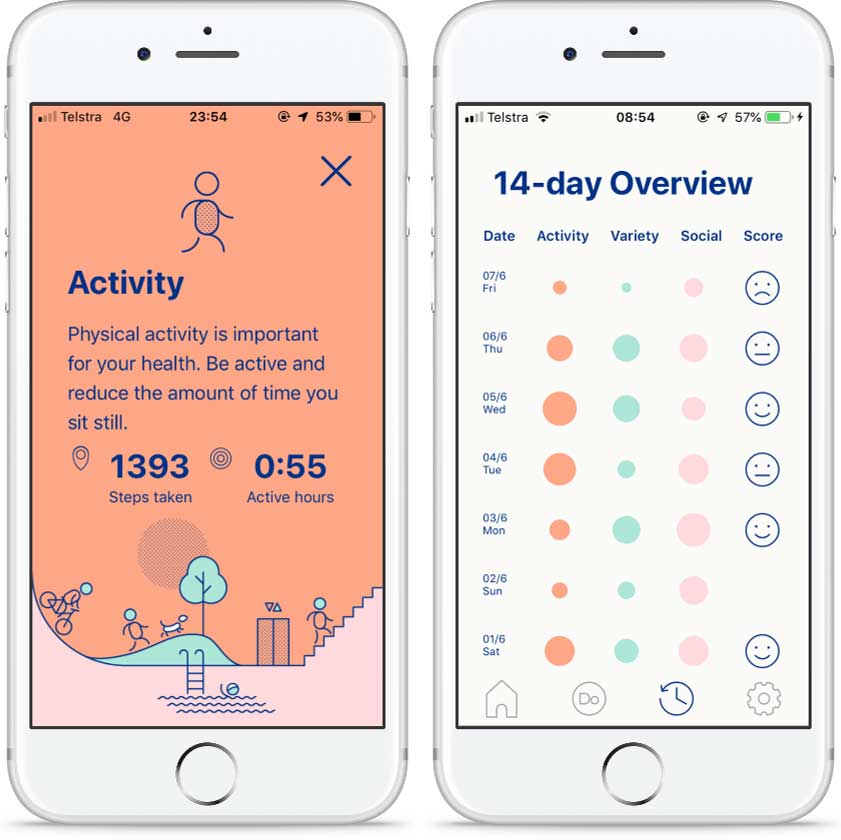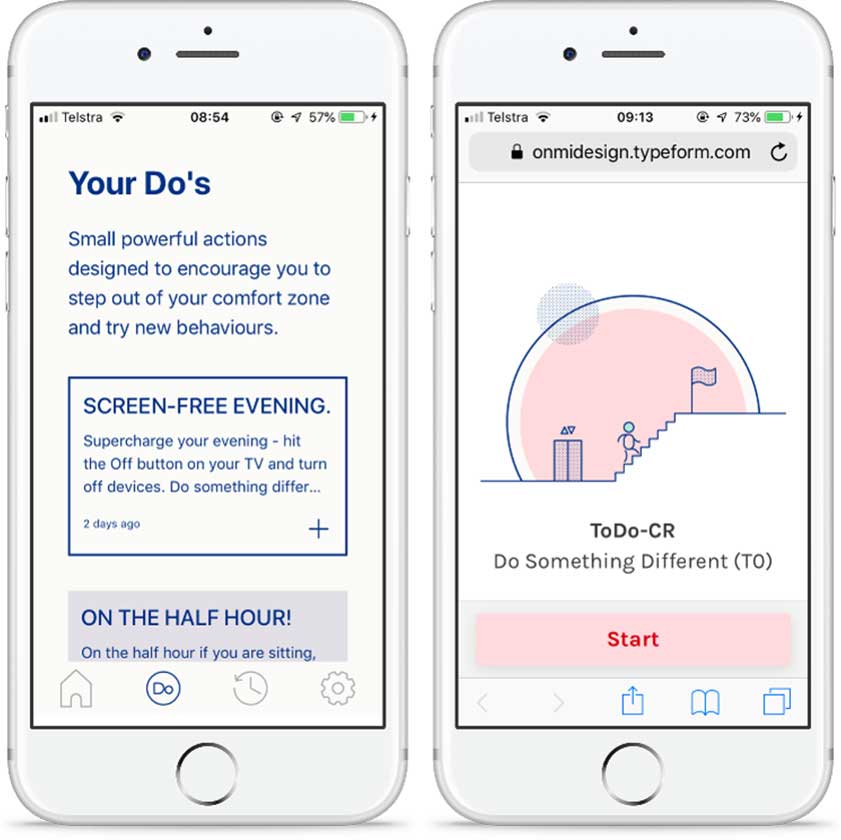 Australian Academy of Technology and Engineering Global Connections Fund Bridging Grant 2018 (feasibility study)
2019 Medical Research Future Fund: Keeping Australians Out of Hospital Program
Nicole Freene
Kacie Patterson (PhD candidate)
Rachel Davey
Richard Keegan
Theo Niyonsenga
Itismita Mohanty
Sander van Berlo (Onmi)
Freene N, van Berlo S, McManus M, Mair T, Davey R (2020). A Behavioral Change Smartphone App and Program (ToDo-CR) to Decrease Sedentary Behavior in Cardiac Rehabilitation Participants: Prospective Feasibility Cohort Study. Journal of Medical Internet Research Formative Research 4 (11), e17359.
Patterson K, Davey R, Keegan R, Niyonsenga T, Mohanty I, van Berlo S, Freene N (2020). A smartphone app for sedentary behaviour change in cardiac rehabilitation and the effect on hospital admissions: the ToDo-CR randomised controlled trial study protocol. BMJ Open 10(12):e040479.
Patterson K, Davey R, Keegan R, Freene N (2021). Smartphone applications for physical activity and sedentary behaviour change in people with cardiovascular disease: a systematic review and meta-analysis. PLoS ONE 16 (10), e0258460.
Patterson K, Davey R, Keegan R, Kunstler B, Woodward A, Freene N. (2022). Behaviour change techniques in cardiovascular disease smartphone apps to improve physical activity and sedentary behaviour: Systematic review and meta-regression. International Journal of Behavioral Nutrition and Physical Activity 19 (1), 1-14 .
Patterson K, Keegan R, Davey R, Freene N (2023). Implementing a Sedentary Behavior Change Smartphone App in Cardiac Rehabilitation: A Qualitative Analysis Guided by the Theoretical Domains Framework and Capability, Opportunity, and Motivation-Behavior Model. Journal of Cardiovascular Nursing 10-97.
Patterson K, Davey R, Keegan R, Niyonsenga T, Mohanty I, Bowen S, Regan E, Lander M, van Berlo S, Freene N (2023). Effect of a smartphone app on hospital admissions and sedentary behavior in cardiac rehabilitation participants: ToDo-CR randomised controlled trial. JMIR mhealth and uhealth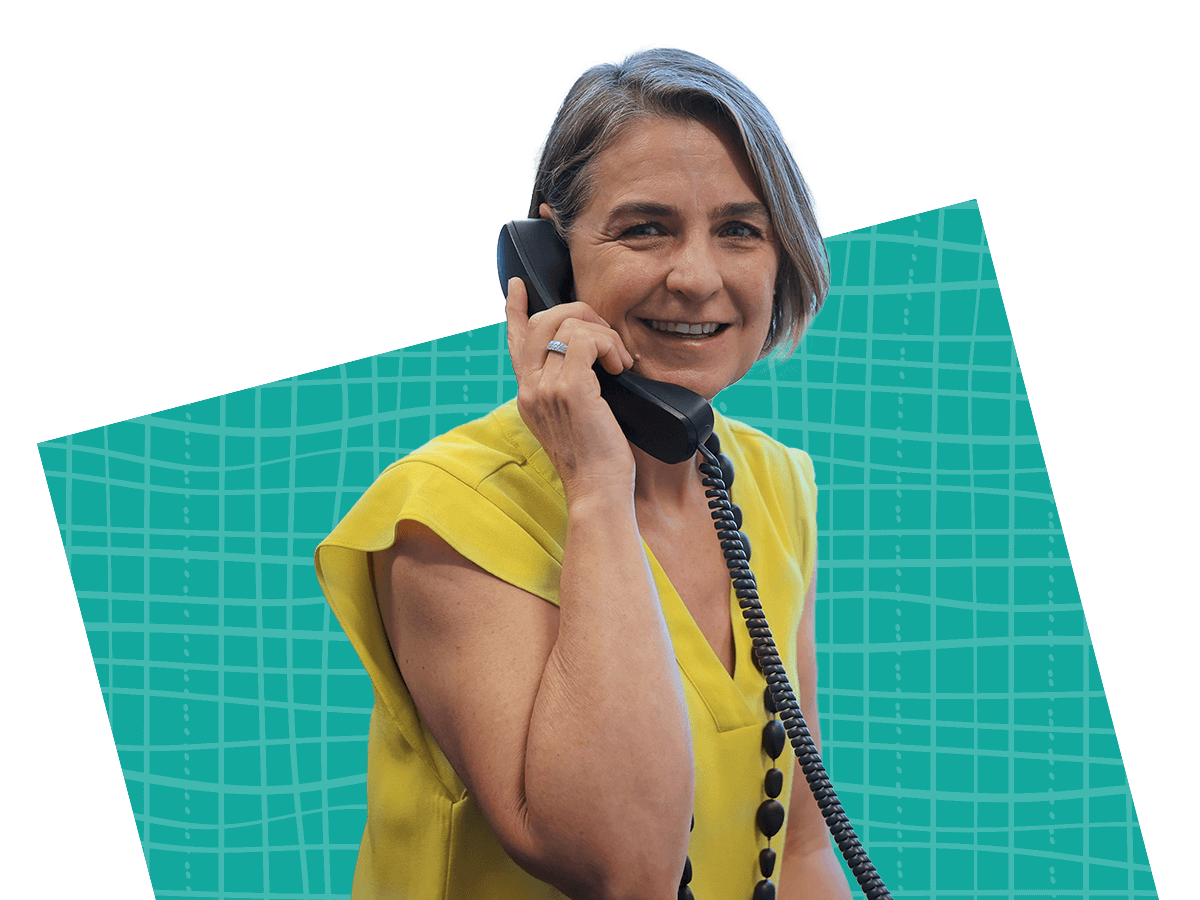 Contact us
University of Canberra Health Research Institute
11 Kirianri Street
Bruce ACT 2601
+61 (02) 6206 8312
uchri@canberra.edu.au