Print this page
Robert Boynes, Those Lifeless things
Robert Boynes, Those Lifeless things
Robert Boynes, Those Lifeless Things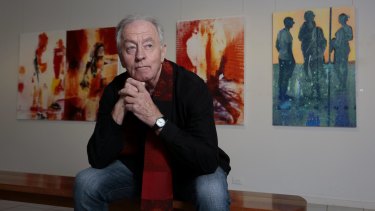 The Artist
Born in Adelaide, Robert studied at the South Australian School of Art in the early 1960s and began teaching in 1964. He was head of Painting at the Canberra School of Art for 27 years and is Adjunct Associate Professor at the ANU School of Art. Robert has an extensive exhibition history and has had over 60 solo shows across Australia, the UK and USA. His work is represented in the collections of the National Gallery of Australia as wells as all Australian State Galleries, Parliament House, Artbank and the Museum of Contemporary Art in Chicago. 1
The Work of Art
Following a trip to Los Angeles, Robert Boynes took inspiration in city scapes. These paintings, largely carried out in the 1980s, portray the cityscape as desolate and yet anxious places.2 'Those Lifeless Things' depicts what seems to be some standing stones in the foreground and a series of high-rise tower blocks receding into the background. Is this a contrast of the past versus modern life? Ancient versus modern life? Faith and faithless? Are both lifeless? A little more of an incite comes from other paintings Robert Boynes created in the same series. In the National Gallery of Victoria, are two similar works of art. 'In the skin of the lion (1988) and Faith and Empire, Low Tide (1986) . Both have a series of stones or fallen sculptures in the foreground. Both fallen monuments are overlooked by a series of tower blocks in the background.
From the 1990s, Robert Boynes changed tact with his city scape depictions. This time Boynes enters the cities and focuses on the urban street life. This can be seen in 'The Gunnery Crossing, Woolloomooloo' and 'Observer and Observed'. These works are full of action and movement and yet there is a sense of anonymity. The University of Canberra is fortunate to have in its collection a number of works by Robert Boynes that illustrates his styles and career.
References
1 Robert Boynes, Beaver Galleries Accessed 30 March 2020, https://www.beavergalleries.com.au/artist/robert-boynes/
2 Robert Boynes, 'Profile' Robert Boynes, Accessed 30 March 2020, https://www.robertboynes.com/about.